Brooke Baldwin cries as she signs off from her last CNN show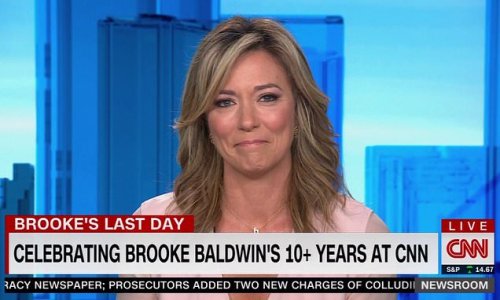 Related articles
CNN - Opinion by Sheila Jackson Lee • 1h

(CNN) — I am a proud progressive Texas Democrat in the tradition of the late Gov. Ann Richards and my predecessors, Reps. Barbara Jordan and Mickey Leland. And yet Rep. Liz Cheney of Wyoming, the third-ranking...

TooFab - Toofab Staff • 1d

McCain feels ostracized by her party because she and women like Liz Cheney won't bow to "Cheeto Jesus." Usually it's Joy Behar ripping Republicans a …

Queerty - Graham Gremore • 6h

It appears Rudy Giuliani is broke. Politico reports that the embattled attorney, who was once a multi-millionaire, has been forced to lay off several …

The Daily Beast - Jamie Ross • 15h

The Justice Department doesn't sound happy about the bizarre and unnecessary Republican-ordered private recount of the 2020 presidential election …

TheWrap - Sean Burch • 1d

A half hour after his ban from Facebook was upheld on Wednesday morning, former President Donald Trump took to his new online platform on his website …

LGBTQ Nation - Bil Browning • 11h

The two joked that McCarthy is in a relationship with pollster Frank Luntz. Rep. Marjorie Taylor Greene (R-GA) appeared on Tucker Carlson's Fox Nation …

thehill.com - Niall Stanage • 1d

The war for the Republican Party's soul lasted about as long as a season of "The Apprentice." Former President Trump won. Thursday marks four months …

CNN - By John Avlon • 4h

(CNN) — There was once a fear that took over the Republican Party and the nation. It was spread by a bullying demagogue who accused his opponents of being traitors and communists. He leveled attacks without...

Variety - Todd Spangler • 1d

Donald Trump has been permanently banned from Facebook and Instagram. Facebook's Oversight Board, the independent body established by the social giant …

Salon • 3h

This article originally appeared on Raw Story While the ranting and raving from Capitol attacker Landon Copeland scored most of the news Thursday, that same group of hearings involved Anthony Antonio,...

Newsweek - Jason Lemon • 7h

Evangelical Christian pastor Jeff Jansen, a self-described "prophet," said that he is "quadrupling down" on his prophecy that former President Donald …

washingtonian.com - Jessica M. Goldstein • 1d

Half of America is smitten with Jen Psaki, while a swath of the White House press corps sounds quite taken with how polite she is. In her first three …

MSNBC • 6h

Sen. Tina Smith (D-MN) responds to Senate Minority Leader Mitch McConnell walking back his pledge to obstruct the Biden administration's agenda.

UPROXX - Mike Redmond • 1d

As the Facebook Oversight Board commission prepared to announce its decision on whether or not Donald Trump can return to the social media platform (UPDATE: The commission has decided that Trump will banned),...

HuffPost - Lee Moran • 11h

Ivanka, Don. Jr and Eric spent more than $140,000 on travel and hotels for their Secret Service protection in the first month of Joe Biden's presidency. Ivanka Trump, Donald Trump Jr. and Eric Trump ―...
Join the flipboard community
Discover, collect, and share stories for all your interests