House erupts as bill passed to make DC a state and Dems slam GOP 'racist trash'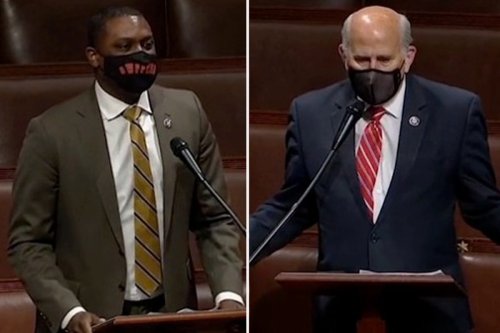 thesun.co.uk • 15d
REPUBLICAN lawmakers erupted in anger on Thursday after a Democratic congressman accused the GOP of spewing "racist trash" as the House passed a bill …
Join the flipboard community
Discover, collect, and share stories for all your interests
Veuer - flipboard.com • 14d

A heated discussion erupted Thursday when Congressman Mondaire Jones accused GOP lawmakers of spreading "racist trash". Veuer's Maria Mercedes Galuppo has more.

Queerty - Graham Gremore • 14d

They say the worst thing you can call a racist is racist. Chaos erupted among GOP House members yesterday when newly-elected Rep. Mondaire Jones of …

CNN - By Ariane de Vogue, Manu Raju, Phil Mattingly • 2d

(CNN) — Senior Democrats are treading carefully around Justice Stephen Breyer these days, worried that a progressive push to get him to retire could either anger him or come off as overtly political --...