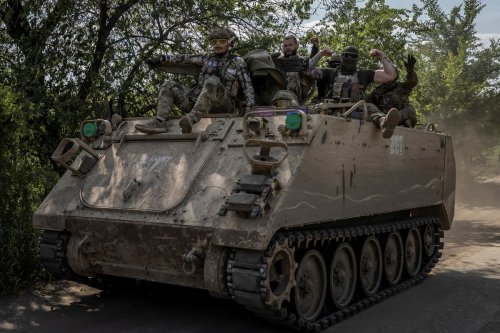 'Significant' Ukraine offensive 'penetrates first line of Russian defences', says UK
Ukrainian forces have "penetrated" the first line of Russian defences in several areas in eastern and southern Ukraine, British defence chiefs …
More stories from Military
"There is nothing more that can be said," the former White House chief of staff concluded. "God help us." John Kelly, who served as former President Donald Trump's chief of staff, unleashed a blistering attack against his former boss on Monday, confirming on the record that many of Trump's critical …

John Kelly, the longest-serving White House chief of staff for Donald Trump, offered his harshest criticism yet of the former president in an exclusive statement to CNN. Kelly set the record straight with on-the-record confirmation of a number of damning stories about statements Trump made behind …

In the quest to improve human health and longevity, scientists at the University of Exeter may have stumbled upon an unexpected savior: hydrogen …
Join the flipboard community
Discover, collect, and share stories for all your interests
Sign up
More stories from Russia
The Cold War cliché of a Russian pilot defecting to the West is now repeating itself. A Russian combat pilot defected to US authorities because he …

Russian hacker Mikhail Matveev, also known on the internet as "Wazawaka" and "Boriselcin," is wanted by the FBI, which is offering a $10 million reward for information that could lead to his arrest, and has been put on a U.S. sanctions list. But, according to Matveev, his life hasn't changed much …

A video shared by local activists showed large clouds of brownish-gray smoke billowing over fields and houses near the landfill.