One dose of Pfizer plus one dose of AstraZeneca safe, but more mild side-effects reported: study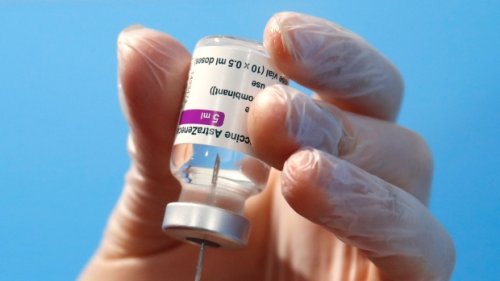 TORONTO -- Preliminary results from a study in the U.K. suggest that receiving your second dose of the COVID-19 vaccine from a different brand than …
Related articles
The highly infectious Delta variant is on track to become the dominant strain of COVID-19 in Ontario, but there is hope that vaccines offer more …

Researchers in Germany report substantial amounts of human and viral proteins in AstraZeneca's coronavirus vaccine. Although the study is not yet …

LOS ANGELES-- Dr. Eugene Choi, a Los Angeles-based radiologist, said in an interview published Saturday that he came down with COVID-19 despite receiving the vaccine about six months ago. Fox 11 reported...

The European Commission has signed deals for antibody treatments against COVID-19. A clinical trial looking at an antibody therapy against COVID-19 …

The Delta variant first found in India is having a huge impact on vaccine effectiveness in the UK, an expert has told Euronews. Dr Michael Head, a …

A woman was gunned down inside a Georgia supermarket Monday simply for asking a man to put on a mask — and a retired deputy who intervened was also …

Ouch! Justin Trudeau's final news conference at the G7 summit ended with an awkward moment when he accidentally roasted a BBC News …

The Delta variant of Covid-19, first identified in India, has been detected in 74 countries and continues to spread rapidly amid fears that it is poised to become the dominant strain worldwide. Outbreaks...

Eric Clapton has given a lengthy interview outlining his views on the coronavirus pandemic, and his opposition to lockdown restrictions and …

Plans to travel to see the wonders of the True North were due an avalanche of celebration on June 21, when the U.S.-Canada border was scheduled to …

Plus, the symptoms that warrant a trip to your doctor's office. Even when you do everything in your power to prevent tick bites, they can still …

At the mercy of natural selection since the dawn of life, our ancestors adapted, mated and died, passing on tiny genetic mutations that eventually …

Dating—in general—is not easy. And while dating in your 50s has its challenges, there are also plenty of upsides. By that point, you most likely have …

Every day, more than a dozen factories in China and neighbouring countries pump out clothing, bags and other apparel on contract for Canada's Herschel Supply Co., including the Vancouver company's iconic...
Join the flipboard community
Discover, collect, and share stories for all your interests