Is Eating Soy Good or Bad for You?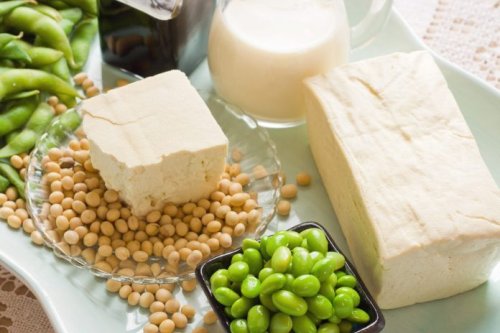 Related articles
Prevention - Andrew Weil, MD • 6h

Use this primer on the five major types, from darkest to lightest, to choose your next libation. I wasn't always a tea lover. In fact, it was not …

Parade Magazine - Solana Salado • 5h

Feeling anxious? While it's always a good idea to talk to a mental health professional about it, there a few lifestyle changes that can help, too, …

First for Women - Lily Herman • 6h

Love a fresh and juicy pineapple during the warm weather months? Not only is it a delicious treat, but it also contains an incredible series of …

The Healthy - Nadine Jolie Courtney • 9h

Dragon fruit—aka pitaya—is packed with healthy nutrients. Learn exactly what this exotic fruit is, how to prepare it, and check out some tasty …

Eat This, Not That! - Tammy Lakatos Shames, RD, CDN, CFT and Lyssie Lakatos, RD, CDN, CFT • 4h

Say 'goodbye' to hunger pangs and 'hello' to weight loss. Anyone who's ever tried a traditional "diet snack" knows that there's just something about …

The Kitchn - Lauren Kodiak • 8h

I've been eating a gluten-free diet for a little more than a decade, and in that time I've baked a lot of cakes, cookies, and breads — all with …

Eat This, Not That! - Rebecca Strong • 5h

Is it actually healthy to ditch this lean source of protein? We turn to the research. Without a doubt, chicken is the most popular meat in America—in …

HuffPost - Anna Rahmanan • 14h

Your leftovers are still great, but they may not pack as much nutritional punch as they did the first time around. When hunger strikes at home, the average American opens the fridge, pulls out some leftovers...

Self - Carolyn L. Todd • 11h

Have yourself some EVOO for dessert. A new non-dairy ice cream brand, Wildgood, is now selling frozen pints made with a tasty and nutritious but …

mindbodygreen.com - Abby Moore • 6h

There are plenty of tools we can turn to for help managing stress: meditation, journaling, talking to a therapist, etc. Now, according to new …

EatingWell - Katy Spratte Joyce • 6h

Liquid chlorophyll is trending on TikTok, so we took a closer look at this green beverage to learn more. The latest TikTok trend to go viral, in the …

Best Life - Danielle Cinone • 12h

Sometimes our bodies send us warning signals that are difficult to decode or easy to brush off as no big deal. Even common and serious diseases like …

CNN - By • 1d

(CNN) — As a nutritionist, I have been privy to lot of debate in the nutrition world about which foods keep us healthy and which foods actually cause disease. Different foods offer different nutrient for...
Join the flipboard community
Discover, collect, and share stories for all your interests