Ted Cruz among a small number of Republicans opposing bill to address hate crimes against Asian Americans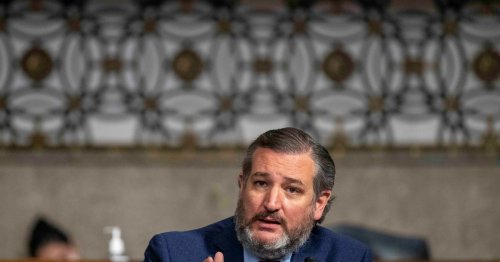 texastribune.org - Bryan Mena • 26d
Texas Sen. Ted Cruz was among a handful of Republicans in the U.S. Senate who voted against advancing a bill aimed at addressing hate crimes against …
Related articles
mediaite.com - gideon-taaffe • 6h

Fox's Bret Baier repeatedly pushed Sen. Mitch McConnell to respond to Liz Cheney's ousting on House leadership. Baier pushed back against McConnell's …

Salon • 19h

By the time you read this, in all likelihood the American news media and its professional hope peddlers will have canonized Rep. Liz Cheney as an iconic defender of democracy, a role model for all time...

azcentral.com - Staff Reports, The Republic • 10h

The Arizona Senate-ordered audit of Maricopa County's general election will take a one-week hiatus at the end of the week to make way for high school …

The Intercept - Matthew Cunningham-Cook • 14h

After striking down the Centers for Disease Control and Prevention's freeze on evictions amid the coronavirus pandemic last week, Judge Dabney …

CNN • 14m

CNN's Erin Burnett lambasts the Republican Party and House Minority Leader Kevin McCarthy for removing Rep. Liz Cheney from her leadership position for her refusal to support former President Trump's lie....

Newsweek - Jenni Fink • 8h

Former President Donald Trump was criticized for failing to squelch the Capitol riot, but ahead of the January 6 rally, he requested that the …

Daily Dot - Andrew Wyrich • 15h

Rep. Matt Gaetz (R-Fla.) tried to come after Rep. Adam Kinzinger (R-Ill.) on Tuesday night ahead of a vote to oust Rep. Liz Cheney (R-Wy.) as the …

National Review - John McCormack • 11h

NRPLUS MEMBER ARTICLE I n the end, they didn't even record the vote: House Republicans ousted Liz Cheney from her post as the conference's …

Fatherly - Lizzy Francis • 14h

The 2020 electoral college map, and the map of the rate of vaccination in the United States, are basically the same thing. After a roaring ramp-up of …

Best Life - Kali Coleman • 1d

Vaccinations have helped massively improve the coronavirus situation in the U.S., especially now that every adult in the country is eligible to get …

Insider - Kelly McLaughlin • 16h

A fight broke out at a gas station in North Carolina on Tuesday as people scrambled to fill up their cars amid a fuel shortage caused by a …

The Intercept - Ryan Grim • 10h

There can be no question of whether Rep. Liz Cheney is correct in her particulars. "The Electoral College has voted," she said from the floor of the …

Jezebel - Esther Wang • 14h

John Lambert, one of the founders of Students for Trump, is now going to prison after being convicted of fraud in a scheme in which he pretended to …

suntimes.com - Gene Lyons • 7h

Seventy percent of Republicans believe the lie that Trump won the presidential election. But that's less than one-third — and shrinking — of the …
Join the flipboard community
Discover, collect, and share stories for all your interests
More stories from Ted Cruz
Jezebel - Ashley Reese • 11h

Mounting violence between Israelis and Palestinians has left hundreds—mostly Palestinian—injured and 56 killed, including 14 children in Gaza. This …

Fox News - Jon Street • 7h

Amid the massive fuel shortage in several states as a result of the Colonial Pipeline cyberattack, Chick-fil-A is reportedly facing a short supply of its signature sauce. Following multiple reports of...