Couple's 'mini cockapoo' grows to size of 'baby rhino'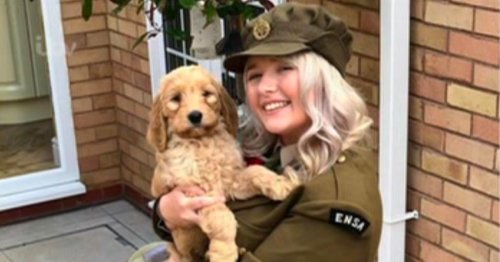 Related articles
goodmorningamerica.com - Good Morning America • 20h

Christina Hunger is a speech pathologist who realized her new puppy was showing signs of wanting to communicate with her. What she discovered is …

Daily Paws - Averi Baudler • 12h

This cute friendship certainly makes a splash! We can all agree a puppy is just about the cutest thing ever, but add an animal friend to the mix and …

greatergood.com - The Animal Rescue Site • 15h

Arrow, a rescued dog from Burlington, New Jersey, knows all about second chances. According to the Burlington County Times, the 2-year-old Belgian …

boredpanda.com - Jonas Grinevičius, Ilona Baliūnaitė • 1d

Here at Bored Panda, there are several things that we love probably more than anything else in the whole wide world: delicious bamboo, cute dogs, and …

boingboing.net - Carla Sinclair • 13h

This big fella – a 300-pound Tibetan mastiff – needs some human help getting his front paws into the back of a car, but he does his darndest to hoist …

Woman's Day - Frances Lee • 19h

Veterinary and dog training experts share advice to save you a few headaches and sleepless nights. Bringing a new puppy home will be one of the …

sciencefocus.com - Sara Rigby • 22h

In a study of the worm C. elegans, the team found bacteria species linked to the development of the conditions, and others that can counteract the …

VICE - Madeleine Gregory • 19h

Cats love sitting on any square object, as if drawn by some primordial instinct. A new study shows that the square can even be an optical illusion. Cats are notorious for crawling into any available small,...

upworthy.com - Tod Perry • 9h

Back in February, northern Virginia was experiencing freezing temperatures, so FOX 5 DC's Bob Barnard took to the streets to get the low down. His …

Complex - ByJoshua Espinoza • 1d

A particularly special crustacean dodged a death sentence last month. According to Inside Nova, staff at a Virginia Red Lobster decided to spare the …

Fatherly - Blake Harper • 15h

A 23-ton piece of a rocket launched by China last week is expected to fall to earth this weekend. By now, you've probably heard something about a …

Salon • 23h

Processed foods are a symbol of the United States, known around the world, due to the reach of the American culture machine. Oreos, chicken nuggets, Doritos, Chips Ahoy and Pop-Tarts are a staple of American...

People - Katie Campione • 8h

When Lisa Wright set out to find her birth mother, she never guessed the woman might have been right in front of her all along. For more than 50 years, Wright — whose adoption was closed — didn't look...
Join the flipboard community
Discover, collect, and share stories for all your interests