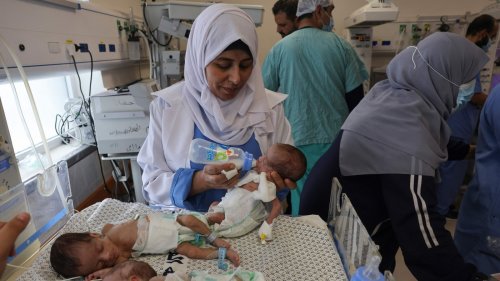 31 premature babies are evacuated from Al-Shifa Hospital to southern Gaza
TEL AVIV, Israel — A team of medical and humanitarian aid groups successfully evacuated 31 premature babies from Al-Shifa Hospital in northern Gaza on Sunday, the Palestine Red Crescent Society announced. They were transported to the south of Gaza to the Emirates Hospital in Rafah by PRCS …
Linda Cypert flipped this story into Important Trending Stories •12d
Related articles
After releasing his cancer-surviving partner and their two daughters, Hamas has reportedly killed Israeli hostage Ronen Engel. Kibbutz Nir Oz …

One boys' name is seeing a surge in popularity - and it's giving 'old gentlemen' vibes. As any parent knows, choosing a baby name is no easy task. …

The Italian city of Bologna is preparing for one of its iconic towers, built more than 900 years ago, to collapse due to excessive leaning. The Tower …
Join the flipboard community
Discover, collect, and share stories for all your interests
Sign up
More stories from Gaza
Three Israeli officials told Axios the negotiations over the extension of the Gaza ceasefire collapsed on Friday after Hamas refused to free 10 …

More information about how a 17-year-old Hamas hostage was able to keep her beloved dog with her in captivity is emerging.

Israeli fighter jets hit targets in the Gaza Strip minutes after a weeklong truce expired on Friday, as the war with Hamas resumed in full force. Black smoke billowed from the besieged territory and Israel dropped leaflets over parts of southern Gaza urging people to leave their homes, suggesting it was preparing to widen its offensive.