Miami-Dade Residents Could Soon Pay Tax in Crypto - Decrypt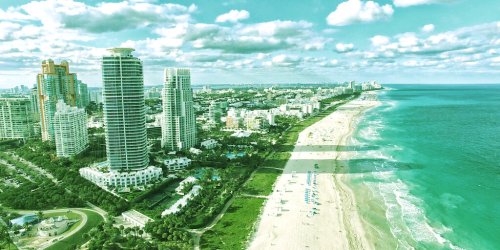 decrypt.co - Scott Chipolina • 21d
Residents of Miami-Dade County could soon be able to pay their local taxes in cryptocurrency. Danielle Cohen Higgens, a county commissioner who covers …
Related articles
cryptopolitan.com - Robert Githinji • 1h

TL;DR Breakdown Stellar price prediction shows the crypto coin registered a 37 percent price surge during today's trading session to settle above the …

ZDNet - Charlie Osborne • 10h

Updated: Users who have conducted $20,000 in transactions are now on the tax office's radar. The Internal Revenue Service (IRS) has secured an order …

cryptopolitan.com - Carisbel Guaramato • 3h

TL;DR Breakdown• Shiba Inu and its DOGE-like blockchain • Shiba Inu price has increased in recent weeks.Buying cryptocurrencies brings its risks, just …

CNN - By Allison Morrow • 3h

New York (CNN Business) — Live from New York, it's ... a market-moving corporate liability. This weekend, Tesla CEO Elon Musk is hosting "Saturday Night Live," which, in case the name wasn't clear enough,...

CNBC • 40m

Bitcoin is back above $58,000, but Morgan Creek's Mark Yusko has a target even higher. He explains what investors are missing when it comes to …

coindesk.com - Lyllah Ledesma • 3h

All assets will eventually be tokenized, from stocks to bonds to commodities. At least that's the perspective of many crypto-industry executives who …

benzinga.com - Aaron Bry • 1d

Zilliqa (CRYPTO:ZIL), a cryptocurrency launched in 2017, is up about 17% over the past 24 hours at $0.2493 at press time and is outperforming Bitcoin …

Seeking Alpha • 8h

Money velocity is an important component of the relationship between changes in money supply and inflation. Cryptocurrency velocities and values are …

kitco.com - Jim Wyckoff • 4h

News BitesEditor's Note: With so much market volatility, stay on top of daily news! Get caught up in minutes with our speedy summary of today's …

investing.com - Investing.com • 16h

Investing.com - XRP was trading at $1.53923 by 22:32 (02:32 GMT) on the Investing.com Index on Friday, down 10.16% on the day. It was the largest …

CNBC • 3h

SEC Chairman Gary Gensler told CNBC on Friday the agency is looking into how commission-free retail brokerage apps encourage more stock trading and …

coindesk.com - Brady Dale • 5h

The Internet Computer, the Dfinity Foundation's long-awaited platform for smart contracts that run at internet speed, is now live. Founded in 2016, …

aier.org - William J. Luther • 1d

– May 6, 2021 Reading Time: 7 minutes In hindsight, the rise of cryptocurrencies appears to have begun with the introduction of bitcoin in 2009. …

Al Jazeera • 23h

The operator of the largest United States cryptocurrency exchange slumped 6 percent to $256.76 on Thursday, dropping for a fourth straight day. Coinbase Global Inc. sank to a record low as investors fled...

CNN • 1d

New York (CNN Business) — Several top business leaders have backed President Joe Biden's plan to raise taxes on large corporations and the wealthy and spend more on infrastructure. But JPMorgan Chase Jamie...
Join the flipboard community
Discover, collect, and share stories for all your interests