What the Hell Is Doge Day—And Will It Really Send Dogecoin to $1? - Decrypt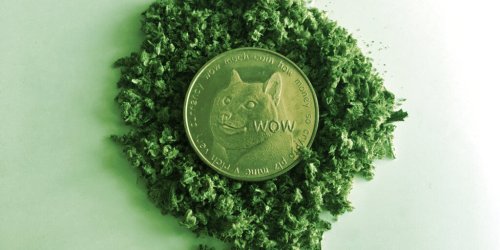 decrypt.co - Jeff Benson • 23d
The Shiba Inu-adorned Dogecoin is back up near its record high of $0.40. And users of the made-up coin are attaching themselves to a made-up holiday …
Related articles
Forbes - Billy Bambrough • 10h

Bitcoin and cryptocurrency markets plummeted by around $300 billion over night before slightly rebounding after Tesla billionaire Elon Musk and ethereum cofounder Vitalik Buterin sent shockwaves through...

benzinga.com - Shivdeep Dhaliwal • 11h

Tesla Inc (NASDAQ: TSLA) CEO Elon Musk said Thursday that the automaker "was looking at other cryptocurrencies that use

domusweb.it • 13h

So you're an artist or a designer, and you've heard that someone paid $69 million for a digital painting by Beeple. No, you'll never reach that level …

Business Insider - Shalini Nagarajan • 1d

Internet Computer, a cryptocurrency launched Monday by blockchain non-profit Dfinity, is already the eight-largest digital asset with a market capitalization of $45 billion, data from CoinMarketCap showed...

The Face • 1d

From Ether to Monero, and Basic Attention to Cardano, these are the coins to keep an eye on. Invest wisely! Right now, investing in cryptocurrency …

decrypt.co - Jeff Benson • 22h

So, remember when Vitalik Buterin got a bunch of those Shiba Inu tokens? And then some folks warned that he could rug pull the Dogecoin-wannabe? Well, …

finbold.com - Samuel Town • 20h

Head of Institutional Coverage at crypto trading platform FalconX Aya Kantorovich has said ethereum is the next ideal destination for institutional …

VICE - Arthur • 9h

Bad trade after bad trade, all my money went down the drain. I didn't consider myself a gambling addict, but I did get pulled in too far. At its peak, I lost what would have been worth around $700,000...

The Motley Fool - Sean Williams • 1d

Analysts believe investors in these stocks should kiss most of their money goodbye. For more than a year, the stock market has been on a historic run. …

CNBC - Taylor Locke • 23h

Digital artist Sarah Zucker started selling NFTs of her art work in 2019 when no one but the crypto community knew what an NFT even was. Then, within …

Forbes - Guinevere Moore • 12h

The Internal Revenue Service is conducting an "ongoing, extensive investigation involving substantial IRS resources" into cryptocurrency holders. As part of that investigation, the IRS is serving "John...

Business Insider - Laila Maidan • 1d

If you buy through our links, we may earn money from affiliate partners. Learn more. The passive income streams of the ultra-wealthy aren't very different from the assets that can be held by anyone; the...

USA TODAY - Swapna Venugopal Ramaswamy • 12h

Mystoura "Misty" Afolabi, a real estate agent in the Los Angeles area, was working with a young family for more than a year, trying to find them a home. But every time they saw a house they liked, they...

decrypt.co - Scott Chipolina • 1d

The U.S. Securites and Exchange Commission (SEC) has issued a statement about the Bitcoin futures market, calling for investors to exercise caution …

The Verge - Mitchell Clark • 17h

Target has decided that it's had enough: the company has officially confirmed to Bleeding Cool that it will halt the sales of Pokémon cards throughout the US, starting Friday, May 14th. The retailer cities...
Join the flipboard community
Discover, collect, and share stories for all your interests
More stories from Dogecoin
Forbes - Billy Bambrough • 10h

Bitcoin and cryptocurrency markets plummeted by around $300 billion over night before slightly rebounding after Tesla billionaire Elon Musk and ethereum cofounder Vitalik Buterin sent shockwaves through...

finbold.com - Samuel Town • 5h

Several Tesla (NASDAQ: TSLA) Cybertruck customers are reportedly canceling their preorders moments after the electric vehicle manufacturer suspended …

The Motley Fool - Sean Williams • 7h

Dogecoin is all hype with no substance. By comparison, this trio of unstoppable companies is the real deal. Since the late 1800s, the stock market has …