Kim Kardashian is a busty bombshell in sensational peekaboo gold mini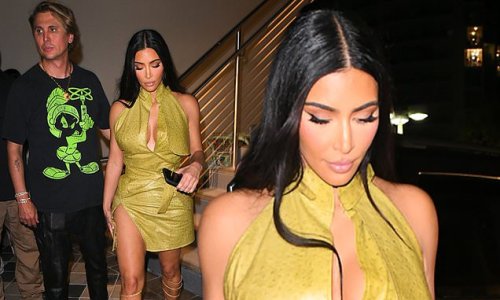 dailymail.co.uk - Sameer Suri • 24d
Kim Kardashian was a smoldering sensation when she stepped out for a night on the town in Miami Beach. The 40-year-old reality TV bombshell, who is in …
Related articles
Us Weekly - Eliza Thompson • 12h

Even celebrities can't resist the appeal of a juicy reunion. Sharon Stone has seen the photos of Jennifer Lopez and Ben Affleck together again — and she …

HuffPost - Ed Mazza • 1d

"And I am out of here," he said. "Screw that." A Florida fisherman's efforts came to an abrupt end when he almost became the catch of the day. Footage posted on YouTube shows 22-year-old Tommy Lee fishing...

Mic - Kara Weisenstein • 7h

It's been a rough few months for one of Hollywood's most influential and shadowy organizations. I'm talking about the Golden Globes, of course, and …

Daily Dot - Phil West • 1d

A Big Brother contestant was hospitalized after trying a TikTok beauty hack, and she's still recovering from its horrific effects as she continues on …

UPROXX - Josh Kurp • 15h

Around the same time that Seth Rogen introduced Tom Cruise to "adult films on the internet," Cruise tried to introduce Rogen to Scientology. While promoting his memoir, Yearbook, Rogen appeared on The...

Sheknows.com - Lauren Wellbank • 9h

Predicting royal baby names has been a favorite pastime for many (and a profitable one for those who can correctly guess what royal moniker is coming …

E! News - Lindsay Weinberg • 5h

Colin Farrell and Kim Bordenave are requesting to be co-conservators of their 17-year-old son, James, who is nonverbal due to his Angelman Syndrome …

2paragraphs.com - 2Paragraphs • 11h

When not filming Growing Up Hip Hop: Atlanta, the daughter of Run DMC's Rev Rev, Angela Simmons, is flaunting her "built not bought" body on Instagram. …

People - Alexia Fernández • 7h

Ben Affleck and Jennifer Lopez's Montana getaway was the Oscar-winning actor's idea, a source tells PEOPLE. "They both had last week off and wanted to spend time away from L.A.," the source says in this...

metro.co.uk - Mel Evans • 16h

Her mother may be the Material Girl but Madonna's daughter Lourdes Leon has put her own spin on the statement, as she got low in a fashion campaign …

SHEfinds.com - Hannah Kerns • 1d

Is a reunion in the cards for Jennifer Lopez and Ben Affleck? It's certainly looking that way! An insider recently let slip to Page Six that the famous …

Newsweek - Jon Jackson • 7h

A Dunkin' employee faces a manslaughter charge after punching an elderly customer who later died. The employee become physical after the older man …

People - Naledi Ushe • 1d

Saturday Night Live received backlash from a skit on the May 8 episode that many felt was cultural appropriation. The skit, written by Michael Che, titled "Gen Z Hospital" featured Kate McKinnon, Mikey...

GameSpot - Eddie Makuch • 1d

Actors Seth Rogen and James Franco worked together on numerous films over the years, including This Is The End and Pineapple Express, but it appears their professional relationship is now over. Rogen in...
Join the flipboard community
Discover, collect, and share stories for all your interests