India confirms hundreds of bodies found in Ganges are Covid-19 victims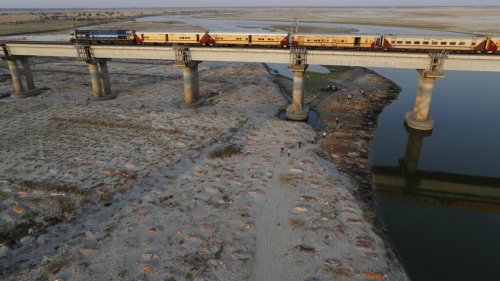 A senior Indian official from the northern state of Uttar Pradesh has confirmed that hundreds of bodies washing up on the banks of the Ganges river include coronavirus victims, saying poverty and fear...
Related articles
The Pfizer and Moderna COVID shots share a similar profile: both are mRNA vaccines which boast roughly the same efficacy, and they share most of the …

In March 2020, Delta pilot Chris Dennis left a note in the aircraft he was parking in a Victorville, California, storage lot, thinking it would be found after a two week quarantine. But after being discovered...

Experts say it's a hidden gem. At long last, many people are finally getting to satiate those feelings of wanderlust they've had over the past year …

A US lobsterman has been describing how he escaped being swallowed by a humpback whale. Michael Packard says he was diving when he ended up in the marine giant's mouth for about 30-40 seconds off Provincetown,...

Patients hospitalized with Covid-19 are unvaccinated, doctors across the U.S. say. Who is being hospitalized for Covid-19? "I haven't had anyone that's been fully vaccinated become critically ill," one...

A study filled crucial gaps in our knowledge about the live animal trade in China that some have blamed for causing the pandemic. At least 47,000 wild animals were illegally sold in markets across Wuhan...

Many of the lingering complications some people experience after a COVID-19 infection—like fatigue and shortness of breath—seem like remnants of …

Eleven years after her family reported her missing, a woman in India was found living in her partner's home right next door, The Indian Express …

A mother who gave birth to 10 babies has finally been tracked down in South Africa after a desperate search to find her, according to reports. IMAGE: …

After more than a year of travel restrictions that have impacted most Canadians, the federal government has finally begun to ease the rules. Ottawa …

Corrections & clarifications: This story has been updated to reflect that though Celebrity Cruises has billed the Celebrity Millennium sailing as "fully vaccinated," some unvaccinated children are aboard...
Join the flipboard community
Discover, collect, and share stories for all your interests