Coal is losing the price war to wind and solar faster than anticipated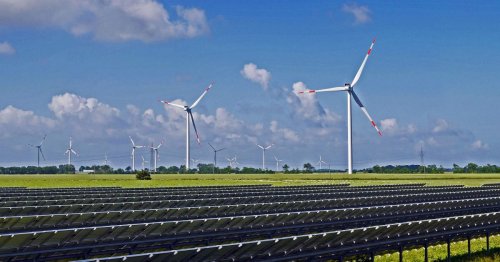 The costs of most existing coal-fired power plants in the US are now more expensive than the total costs of wind and solar as a result of their plunging costs, according to a new study. Coal versus wind...
Related articles
China has reached a new record for nuclear fusion at 120 million degrees Celsius. This article was originally published on our sister site, …

Nature often takes us by surprise. Its power is all too frequently underestimated, with catastrophic consequences. So it was with the Chamoli disaster back in February, when the flank of a Himalayan mountain...

Speed for speed's sake seemingly serves little purpose. The automotive world's fascination with 0-60mph times is far too often little more than a …

G7 leaders are set to outline Sunday a range of measures to tackle climate change, including "ending almost all direct government support" for fossil …

PA Images Resurfaced footage of Donald Trump has powerfully illustrated the difference between him and US President Joe Biden. Trump's shadow still …

Scientists found out that Jupiter does Something Unusual that affects the Earth!In order to understand the mechanisms of the universe, it is …

JERUSALEM (AP) — Israel's parliament has narrowly voted in favor of a new coalition government, ending Prime Minister Benjamin Netanyahu's historic 12-year rule. Naftali Bennett, a former ally of Netanyahu...

"I'm delighted. I'm not sure I will ever get over this moment completely," said Annie Fitzpatrick. Churchgoers in a seaside resort in England say they have been left "gobsmacked" when U.S. President Joe...

As my colleague Amanda Marcotte frequently points out, conservative ideology these days seems to boil down to little more than "owning the libs." If you manage to achieve "triggering a lib," maybe you...

Researchers have recently found that several long-lasting human-made contaminants have been building up in Arctic lakes, polar bears and ringed seals …

Say what you want, this thing is quick. The Tesla Model S Plaid is the culmination of nearly 10 years of research and development. With three motors …

The yoke is most definitely no joke. Some or all of Tesla's first 25 deliveries of 2021 Model S Plaid sedans on Thursday evening featured one of the …

New methods could help solve an upcoming water crisis Most people on Earth get fresh water from lakes and rivers. But these account for only 0.007 …

Republican Sen. Tom Cotton of Arkansas was repeatedly interrupted Defense Secretary Lloyd Austin on Thursday as the retired four-star general …

BMW Motorrad may not have arrived very early to the electric motorcycle party, but the company is making up for it now with what could become an industry first electric motorcycle with a driveshaft. BMW...
Join the flipboard community
Discover, collect, and share stories for all your interests