Interior Secretary Haaland revokes Trump-era orders on energy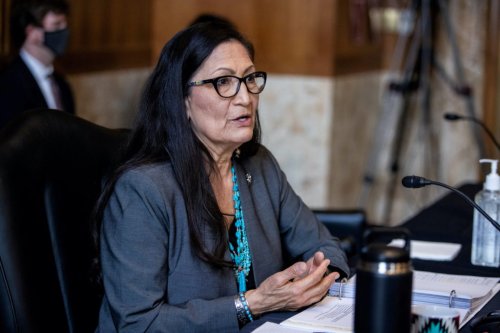 Related articles
mediaite.com - colby-hall • 8h

Alex Wong/Getty Images White House Press Secretary Jen Psaki revealed in an hour-long interview with David Axelrod that she intends to step down from …

CNN - Opinion by Sheila Jackson Lee • 3h

(CNN) — I am a proud progressive Texas Democrat in the tradition of the late Gov. Ann Richards and my predecessors, Reps. Barbara Jordan and Mickey Leland. And yet Rep. Liz Cheney of Wyoming, the third-ranking...

Best Life - Danielle Cinone • 8h

It's been no secret that Anthony Fauci, MD, a key COVID adviser under both former President Donald Trump and current President Joe Biden, butted …

Guardian US - Associated Press • 2h

A sixth-grade girl shot two students and a custodian at an Idaho middle school on Thursday before being disarmed by a teacher, authorities said. The Jefferson county sheriff, Steve Anderson, said the had...

dailymail.co.uk - Andrew Court • 20h

A Twitter account purportedly made by Donald Trump's communications team has been suspended just one day after it was created. The account, @DJTDesk, …

NBC News - By Pete Williams • 9h

The agency's director said at a House budget hearing that Trump's desire to be seen outside the hospital where he could wave to supporters "was extensively discussed" with doctors. Two Secret Service who...

Guardian US - Kari Paul and agencies • 8h

Giant California condors are rare – but not at Cinda Mickols' home. More than 15 condors, an endangered bird whose population hovers at around 160 in the state and under 500 in the US, have recently taken...

Queerty - Graham Gremore • 9h

A Republican state lawmaker from Colorado who calls Black people "Buckwheat" and gay people "homosexuals" says his colleagues really ought to be more …

MSNBC • 8h

Sen. Tina Smith (D-MN) responds to Senate Minority Leader Mitch McConnell walking back his pledge to obstruct the Biden administration's agenda.

politico.eu - Ashleigh Furlong • 9h

Press play to listen to this article Voiced by Amazon Polly U.S. President Joe Biden's about-face to support a patent waiver for coronavirus vaccines …

CNN - By John Avlon • 6h

(CNN) — There was once a fear that took over the Republican Party and the nation. It was spread by a bullying demagogue who accused his opponents of being traitors and communists. He leveled attacks without...

TooFab - Toofab Staff • 1d

McCain feels ostracized by her party because she and women like Liz Cheney won't bow to "Cheeto Jesus." Usually it's Joy Behar ripping Republicans a …

USA TODAY - Tom Vanden Brook, Janet Loehrke and Ramon Padilla • 9h

Former Navy Sec. Kenneth Braithwaite traveled the globe as the Trump administration wound down, despite COVID-19 canceling plans of other officials. In eight months he logged 21 flights totaling nearly...

Salon • 4h

This article originally appeared on Raw Story While the ranting and raving from Capitol attacker Landon Copeland scored most of the news Thursday, that same group of hearings involved Anthony Antonio,...

Associated Press • 1d

PHOENIX (AP) — The U.S. Department of Justice expressed concern Wednesday about ballot security and potential voter intimidation arising from the Republican-controlled Arizona Senate's unprecedented private...
Join the flipboard community
Discover, collect, and share stories for all your interests
HuffPost - Jennifer Bendery • 1d

The interior secretary said she could recommend some books to the former GOP senator who said "nothing" was in America before white colonizers. Interior Secretary Deb Haaland said Tuesday that it is "unfortunate"...

The Recount • 1d

President Biden made quite a few campaign promises to Native Americans, including returning valuable land to tribal communities. Here's a look at where that stands.

nativenewsonline.net - Native News Online Staff • 1d

Among the special guests on tonight's Native News Online's "Crisis in Indian Country: Missing and Murdered Indigenous Women" Facebook live stream …