Prince Philip asked photographer to hide in fake chapel pillar at funeral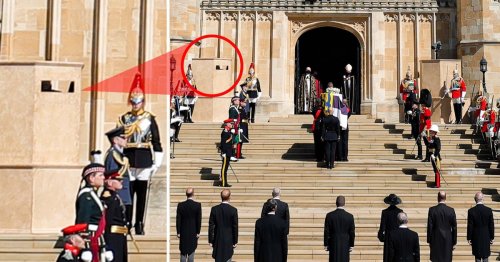 metro.co.uk - Dominic Yeatman • 25d
The Duke of Edinburgh arranged for a press photographer to hide in a fake pillar by the entrance to the chapel — to get the perfect image of his …
Related articles
stylecaster.com - Jenzia Burgos • 8h

During a recent podcast episode, the Duke of Sussex revealed that he wants to break the cycle of "pain and suffering" that was "passed down" by his …

BuzzFeed - Alex Gurley • 1d

"I was thinking, I don't want this job, I don't want to be here."

nickiswift.com - Effie Orfanides • 15h

Palace insiders have responded to Prince Harry's interview on Armchair Expert.

Sheknows.com - Kristyn Burtt • 10h

Meghan Markle is keeping things a little more low-key when it comes to her second pregnancy. While the story of her decision not to have a baby …

dailymail.co.uk - Amanda Platell • 6h

How devastating for Prince Charles to learn, from a podcast beamed to the world, that Harry left the UK to break the cycle of 'genetic pain and …

HuffPost UK - By Daniel Welsh • 17h

The full list of guest stars for the one-off special has now been unveiled – with one big omission. The full list of guest stars for the Friends …

laughingsquid.com - Lori Dorn • 10h

Actress and comedian Holly Hudson, who was raised in Ohio and lives in London, quite hilariously acted out some very common polite British …

2paragraphs.com - 2Paragraphs • 14h

When not on a TV or movie set, Hollywood actress Christina Ricci (Fear and Loathing in Las Vegas, The Ice Storm, Monster, Pecker) is often modeling. …

advocate.com - Tracy E. Gilchrist • 6h

In a wide-ranging interview, Guthrie shared her real concern as a past recipient of one of DeGeneres's favorite pranks. Today's Savannah Guthrie …

thesun.co.uk - Alison Maloney • 13h

SHE'S a former swimsuit model who was living the Hollywood dream after marrying Baywatch star Jeremy Jackson. But just seven years after the couple …

Sheknows.com - Kristyn Burtt • 1d

Prince Harry is showing the world why he and wife Meghan Markle's marriage works. His meet-cute story on Dax Shepard's Armchair Expert podcast about …

Fox News - Nate Day • 22h

Dina Lohan is defending her daughter. The media personality, 58, is mother to actress Lindsay Lohan and has spoken out against Chrissy Teigen, who has come under fire recently for resurfaced tweets. Courtney...
Join the flipboard community
Discover, collect, and share stories for all your interests