Idaho lawmakers hear presentation on expanding state boundary into Oregon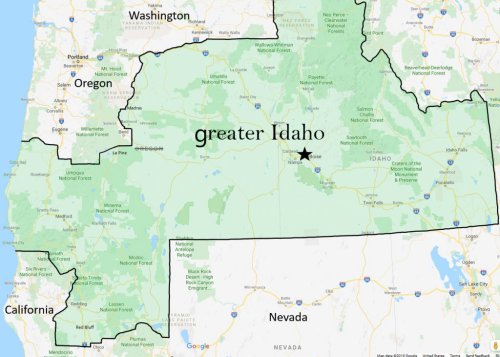 Related articles
The Drive - James Gilboy • 16h

A heroic move. An onboard camera captured the moment an Oregon State Police trooper intercepted a wrong-way driver, risking their own life to ram the …

deseret.com - Katie McKellar • 10h

Heber City ranks near top of the nation among metro areas with the biggest change in net in-migration in 2020 When Steve Allen retired about six years …

travelawaits.com - Jim Fulcher View Full Profile Jim Fulcher has been a writer and editor his entire career. In addition to writing, he also enjoys traveling--particularly in an RV. Over the course of numerous trips, Jim has driven an RV through West Virginia, Virginia, Tennessee, Kentucky, Indiana, Illinois, Wisconsin, Iowa, Nebraska, South Dakota, and Wyoming. His favorite national park is Yellowstone, which he has visited three times. • 15h

Traveling to Hawaii on nonstop flights is about to get a whole lot easier. What's more, considering that COVID-19 restrictions are easing, there is a …

myfox8.com - KTLA Digital Staff • 13h

NORWALK, Calif. (KTLA) - The mystery woman who bought a $26 million SuperLotto Plus ticket nearly six months ago put the ticket in the laundry and it …

San Francisco Media Company - Benjamin Schneider • 1d

Electric cars and wider roads will only get us so far; connecting the 21-county NorCal 'megaregion' will require rail — and lots of it. Every once in …

abc7news.com - Lyanne Melendez • 11h

SAN FRANCISCO (KGO) -- Some of society's most unusual ideas have turned out to be money-makers. It's a truism that one San Francisco real estate …

whnt.com - WSPA • 12h

PICKENS COUNTY, S.C. (WSPA) – A woman, who deputies say was hoarding fuel in her trunk, caught on fire after a crash in Pickens County. A Pickens …

Fox News - Michael Ruiz • 18h

As California parents are taking state leaders to court in their effort to reopen schools for in-person learning, a West Contra Costa County teacher told kindergartners last week that she'll be teaching...

Outside Magazine - Yvon Chouinard • 20h

A wild place—and an American ideal—are heading for destruction. We can stop it now. My life has been indescribably enriched by public lands, and one of the most beautiful on earth is fast losing its wildness:...

azcentral.com - Ian James • 15h

In 1980, Arizona began regulating groundwater in the state's largest cities and suburbs under a landmark law that called for most of these areas to …

whiskeyriff.com - Wes Langeler • 17h

Baseball is BACK.Fans are back in the stands, the cold beer is flowing, hot dogs are on the grill, and in Denver, the hard right crosses are …

sunherald.com - Mike Stunson • 15h

A fight between two former neighbors at an Ohio Walmart ended with one of them being struck in the face with 10 pounds of meat, police say. Officers …

geekwire.com - Mike Lewis • 22h

Jonny Silverberg, co-owner of Seattle's Schmaltzy's Delicatessen, remembers his breaking point. It was on a Wednesday, not long ago. A customer …

OnlyInYourState.com - by Courtnie Erickson • 8h

There is so much to see as you explore New Mexico. The main highways will take you to some incredible sights and gorgeous scenery. However, to truly …

al.com - Carli Teproff The Miami Herald (TNS) and Tribune Media Services • 1d

An Alabama man has been charged with sexual battery after police say he crawled into bed with a woman who was staying at a Miami Beach hostel. The …
Join the flipboard community
Discover, collect, and share stories for all your interests
More stories from Idaho
LGBTQ Nation - Bil Browning • 22h

He was convicted of "crimes against nature" with another teenager and spent seven years in prison before being released. A Montana man convicted of …

deseret.com - Katie McKellar • 10h

Salt Lake metro area is contender for having No. 1 housing market in the West, competing with other burgeoning areas like Boise, Idaho They went …

In Touch Weekly • 1d

Lori Loughlin and her husband, Mossimo Giannulli, are considering uprooting from Los Angeles, California, to Idaho to "start new," a source tells In Touch Weekly following their stint behind bars for 2019...