Tesla: Elon Musk suggests Autopilot not to blame for fatal crash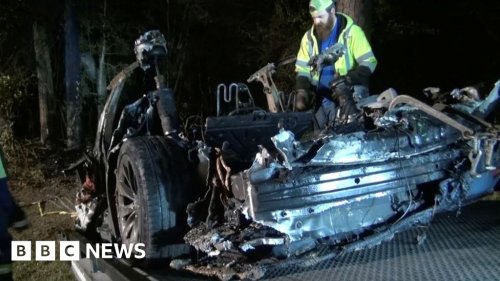 bbc.co.uk - BBC News • 25d
Two men were killed after a Tesla car crashed into a tree and caught fire in Texas, and police believe there was nobody present in the driver's seat at the time of the accident. The 2019 Tesla Model S...
Related articles
Inc Magazine - Jason Aten • 19h

Tesla will no longer accept the cryptocurrency as payment for new vehicles. Elon Musk has been one of the most public advocates of cryptocurrency, regularly posting about it on Twitter. Musk even said...

Associated Press • 5h

JERUSALEM (AP) — Early Friday, just after midnight, the Israeli military put out an ominous statement to the media: "IDF air and ground troops are currently attacking in the Gaza Strip." The terse statement...

CNN - By Chloe Melas • 8h

New York (CNN) — On the morning of April 17, two brothers in Westchester, New York, woke up to learn that they had become millionaires overnight, thanks to an unlikely wager on a cryptocurrency that was...

ABC News - Anne Flaherty and Cheyenne Haslett • 6h

"Americans are feeling incredible whiplash," one health expert said. If you're going to Starbucks or Target, bring your mask. But if you swing by …

Newsweek - Courtney Brogle • 7h

A group of South African shark hunters have unwittingly rediscovered a population of fish predating dinosaurs that many in the scientific community …

Jalopnik - Mercedes Streeter • 12h

A South Carolina woman found herself on fire after rolling a Pontiac G6 during short a police chase. The hoard of gasoline in back exploded, setting …

The New York Times - Michael D. Shear, Nicole Perlroth and Clifford Krauss • 1d

WASHINGTON — The operator of a critical fuel pipeline on the East Coast paid extortionists roughly 75 Bitcoin — or nearly $5 million — to recover its stolen data, according to people briefed on the transaction,...

ZDNet - Chris Matyszczyk • 14h

The timing of this new creation is perfect. The effect will surely be palpable. It's not often I see a new idea that makes me think: "Oh, this is …

Yahoo News - Olivia Lambert • 16h

Disturbing new details have emerged from the night a cheerleader was allegedly murdered by her 14-year-old classmate. Tristyn Bailey, 13, was found …

The Guardian - Tracy McVeigh • 18h

A nun working in war-torn Tigray has shared her harrowing testimony of the atrocities taking place The Ethiopian nun, who has to remain anonymous for her own security, is working in Mekelle, Tigray's and...

Protocol - www.protocol.com • 5h

President Biden revoked the Trump-era executive order on "preventing online censorship," which a source told Protocol last summer had been issued in …

Inc Magazine - Jeff Haden • 12h

That really aren't so secret after all. All parents want their kids to be successful --- how ever you (and eventually they) choose to define "success" -- but there are many paths. Often, success stems...

USA TODAY - Karen Weintraub • 16h

Fifteen months after the global pandemic officially began, it's still unclear how it originated – and a group of top American scientists is eager for answers. In a letter in the current issue of the journal...

CNN - By • 22h

(CNN) — Philadelphia's city health commissioner is resigning after news he cremated and disposed of some of the remains of the 1985 MOVE bombing victims, the mayor announced Thursday. Philadelphia Mayor...
Join the flipboard community
Discover, collect, and share stories for all your interests