This Video Explains How to Clean Inside Your Oven Door Glass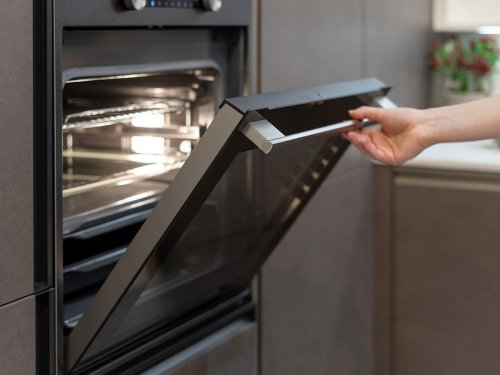 Related articles
The Kitchn - Sara Tane • 17h

Did you know that some of the best dishes were actually created by accident? Eggs Benedict, Caesar salad, and even chocolate chip cookies are all …

Salon • 13h

In "Quick & Dirty," Salon Food's Mary Elizabeth Williams serves up simplified recipes and shortcuts for exhausted cooks just like you — because quick and dirty should still be delicious. The cheesecake...

30seconds.com - 30Seconds Food • 12h

This creamy chipotle and lime salad dressing recipe is a bold dressing that's not afraid of those salad greens – or pasta salads, grilled chicken, …

Serious Eats • 15h

Recipes abound for General Tso's chicken, one of the most iconic dishes in the takeout canon. All of them, however, seem to consist of chicken fried in a crispy shell, then tossed in a sweet, glossy sauce...

Food52 - Dan Pelosi • 6h

Author Notes I grew up in a household that was both Italian American and Portuguese American. My mom's side of the family is Portuguese, and I was lucky enough to eat her delicious Portuguese food throughout...

PureWow • 10h

1. Preheat the oven to 350°F. Line two baking sheets with parchment paper. 2. Sift the cake mix into a large bowl. Whisk in the whipped topping and …

Serious Eats • 5h

In the past couple years, I've been learning to make a number of flatbreads from around the world. I've worked my way through hand-stretched Indian naan, rich and buttery Persian nan-e qandi, and crisp,...

30seconds.com - Donna John • 19h

Crepes Suzette is one of the most well-known crepe recipes, and is basically a crepe with an orange sauce. Heavenly. Here's an easy recipe to try. If …

Christopher Kimball's Milk Street • 19h

Souvlaki translates from the Greek as "skewer," but for this easy weeknight rendition, we forgo the skewers and cook individual pieces of chicken. …

allrecipes.com - Diana Moutsopoulos • 14h

For butterscotch fans, there might not be anything better than a chewy, buttery butterscotch cookie. We've rounded up all of the best butterscotch …

mashed.com - Khyati Dand • 11h

We've all been there. You bake a delicious bundt cake only for it to get stuck to the pan. When that happens try this trick from John Whaite.

EatingWell • 14h

The Mediterranean diet is one of the healthiest diets around, and it is also considered a heart-healthy eating pattern. These snack recipes are lower …

americastestkitchen.com - Mari Levine • 1d

It produces the best crust you've ever had. I know what you're thinking. No, sprinkling sugar on your steak will not make it taste like candy or …

FOOD & WINE - Amy Schulman • 10h

Buy it for just $20. Any home cook is well aware that a nonstick skillet is indispensable in the kitchen. Even those who swear by their fleet of cast iron and stainless steel pans tend to keep a nonstick...
Join the flipboard community
Discover, collect, and share stories for all your interests