The Brain 'Rotates' Memories to Save Them From New Sensations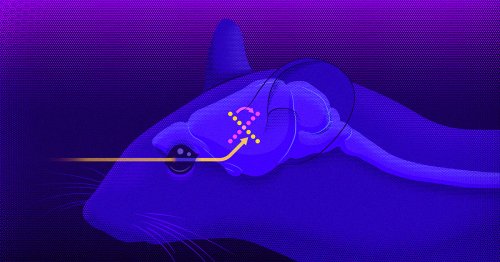 Related articles
Gizmodo - Tom McKay • 17h

According to a YouGov poll released on Friday, some humans have extremely poor judgment when it comes to determining which animals they could win a …

sciencefocus.com - Thomas Ling • 15h

How does the immortal jellyfish (Turritopsis dohrnii) live for so long? A leading scientist explains all. The lifespan of a Greenland shark: up to 500 …

Newsweek - Courtney Brogle • 20h

A group of South African shark hunters have unwittingly rediscovered a population of fish predating dinosaurs that many in the scientific community …

Mic - Dana McMakin • 14h

Just like eating, drinking or breathing, sleep is an essential part of life. In fact, all animals do it — with some interesting variations. A …

Live Science - Mindy Weisberger • 22h

More than a dozen of the sizable birds made themselves at home and destroyed nearly everything in sight. Over the weekend ~15 California condors …

Next Big Idea Club - Editors • 18h

Throughout the pandemic, many of us have cultivated a particular kind of laziness. Naturally we've all been physically lazy, as there haven't been …

timesofisrael.com - Judah Ari Gross • 22h

The Israel Defense Forces Spokesperson's Unit was accused on Friday of deliberately misleading the foreign press that Israeli troops had entered the …

USA TODAY - Karen Weintraub • 1d

Fifteen months after the global pandemic officially began, it's still unclear how it originated – and a group of top American scientists is eager for answers. In a letter in the current issue of the journal...

scientificamerican.com - Donavyn Coffey • 1d

This week, mosquito eggs placed in the Florida Keys are expected to hatch tens of thousands of genetically modified mosquitoes, a result of the first …

neurosciencenews.com - FeaturedNeurosciencePsychology • 17h

Summary: A new study reveals a link between vocal characteristics and individual personality traits. Those with deeper voices were more dominant, …

PureWow - Alexia Dellner • 1d

"He won't listen to me!" my husband exclaimed recently, exasperated. "Well, he doesn't listen to me either!" I countered, as I watched our toddler …

thelist.com - Maria Scinto • 12h

Air purifier IVP is said to kill 99.999% of the COVID-19 virus, which sets it apart from other filtration systems that do not claim virus-killing …

whyy.org - Jad Sleiman • 1d

"He, in the media, would say .. .everybody else didn't know what they're talking about," said Founds. Allen Carr famously didn't pay for much in the …

Live Science - Brandon Specktor • 22h

Tons of nuclear fuel in the wrecked plant's basement has started to react again, and it's showing no signs of stopping. Nuclear reactions are …

TNW - Tristan Greene • 19h

If you don't finish reading this article it may never be written. If that's not incentive to abandon a boring news piece, we're not sure what is. A team of researchers from Australia recently published...
Join the flipboard community
Discover, collect, and share stories for all your interests