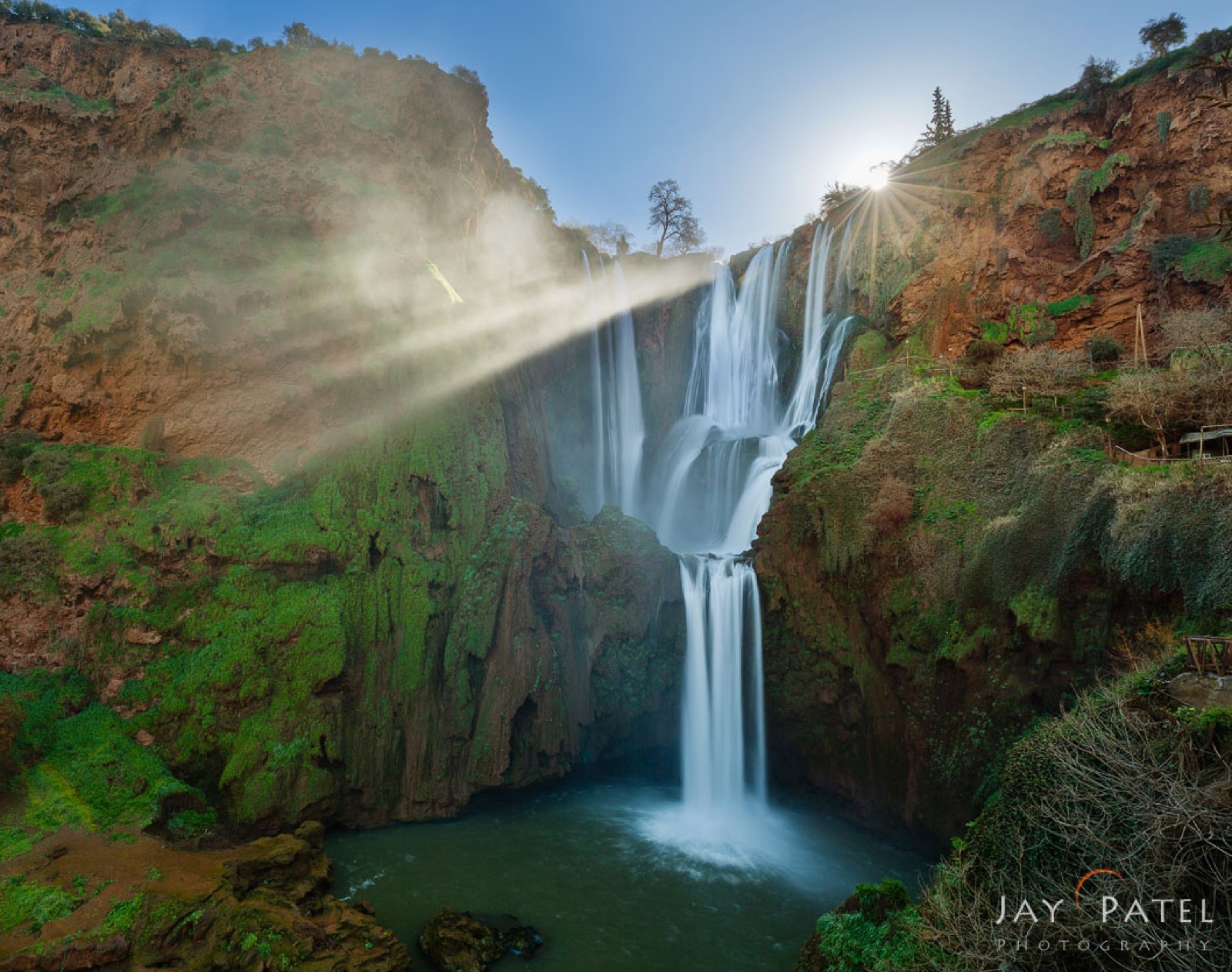 Waterfalls in Ouzoud, Morocco. Photo by Jay Patel
When you visit a remote location, as we often do in our pursuit of wilderness and landscape images, you never know what to expect. The waterfalls of Ouzoud, Morocco, a small town in the middle of nowhere, were no different. We typically rent a car when traveling for photography, but this time around our video crew talked us into using local transportation. So after departing from Marrakech and commandeering two taxis, we arrived three hours later.
We heard about this place from a local resource. Our video crew was stationed in the nearby village of Azilal. We had seen photos of the falls on the web, but nothing did them justice. We were lucky to visit this location at the right time, when the snow melt in the spring would make the waterfall flow at its peak.
The Ouzoud Waterfalls (Cascades d'Ouzoud), are one of the most surprising and beautiful attractions in Morocco. The river plunges over 100 meters in a complex network of waterfalls that cascades one into another through three major and several minor drops. The impressive roar seems to soothe like an old lullaby, according to ouzoud.com.
We could hear the roar of the water as we made our steep decent of 400 hundred steps which were flanked on both sides by tourist shops and some wild monkeys, who were tame enough to sit on your head and eat whatever you gave them. My first impression was "what are we doing in this tourist trap?" But we were there early in the day and there was hardly anyone around since it was a weekday.
One look at these waterfalls and we forgot about the shops, the monkeys and even our primary purpose which was to create our next video course about Histograms. The only thing on my mind was to get the shot of this beautiful place.
The terrain presented us with one challenge, but we also needed to overcome the dynamic range and select a compelling composition. The dynamic range was the easy part. A quick look at our Histogram told us that we needed to bracket the shots. Composition was the tricky part. We positioned ourselves in the shade, set up our camera and waited for the sun to come up. I started shooting just as the sun was peeking over the horizon. This allowed me to create a starburst effect. I wanted to place the star burst so that it just touched the waterfalls, giving the effect of sunbeams originating from top of the waterfalls.
And once the still photography part was completed, we started to film. We shot a few chapters of our Histogram course at this spectacular location and then spent the rest of the day hiking in the canyon.
Camera Details:
Camera: Canon 5D MK III
Lens: Canon 16-35mm at 16mm
ISO: 100
Shutter Speed: 1/8th second
Aperture: f10