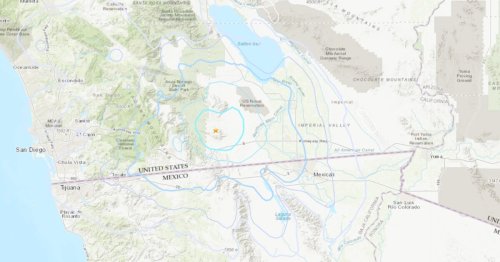 Magnitude 4.0 earthquake reported in Ocotillo
A magnitude 4.0 earthquake struck near Ocotillo, along the U.S.-Mexico border at 7:28 a.m. Thursday, according to the U.S. Geological Survey. It was …
Donald Trump is asking for a plan to wage war in Mexico, and the Republican Party is eager to give it to him. As he campaigns for a second White House …

A meeting between the House speaker and President Tsai Ing-wen while she is in the U.S. next week would be a "provocation," a Chinese official said Wednesday. HONG KONG — China on Wednesday threatened retaliation if House Speaker Kevin McCarthy meets with Taiwanese President Tsai Ing-wen as she …

Taiwan's president, Tsai Ing-wen, arrived in New York to crowds of supporters and protesters on a stopover visit that China has labelled a "provocation". Tsai is stopping in the US twice during her 10-day visit to diplomatic allies Guatemala and Belize. Her itinerary has not been disclosed and none …
Join the flipboard community
Discover, collect, and share stories for all your interests
Sign up
My husband and I were blessed to go to the island of Anguilla for our anniversary. We stumbled upon this local beautiful restaurant called Blanchards …

Donald Trump is asking for a plan to wage war in Mexico, and the Republican Party is eager to give it to him. As he campaigns for a second White House …

A parent of a San Juan Unified School District student attacked another student inside a classroom, according to the Citrus Heights Police Department. KCRA 3 spoke to the 17-year-old San Juan High School student and her mother, but both wanted to remain anonymous. The student said the woman who attacked her is the parent of a girl that she had a fight with on Friday. The student said she has bruises on her nose and on her leg, following what she describes as a completely unexpected attack.