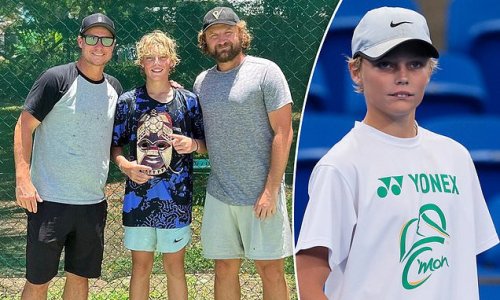 Lleyton Hewitt's tennis prodigy son Cruz, 13, wins his first international title in Fiji with the help of Rebel Wilson's ex Matt Reid
Cruz Hewitt, the son of Australian tennis great Lleyton Hewitt, has triumphed in his first major tournament. The 13-year-old prodigy beat top seed …
"If you're going to get paid ten million dollars to look a certain way for a role? Then why wouldn't you do it under a doctor's care?" Dr. Todd …

Even millions of years ago, Australia was a paradise for spiders. In the arid heart of the continent, scientists have found an exquisitely preserved …

Wallabies boss Eddie Jones still feels he is the right man for the job despite another high-profile loss to Wales, 40-6, on Sunday.
Join the flipboard community
Discover, collect, and share stories for all your interests
Sign up
The Wallabies were blasted by the Australian media after their record defeat to Wales on Sunday left Eddie Jones' side on the verge of an early Rugby …

Australian passengers travelling with Air Vanuatu are facing cancelled flights and travel disruption due to a technical issue impacting the Pacific …

WASHINGTON (AP) — President Joe Biden is set to establish diplomatic relations Monday with two South Pacific nations, the Cook Islands and Niue, as …