'I Have No Teeth': Michigan Prisoners Say Long Wait to See Dentist Is Inhumane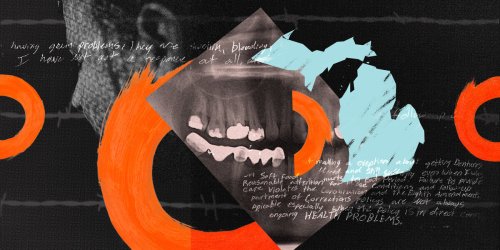 By the end of 2016, Nicholas Bailey had no teeth. A Michigan prison dentist had removed all of them because they were decaying. "I'm in pain," he …
More stories from Teeth
A woman born with an agonising underbite that made it difficult to eat transformed her smile - by manually forcing her front teeth nearly 2cm apart. A woman whose front teeth were 17mm apart has stunned...

A dentist has revealed the simple trick he claims is used by celebrities on the red carpet to ensure they never have a double chin in photos. Dr Vikas …

"One minute we're talking about how we would decorate a new place together, the next, trying to organise a simple coffee catch-up is like pulling teeth." For Rory*, 26, meeting Alex was a whirlwind. "I...
Join the flipboard community
Discover, collect, and share stories for all your interests
A dentist has revealed the simple trick he claims is used by celebrities on the red carpet to ensure they never have a double chin in photos. Dr Vikas …

We only recommend products we love and that we think you will, too. We may receive a portion of sales from products purchased from this article, …

Here's exactly how to use an electric toothbrush, as explained by dentists. Learning how to use an electric toothbrush might sound basic, especially …