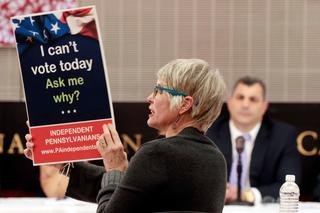 Pennsylvanians were asked what they want to change about the state House. Their answer: less partisan deadlock.
Spotlight PA is an independent, nonpartisan newsroom powered by The Philadelphia Inquirer in partnership with PennLive/The Patriot-News, …
A Pennsylvania restaurant owner who screamed death threats directed at then-House Speaker Nancy Pelosi while storming the U.S. Capitol was sentenced on Tuesday to more than two years in prison. Pauline Bauer was near Pelosi's office suite on Jan. 6, 2021, when she yelled at police officers to bring …

This took prosecutorial discretion way too far. I knew that the Pennsylvania PD was not the best with civil rights back in the 1980s. You should too — …

A man and a woman were both found dead at a park-and-ride in Muddy Creek Township, Butler County, on Monday evening.
Join the flipboard community
Discover, collect, and share stories for all your interests
Sign up
WASHINGTON − Speaker Kevin McCarthy faces a rebellion from the right flank of his party over his deal with President Joe Biden to suspend the debt ceiling before a crucial vote Wednesday in the House − including a threat to oust him from the speakership. Several hard-line conservatives who make up …

TALLAHASSEE - When Florida voters in 2010 passed a constitutional amendment setting rules for congressional redistricting, they barred drawing …

"These bills are not about election reform," said one Harris County official. "They are entirely about suppressing voters' voices." Harris County …