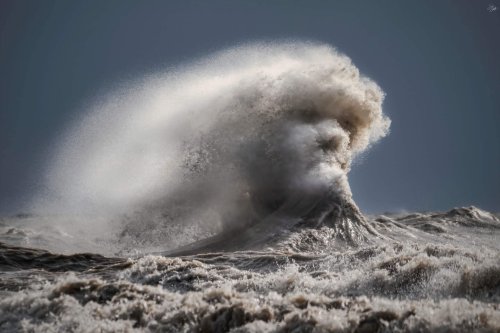 Photographer captures dramatic human face in wave on the Great Lakes
An Ontario photographer has captured the perfect impression of a spooky human face in a giant wave on Lake Erie. It's so impressive, that at first …
Strawberries are in season, but the next time you pop one in your mouth, you'll want to ensure it's washed thoroughly—especially after seeing what you can find on its surface. In a recent video posted to Twitter, a slice of strawberry is placed under a microscope, and the subsequent closeup shows …

ChatGPT has already proven to be a powerful tool for writing and answering questions, but it also has the knowledge to help photographers create …

Backing up your photos is important for keeping them safe if anything should happen to your phone. Here's how to do so without paying for iCloud.
Join the flipboard community
Discover, collect, and share stories for all your interests
Sign up
AI-based image generators are hugely popular at the moment, with many to choose from to scratch that creative itch. Some require you to have a PC …

Sigma last year launched two wide-angle prime lenses for Sony E-mount and Leica/Panasonic/Sigma L-Mount full-frame mirrorless cameras, the Sigma 20mm …

Learning photography is a complex process that takes the confluence of a variety of skills and knowledge sets in order to find success. And while …