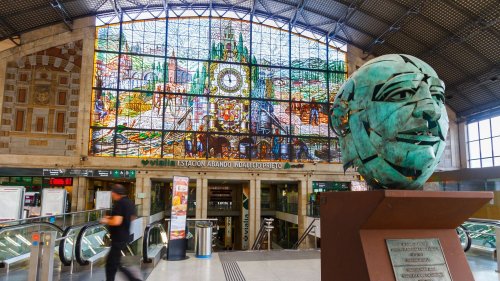 Die schönsten Bahnhöfe der Welt
World Trade Center (Path-Station), New York, USA Stazione Centrale, Mailand, Italien Sirkeci Railway Station in Istanbul, Türkei Haydarpaşa Railway …
More stories from Istanbul
The two major regional powers have grown distant over the years due to Erdogan's ties to the Muslim Brotherhood and the 2018 killing at the embassy …

Archaeologists have excavated subterranean rooms and a tunnel under an early church in Istanbul, formerly Constantinople, the capital of the …

This footage was filmed and produced 31 May 2023. Galatasaray defeated MKE Ankaragucu 4-1 in the 36th week of Spor Toto Super League and declared the championship two weeks before the end of the 2022-2023 season. Thousands of fans gathered in Taksim, the symbolic center of Galatasaray, celebrating the championship by singing the team's anthems. Many torches were lit during the celebrations. The fans formed a convoy with vehicles on the busy streets. Security forces took extensive security measures before the celebration.
Join the flipboard community
Discover, collect, and share stories for all your interests
Sign up
More stories from Türkiye
Recep Tayyip Erdoğan won the presidential election in Turkey with more than 52 per cent of the votes, but what will happen to political dissidents and exiled citizens after he secured five more years in power? Speaking to Independent TV, Kurdishjournalist and artist Zehra Dogan said: "This [election] has stolen at least another five years of my life because I can't go back to my country." The 34-year-old was jailed in 2017 on terrorism charges over a controversial painting she created. During this time she received the support of street artist Banksy who created the 70ft-long Free Zehra Dogan mural. Ms Dogan added: "This is like being in another prison, for me and thousands of others. "After my first exhibition [in London] I was wanted by the police again. "Banksy wrote a reference letter to the British government, saying I should stay in England. Now I live in exile in Europe." Read More Thousands gather outside Turkish presidential palace after Erdoğan re-elected Erdoğan breaks election law handing out cash to voters at polling station Witness describes 'panic' on Bournemouth beach after two children die in sea tragedy

Imam bayildi is a baked Turkish dish – though often seen on menus throughout Greece – consisting of eggplant, tomatoes, garlic, herbs and olive oil. …

'It will happen,' US president says as he underscores transatlantic alliance's commitment to supporting Ukraine. Washington, DC – US President Joe Biden has said he is confident that Sweden will join NATO "as soon as possible", despite Turkey and Hungary continuing to block the northern European …