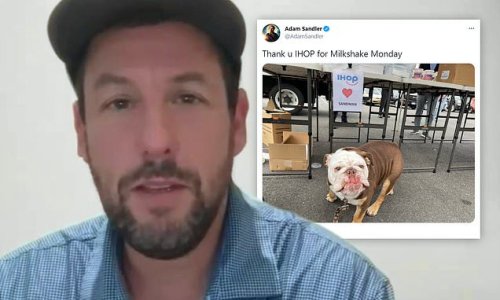 Adam Sandler reacts to IHOP's all-you-can-drink Milkshake Monday event created in his honor after he was turned away from busy restaurant
Adam Sandler gave IHOP a shout out on Monday after attending their all-you-can-drink milkshake event that the restaurant chain created in his …
More stories from IHOP
Bob Menendez's wife partied with Mob Wives and Real Housewives, then two-timed her attorney boyfriend to become the senator's lover, The Post can …

'That's a good deal because a full stack is $10.' All-you-can-eat meal promotions sound like a great way to fill your belly up without breaking the …

"You don't need to be a millionaire or famous celebrity to make someone's day. I'm pretty sure this guy will never forget this."
Join the flipboard community
Discover, collect, and share stories for all your interests
Sign up
California Governor Gavin Newsom smiled as he delivered the news amid a throng of cheering workers and labor leaders. The Democratic leader had just …

When we dine out at restaurants in the U.S., it is customary to tip our servers. The tip depends on how much the bill total is, how good the service …

Italy is one of our favorite destinations in Europe. There are so many amazing things to do – including sailing on Lake Como, visiting remains of …