Why The Trend Of Immersive Art Shows Isn't Always A Good Thing (Though They Are Spectacular)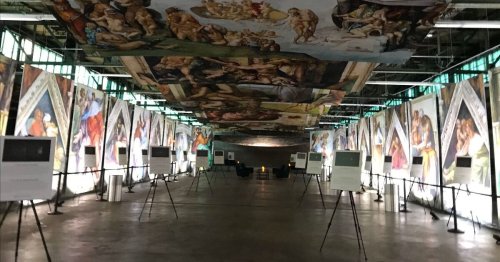 More than 500 years ago, Michelangelo completed perhaps his life's crowning masterpiece: ethereal, larger-than-life frescoes on the ceiling of the …
Related articles
Women surrealists represent a lost chapter of the history of art. Besides Salvador Dali, Rene Magritte, and other famous men surrealists, plenty of …

From the June 2021 issue of Apollo. Preview and subscribe here. Peter Blake has been on the British Art Scene for almost 70 years but has always …

A combination of textures and genres — coupled with the ordinary combined with the not so ordinary — serve as the basis of Different Puzzles, a …

Celebrated contemporary artist Michal Rovner was chosen this year to present her work at the Central Pavilion of the Venice Architecture Biennale. …

Shopping at a Kmart store was never a transcendent aesthetic experience, but visiting its corporate headquarters might have been (whether you love …

"There is some wisdom to be had in taking the gloomy view and looking upon the world as a kind of hell."(Arthur Schopenhauer, Parerga and …

To the extent that an art prize is a litmus test for any given sector, it's fair to say that young Australian artists are — like the rest of us — a …

Louisa McElwain's paintings didn't come through her eyes. They didn't come through her mind or her heart or her soul. They came through the ground. That's how she described it. "The more I painted in places,...

New York. The Metropolitan Museum of Art. "Japanese Art: Selections from the Mary and Jackson Burke Collection," November 7, 1975–January 4, …

Robert Simon encountered a Leonardo da Vinci painting and got emotional. "I cried," he told The Post of seeing the work hanging in Christie's New …

NEWLYN, England (AP) — U.S. first lady Jill Biden told members of a British group that uses surfing as therapy that she once owned a surfboard and it was "white with a big butterfly" on it. She met Saturday...

Though In the Heights came first, the vast majority of Lin-Manuel Miranda's fanbase knows him best from Hamilton, the wildly successful Broadway …

Mural art in Chicago has a long, honorable and often politically potent history of lifting up communities and giving them a voice. To trash a mural …

As we start to reconnect with each other after over a year largely spent in our own private circles, artist Kengo Kito is responding to the moment …

Fresh Air Weekend highlights some of the best interviews and reviews from past weeks, and new program elements specially paced for weekends. Our weekend show emphasizes interviews with writers, filmmakers,...
Join the flipboard community
Discover, collect, and share stories for all your interests