Myanmar Protests
A woman shot during an anti-coup protest is reportedly the first fatality of the uprising in Myanmar. Citizens are protesting the military's seizure of power on Feb. 1.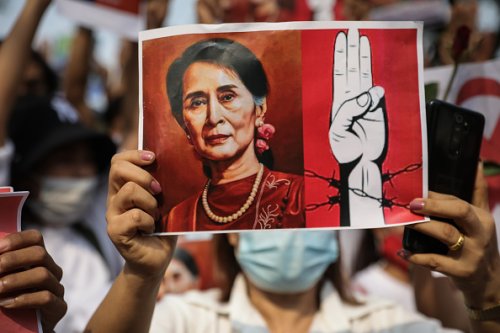 Photo: ic-cdn.flipboard.com
Flowers are displayed in honor of Mya Thwate Thwate Khaing who died from a gunshot wound at a protest.

Protesters shout slogans at a demonstration against the military coup in front of the Central Bank of Myanmar in Yangon on February 16.

Myanmar's de-facto leader Aung San Suu Kyi was arrested by the military.

Police stand guard at the entrance gate of a Buddhist monastery where pro-military supporters sought refuge.

Protesters hold placards expressing their opinions during a demonstration.

Musicians perform outside the British embassy during a demonstration against the military coup in Yangon on February 19, 2021.

Riot police provide security while anti-coup protesters stage a rally in Yangon on Feb. 19.

Anti-coup protesters hold placards as they protest against the military coup on Feb. 19.

Teachers hold up signs demanding the release of detained Myanmar leader Aung San Suu Kyi during a demonstration.