The Salton Sea: The worst lake you've never heard of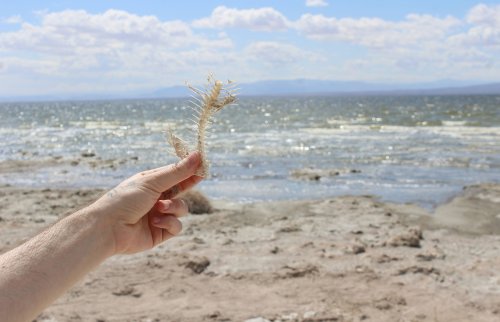 In 2020, the Salton Sea was described by Palm Springs Life Magazine as "the biggest environmental disaster in California history." With the largest …
Related articles
Use this three-number formula to make yourself healthier and happier. The herd of 400-pound caribou was running 50 miles an hour and directly at me. …

A commercial lobster diver who got caught in the mouth of a humpback whale off the coast of Cape Cod on Friday morning said he thought he was going to die. Michael Packard, 56, of Wellfleet, told WBZ-TV...

Nature often takes us by surprise. Its power is all too frequently underestimated, with catastrophic consequences. So it was with the Chamoli disaster back in February, when the flank of a Himalayan mountain...

A recent study found that 65% of all women have experienced some form of street harassment. Twenty-three percent were sexually touched, 20% were …

In March 2020, Delta pilot Chris Dennis left a note in the aircraft he was parking in a Victorville, California, storage lot, thinking it would be found after a two week quarantine. But after being discovered...

In May, a photo of a massive tree trunk in the back of a logging truck on a Vancouver Island highway went viral, sparking outrage and disbelief from as far away as Japan. Canadian news outlets raced to...

Republican Sen. Tom Cotton of Arkansas was repeatedly interrupted Defense Secretary Lloyd Austin on Thursday as the retired four-star general …

(CNN) — Workers testing underwater surveying equipment say they found the wreckage of a small airplane deep underwater in California's Folsom Lake -— and they may have solved a 56-year-old aviation mystery....

The plan to center a Juneteenth event around so-called "displaced white refugees" is part of a larger effort to distort narratives about …

HOUSTON – In the first federal ruling on vaccine mandates, a Houston judge Saturday dismissed a lawsuit by hospital employees who declined the COVID-19 shot – a decision that could have a ripple effect...

Authorities believe the shooter didn't have any previous connection to the woman and child. A man who gunned down a 69-year-old woman and her …

(CNN) — For most of us, the pandemic has meant enforced solitude. But for others, it's been the chance to go searching for that solitude. And where better to do so than in the Arctic Circle? In fact, Miozzo...

A Michigan lottery winner who made headlines in 2010 when he collected food stamps despite getting nearly $1 million was found dead in a river, authorities said. The body, found last Saturday in the Tittabawassee...

"This is the captain speaking," a voice can be heard saying in footage of the incident. "We'd like all strong males to the front of the aircraft to handle a problem passenger." Delta Air Lines on Saturday...
Join the flipboard community
Discover, collect, and share stories for all your interests