Scientists Create Early Embryos That Are Part Human, Part Monkey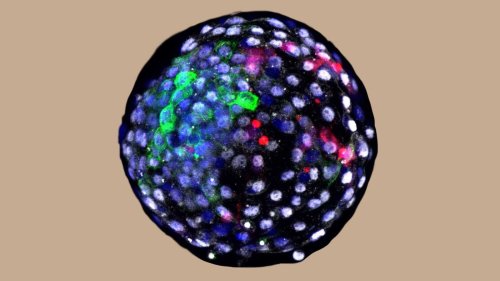 NPR - Rob Stein • 22d
For the first time, scientists have created embryos that are a mix of human and monkey cells. The embryos, described Thursday in the journal Cell, were created in part to try to find new ways to produce...
Related articles
phys.org - American Museum of Natural History • 1d

In the 150 years since Charles Darwin speculated that humans originated in Africa, the number of species in the human family tree has exploded, but …

sciencefocus.com - Sara Rigby • 9h

In a study of the worm C. elegans, the team found bacteria species linked to the development of the conditions, and others that can counteract the …

Complex - ByJoshua Espinoza • 17h

A particularly special crustacean dodged a death sentence last month. According to Inside Nova, staff at a Virginia Red Lobster decided to spare the …

worldhistory.org - Joshua J. Mark • 1d

Pre-Colonial North America (also known as Pre-Columbian, Prehistoric, and Precontact) is the period between the migration of the Paleo-Indians to the …

Fast Company - By Yonason Goldson • 11h

When it comes to serious decisions in business or in life, this mental quirk can set us up for catastrophic failure unless we actively work to keep it in check. Imagine this: You're heading for the cashier...

Business Insider - Anika Nayak • 22h

If you buy through our links, we may earn money from affiliate partners. Learn more. Why do we think and act the way we do? What are we most afraid of, and why? What do our dreams mean? Finding clear to...

Salon • 10h

Processed foods are a symbol of the United States, known around the world, due to the reach of the American culture machine. Oreos, chicken nuggets, Doritos, Chips Ahoy and Pop-Tarts are a staple of American...

Guardian US - Kari Paul and agencies • 1d

Giant California condors are rare – but not at Cinda Mickols' home. More than 15 condors, an endangered bird whose population hovers at around 160 in the state and under 500 in the US, have recently taken...

Gizmodo - Ed Cara • 1d

A small new study found remarkable improvements in communication and behavior in three patients with severe Alzheimer's disease after they received a …

Newsweek - Alexandra Hutzler • 5h

A theoretical physicist said Friday the United States should be very concerned about a 23-ton piece of debris from a Chinese rocket that's expected …

Best Life - Sarah Crow • 1d

With spring officially here and Memorial Day weekend not far away, there's no time like the present to start planning your packing list for your next …

ScienceAlert - Carly Cassella • 13h

Mexico City, the most populous metropolis in North America, has sunk too low for us to save it, according to new research. After centuries of water …

10news.com - Derek Staahl • 17h

SAN DIEGO (KGTV) -- From kidney failure to heart damage to strokes, COVID-19 can cause a wide range of complications from head to toe. New research …

Yahoo News • 7h

The majority of the world is heading into a "very, very dark period" of the coronavirus crisis, a World Health Organization (WHO) leader has …

VICE - Sarah Wells • 1d

The laser pulse's power is comparable to "focusing all the sunlight reaching Earth to a spot of 10 microns"—the size of a speck of dust. Some scientific achievements are large and flashy—like imposing...
Join the flipboard community
Discover, collect, and share stories for all your interests