Newly Discovered Dinosaur Was Top Carnivorous Predator In Argentina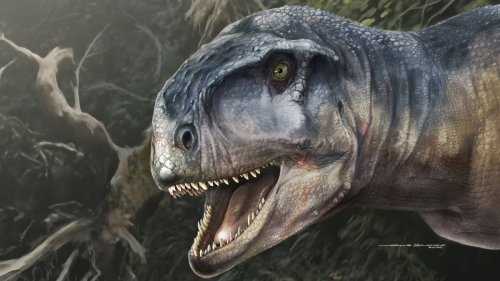 NPR - Alejandra Marquez Janse • 26d
A new dinosaur named for its ability to strike fear in its prey has been discovered by paleontologists in South America. The skull of the dinosaur named Llukalkan aliocranianus, which means "one who causes...
Related articles
theconversation.com - Alison Crowther and Patrick Faulkner • 16h

Africa is often referred to as the cradle of humankind – the birthplace of our species, Homo sapiens. There is evidence of the development of early …

phys.org - by Center for Genomic Regulation • 20h

The first civilizations to build monumental palaces and urban centers in Europe are more genetically homogenous than expected, according to the first …

psypost.org - Eric W. Dolan • 11h

People who feel less connected to nature tend to have heightened levels of psychopathic personality traits, according to new research published in …

newscientist.com - Gege Li • 17h

Photographer Tony Wu Agency NaturePL.com THE image above shows one of Japan's most charismatic and rarely seen residents as it glides through its …

Live Science - Patrick Pester • 20h

A surprisingly small population could save our species. From all-out nuclear war to a giant asteroid strike, it's not hard to imagine ways human life …

ScienceAlert - NICOLETTA LANESE • 1h

The biotech firm Oxitec has released its genetically modified mosquitoes in the Florida Keys, with the goal of suppressing wild, disease-carrying …

247wallst.com - Douglas A. McIntyre • 1d

Scientists in Finland researching aggression in dogs studied 23 breeds to find the most aggressive.

CBS News • 23h

Thirty-five members of the largest Asian elephant herd in the western hemisphere are being shipped to a lush new habitat at Florida's White Oak …

Yahoo News - Michael Dahlstrom • 1d

Our children's lives will be dramatically changed by our impact of the natural world, according to world-renowned environmentalist and broadcaster Dr …

space.com - Robert Z. Pearlman • 21h

"Our shuttles need to refuel before they burn for the moon..." That one line, from the penultimate episode of the now complete second season of "For …

dailymail.co.uk - Dan Avery • 12h

Cats love to sit in boxes so much, they'll even plop down in a square painted on the floor - and a new study finds they will even choose an optical …

The Guardian - Warren Murray and agencies • 12h

The White House has called for "responsible space behaviours" as a Chinese rocket, thought to be out of control, looks set to crash back to Earth on Saturday, US time. The US Space Command is tracking...

The New York Times - Bryan Pietsch • 17m

On July 9, 1845, two months after departing from Greenhithe, England, Warrant Officer John Gregory wrote a letter to his wife from Greenland in which he described seeing whales and icebergs for the first...
Join the flipboard community
Discover, collect, and share stories for all your interests