How The U.S. Could Halve Climate Emissions By 2030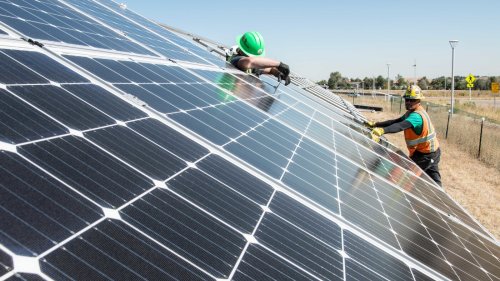 NPR - Lauren Sommer • 21d
President Biden announced on Thursday a number that could shape the rest of his presidency: a goal to cut U.S. greenhouse gas emissions between 50 to 52 percent by 2030. The announcement marks the country's...
Related articles
The Guardian - Oliver Milman • 11h

Wyoming is faced by a transition to renewable energy that's gathering pace across America, but it has now come up with a novel and controversial plan to protect its mining industry – sue other states refuse...

Electrek - Michelle Lewis • 1d

The costs of most existing coal-fired power plants in the US are now more expensive than the total costs of wind and solar as a result of their plunging costs, according to a new study. Coal versus wind...

The Intercept - Naomi Klein • 5h

It's a ritual that has been repeated many times over the coldest months of Northern California's winter. The Chico police arrive between 9 a.m. and …

ScienceAlert - Carly Cassella • 13h

Mexico City, the most populous metropolis in North America, has sunk too low for us to save it, according to new research. After centuries of water …

Newsweek - Alexandra Hutzler • 6h

A theoretical physicist said Friday the United States should be very concerned about a 23-ton piece of debris from a Chinese rocket that's expected …

Business Insider - Marianne Guenot • 3h

It is highly unlikely that debris from the uncontrolled Chinese rocket that's falling back to Earth will hit inhabited areas, an official from the European Space Agency told Insider on Friday. But if rocket...

Inc Magazine - Jeff Haden • 4h

Focus is crucial to success. But not early on. In sports, early specialization appears to matter. Tiger Woods was less than 2 years old when his father began teaching him to play golf. He was on television...

Salon • 10h

Processed foods are a symbol of the United States, known around the world, due to the reach of the American culture machine. Oreos, chicken nuggets, Doritos, Chips Ahoy and Pop-Tarts are a staple of American...

sciencefocus.com - Sara Rigby • 9h

In a study of the worm C. elegans, the team found bacteria species linked to the development of the conditions, and others that can counteract the …

Fast Company - By Yonason Goldson • 11h

When it comes to serious decisions in business or in life, this mental quirk can set us up for catastrophic failure unless we actively work to keep it in check. Imagine this: You're heading for the cashier...

Associated Press - LISA MASCARO, AP Congressional Correspondent • 15h

WASHINGTON (AP) — Republican Kevin McCarthy is leading his party to an inflection point, preparing to dump Rep. Liz Cheney from the No. 3 House leadership position and transform what's left of the party...

greekreporter.com • 20h

Stoicism, one of the philosophical movements of the Hellenistic period, was founded by Zeno of Citium in Athens in the early third century …

CBS News • 1d

Just a quick glance at the new U.S. Climate Normals maps published by the National Oceanic and Atmospheric Administration (NOAA) on Tuesday is enough …

Inc Magazine - Jason Aten • 12h

It's time to come up with a plan. As we get closer to what all of us hope is the end of the pandemic, companies are faced with a new challenge: how to bring people back to work. It's not a small thing...
Join the flipboard community
Discover, collect, and share stories for all your interests