The latest stimulus check will impact your taxes and the economy: here's how.
As final approval of a stimulus package nears, are you still eligible for a check and how will it impact your taxes, the stock markets and the economy?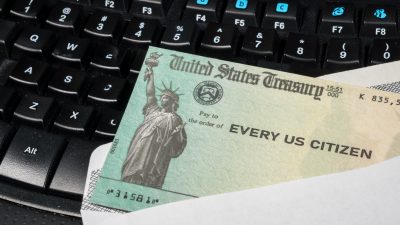 Photo: cdn.gobankingrates.com
The proposed stimulus may call for $1,400 checks, but the amount your family will receive may be very different.

While Democrats are one step further in advancing President Biden's $1.9 trillion American Rescue Plan, key points are still being debated, including raising the federal minimum wage to $15.

The stimulus payments are not taxable income. They are structured as tax rebates, so they are neutral to your income tax filings.

Some Americans who didn't receive their economic impact payments might still be able to claim the funds.

An overwhelming eight in 10 Americans are in favor of $1,400 stimulus payments to Americans, with 78% supporting and 18% opposing.

Yellen says that a "big package" of stimulus is necessary to help the economy stage a full recovery.

Our Take: Synchrony Bank is an online-only bank that's best for customers who want a high annual percentage rate to help beef up emergency funds.