Trump was surprised when no one in the Congressional Black Caucus personally knew his only black Cabinet member,
Ben Carson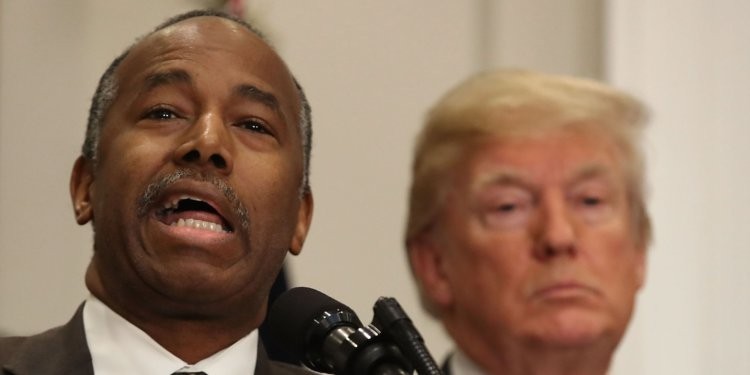 As the firestorm following President Donald Trump's "shithole" remark to lawmakers intensifies, NBC News reported Friday on prior instances of the president making racially charged comments.
One of those episodes reportedly happened at the president's March meeting with members of the Congressional Black Caucus. At that meeting, Trump asked the officials if they knew just one member of his Cabinet — Housing and Urban Development Secretary Ben Carson — according to two sources who were in the meeting.
Carson is the only black member of Trump's Cabinet.
None of the lawmakers said they personally knew Carson, who never served in Congress and spent his career as a famed neurosurgeon.
Trump found that surprising, NBC News reported.
In that same meeting, a member of Congress told Trump that welfare cuts he was considering would harm her constituents. She added that "not all" of the constituents she represents "are black."
"Really?" the president reportedly replied. "Then what are they?"
That story came after multiple news outlets as well as Democratic and Republican senators who were present at the Thursday White House meeting either confirmed or did not deny that Trump asked why the US accepts immigrants from "shithole countries" such as Haiti, El Salvador, and African nations.
The group of bipartisan lawmakers were negotiating immigration legislation with the hope of resolving the fate of young immigrants protected from deportation by the Deferred Action for Childhood Arrivals program, which the administration is phasing out. Earlier this week, the administration announced it would end Temporary Protected Status for 200,000 Salvadorans, 45,000 Haitians, and 2,500 Nicaraguans.
"Why are we having all these people from shithole countries come here?" Trump reportedly said.
Trump added that the US should instead accept more immigrants from countries such as Norway, whose prime minister he had met the previous day.
The president has denied making those exact comments.