Sweet Potatoes
Four Ways
Merle O'Neal, Tasty
It's a sweet
potato party!
Sweet Potatoes Four Ways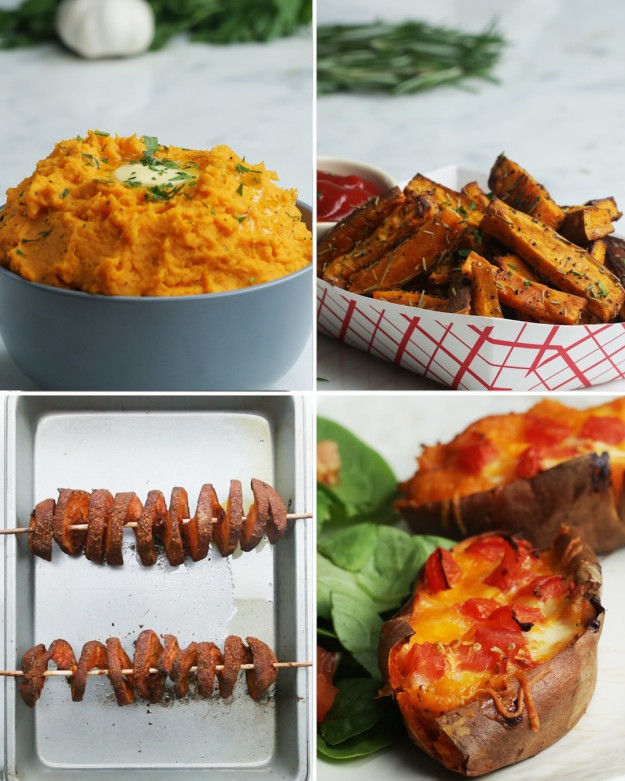 Garlic Mashed Sweet Potatoes
Serves 4-6
INGREDIENTS
4-5 sweet potatoes
2 tablespoons butter, melted
¼ cup heavy cream
3 cloves garlic, minced
1 teaspoon salt
1 teaspoon pepper
PREPARATION
# Add potatoes to a large pot of salted water. Place over medium/high heat and bring to a boil. Cook until fork tender, about 15-20 minutes.
# Drain, peel, and mash potatoes until they reach a smooth consistency.
# Add remaining ingredients to mash and mix to incorporate.
# Enjoy!
Sweet Potato Fries
Serves 4-6
INGREDIENTS
1-2 medium-large sweet potatoes
2 tablespoons olive oil
1 tablespoon rosemary
1 teaspoon pepper
1 teaspoon salt
PREPARATION
# Preheat oven to 425ºF/220ºC.
# Slice the ends off of the sweet potato and then slice it in half. Take one half and slice it horizontally 4 times then slice vertically 4 times to cut into fries.
# In a large bowl mix fries and ingredients until evenly spread.
# Place fries on a prepared baking sheet and bake for 25 minutes.
# Enjoy!
Tornado Sweet Potato
Serves 4
INGREDIENTS
2 large sweet potatoes
2 tablespoons butter, melted
¾ cup vegetarian parmesan cheese
1 teaspoon garlic powder
1 teaspoon cumin
1 teaspoon paprika
1 teaspoon chili powder
PREPARATION
# Preheat oven to 400ºF/200ºC
# Take potatoes and poke them on all sides with a fork. Microwave for 2-3 minutes.
# Coat a wooden skewer with oil and insert the skewer through the length of the potato.
# Hold a sharp, thin knife at an angle and cut through the end of the potato until it hits the wooden skewer. Begin rotation the potato to cut down the length of it and form a spiral.
# Gently fan out the potato down the length of the skewer, until you have an even gap between the slices forming the spiral.
# Brush the potato with melted butter.
# In a medium bowl, combine remaining ingredients.
# Shovel the dry mixture all over the potato until it is entirely coated.
# Rest the skewered potatoes over a baking pan so the skewers suspend the potato over the bottom of the pan.
# Bake for 25-30 minutes, or until nicely browned.
# Garnish with additional parmesan and parsley.
# Allow to cool for 5 minutes.
# Serve warm and enjoy!
Loaded Sweet Potato Skins
Serves 6-8
INGREDIENTS
4 sweet potatoes
¼ cup milk
1 teaspoon salt
1 teaspoon pepper
1 cup mozzarella cheese, shredded
1 cup cheddar, shredded
2 roma tomatoes
PREPARATION
# Preheat oven to 400ºF/200ºC.
# Take potatoes and poke them on all sides with a fork.
# Bake for 50 minutes, or until fork tender.
# Allow potatoes to cool, then cut off either end and cut in half lengthwise.
# Scoop out potato flesh leaving a thin layer of sweet potato inside, and add flesh to a medium bowl.
# Place skins back on baking sheet, drizzle with olive oil and bake at 400˚F/200˚C for 10 minutes.
# Mash sweet potato flesh with milk, salt, and pepper until smooth and creamy.
# Remove sweet potato skins from oven, fill each with an equal amount of potato mixture and top with cheese and diced tomatoes.
# Bake at 400˚F/200˚C for 15 minutes until the cheese is melted.
# Allow to cool 5 minutes.
# Enjoy! ■