How WOVNS Is Revolutionizing The Interior Design
Textile Market
Western Bonime, Contributor
"Customization is the first step in replacing the individuality lost by industrialization"~ Ben Alun-Jones, Founder and Creative Director of Unmade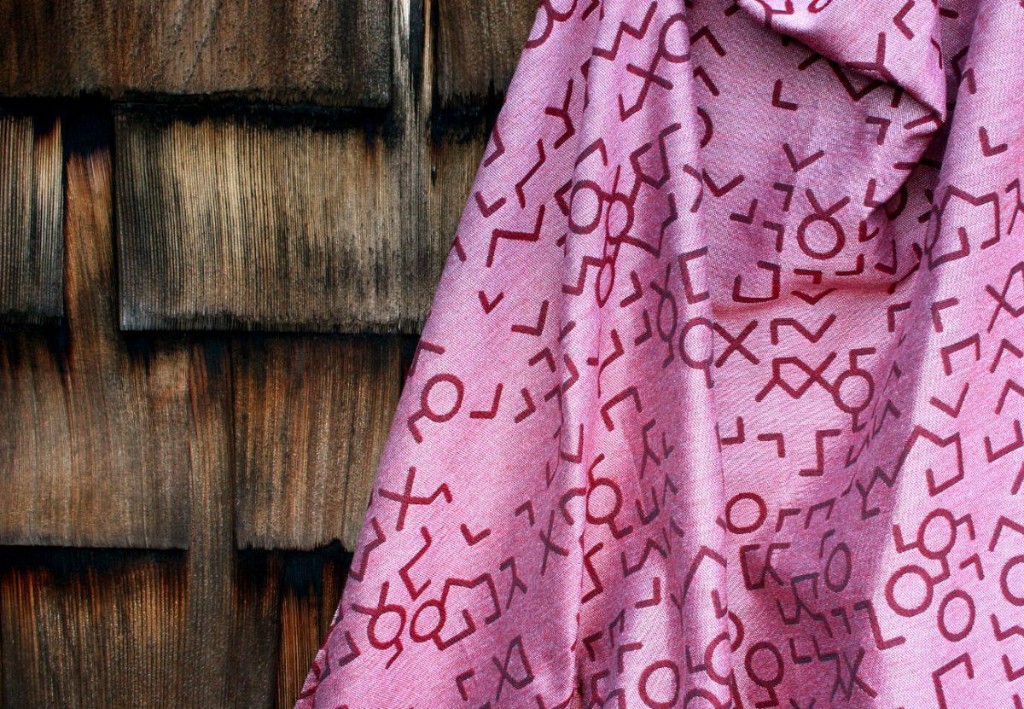 WOVNS Textile
Does limitation breed possibility or does freedom and individuality? That's an interesting question that designers will be facing in the next decade as more and more AI customization programs come onto the market to speed up manufacturing and design. The answer at Bay Area Company WOVNS is both. They are bringing freedom within limitation to the world of interior design. Run by sister duo Dena Molnar and Chelsea Molnar, WOVNS is a jacquard textile program and collaboration with US mills that lets interior designers create their own jacquard textiles, choose their own colors, order as little as one yard at a time and get it in a week. It's a game changer and here's why.
In the past century, fashion and interior designers have been limited by three major factors: lead times, minimum order quantities, and pre-design by factory. Lead time means the amount of time you need to give a textile mill to produce the fabric you want. Most mills require 3-6 months to produce textiles once they are ordered. Why so long? Weaving textiles is a complicated business that requires numerous materials, spinning, dyeing and weaving. No mill can sit on endless quantities of material hoping that orders will come in. They have to order fibers like cotton or wool and then dye to your color specifications and set up their looms. All of this requires time and is susceptible to things like weather and trade negotiations. Plus, the time setting up machines that sometimes take up an entire warehouse in size, is complex.
Minimum order quantities or MOQ's as they are known in the industry have also been an obstacle to designers. Due to the time and cost of setting up a loom, most companies require orders of hundreds or thousands of yards. Let's say a company wants to use 50 different fabrics in a collection then multiply that by thousands of yards per each fabric colorway (and many times you ware working with 3-9 colorways per fabric pattern), and you begin to see that there is a sizable investment involved. Some Italian and French companies have been known to allow for orders as small as 25-100 yards of qualities they already have but try producing in China and you may be facing hundreds of thousands of dollars for a first order. Not money that most start-up companies have.
An interesting side-note about jacquard patterns. They've been around since the 1800s and are thought by some to be the precursors to 1950s style computers as they work similarly with hole punched cards that dictate the patterns to the looms proving that science and craft have deep roots of collaboration in history.
Lastly, design limitations. Due to the high cost and complexity of weaving, most mills review trends and begin designing as much as 2-3 years before they offer their textiles to the design market. When they do, the patterns, colors and materials have been predetermined and designers are left to be creative within those limitations by changing colors, adding prints and by where and how they use them . Larger companies have had more freedom by being able to order to whatever they want but here's the catch. Larger brands are mass market which means instead of offering cutting edge design, they are offering choices at a budget which means they need fabrics that are cheap which limits design by price. Designers have only had total freedom to create textiles from scratch when they could design custom as in the world of Haute Couture where small yardages are made by hand to exact specifications and where time and cost is no object.
When we look at the previous limitations of lead times, MOQ's and preset choice, it's easy to see why WOVNS is so exciting and why they've been featured by Martha Stewart in America Made and WWD. They've opened the door to small firms and young designers who have great ideas but not a lot of backing. It is precisely to make individual designs possible that Dena and Chelsea started WOVNS. Grad school into how textile simulation tools could facilitate on-demand manufacture of jacquard fabrics led to Dena and her sister, developing the software needed to implement such an automated system. Chelsea and Dena launched the company with a Kickstarter campaign for the design software that then moved into a relationship with several mills.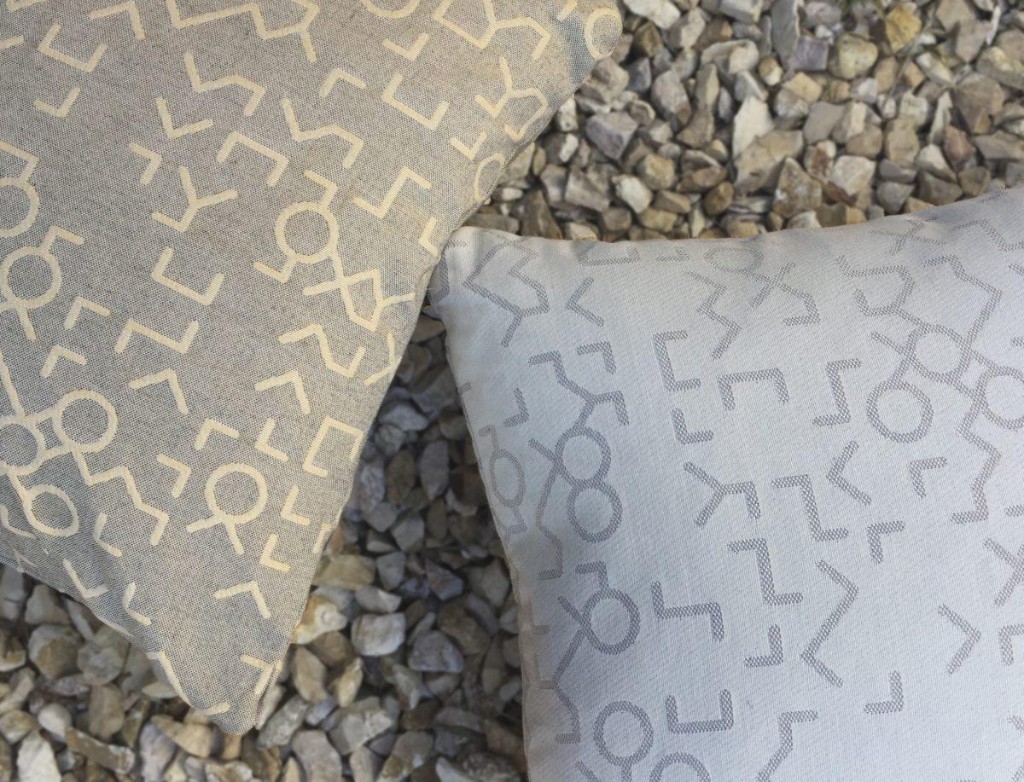 How it works: Each mill is set up with specific yarns (i.e., polyester, cotton, wool) for the horizontal threads (called weft) and for the vertical threads (called warp) . Each loom, is pre-set with certain colors. Clients can, using design programs like Photoshop or WOVNS own software design the textile pattern they want in the colors of their choice and because the mill is already set up, there is a very small lead time. Yes, there are some limitations with pre-set colors and yarns but the beauty of jacquard textiles is that there are millions of variations between warp and weft allowing for almost unlimited creativity. In short, WOVNS has proven that both limitation and freedom make for endless creativity.
WOVNS inception has been largely shaped by Dena and Chelsea in architecture and textile design. Both she and her sister have always been close. They both attended RISD. Dena went to study painting but when she noticed the exciting artwork coming from the textile school below the painting studio, she found herself signing up for a course. Chelsea joined her, but as Dena puts it, was slightly put-off by all the fashion design students in black (she and her sister wore the typical paint smeared jeans of artists) and quickly switched out for furniture design. Dena stayed, and the rest they say, is history…except, not quite. Before she became a fully-fledged textile designer and leading researcher in the area of technological textiles there would be a few explorative steps along the way.
After RISD, she moved to the Bay Area to look for work. A proud graduate, with training in Point Carré textile programs it was something of a shock to find out everyone was using Photoshop and Illustrator in San Francisco, two programs she didn't know. Dena realized that she was going to have to learn these programs and that there just wasn't enough of a textile industry to provide a lot of career options, so she moved back to the East coast, to New York. Once there, she began to work for Maharam one of the biggest commercial textile firms where she says, "she really learned how the textile industry worked." To teach herself about software, she started taking night classes at FIT and saw the amazing 3D modeling programs like Rhino and Autocad that her sister Chelsea and that accessory designers were using. Dena began to wonder why there weren't 3D programs like that for the textile industry.
After Maharam , she worked with Leah Buechley who ran the Hi Lo tech lab at MIT . Leah is an electrical engineer with a passion for craft. Her belief that art and tech needed to communicate is largely responsible for the current art + tech movement. It was an eye-opening experience that set her up for eventually working on Project Jacquard with Levi's and Google. "People don't realize how much goes into the fashion and textile industry," she said. "It was a real learning curve for Google." "They had to solve problems like washability and wearability."
The past two years Dena and Chelsea have spent their time getting WOVNS up and going. Chelsea's background in architecture has helped her bring deep insights to the company about how interior design textiles are specified for the commercial market. Now that WOVNS is successfully established, the sisters have a lot of great projects in the works, like expanding the number of mills they collaborate with so that they can offer more choice, possibly offering fabrics for the fashion market down the road, and expanding further internationally. They currently work with customers in the Netherlands and South America. They are also focusing heavily on improving the UX of the software. Dena is excited to get back to the design side of the business and create a line of textiles that they will offer for purchase. In terms of Bay Area collaborations, Dena is demure. "We're working on some exciting projects with a lot of innovative companies here," she says, "but I can't reveal what those projects are yet."
We look forward to hearing about coming innovations for WOVNS and in the meantime, can rejoice in the fact that for the first time EVER, we have the freedom to design our own fabrics and order as little as a yard.