Historian suggests community buyouts of
ancient treasures
By Jackie O'Brien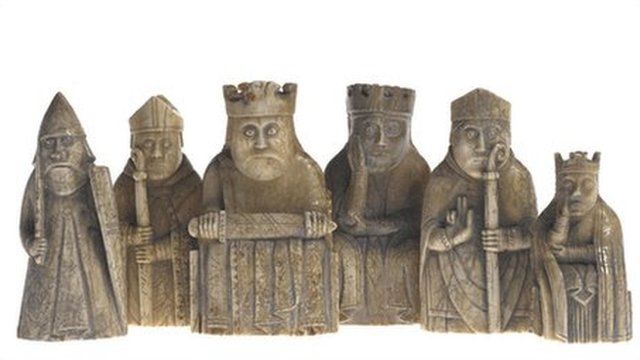 A historian has suggested artefacts found in the Highlands and Islands and held in museums outside the area could be returned via community purchases.
Prof James Hunter's comment comes as crofters in Assynt prepare to mark 25 years since the North Lochinver Estate was brought into public ownership.
He said the same powers used for community buyouts of land and buildings could be used for "portable assets".
These include the Lewis Chessmen and the St Ninian's Isle Treasure, he said.
The items are held in museums in Edinburgh and London.
More than 90 chessmen were found beneath a sand dune near Uig on the west coast of Lewis in the early 19th Century.
The pieces are thought to have been carved in Norway in the 12th Century, and may have been buried to keep them safe before being traded in Ireland.
Six of the Lewis Chessmen from the British Museum are on long-term loan to Museum nan Eilean in Stornoway in Lewis.
'Back in Highlands'
The St Ninian's Isle Treasure from Shetland is the only Scottish hoard of fine metalwork from 750-825AD to survive in its entirety.
It is held in the collections of National Museums Scotland.
Prof Hunter, Emeritus Professor of History at the University of the Highlands and Islands, said community buyouts have been successful in terms of putting land into public hands.
But he told BBC Scotland: "There are an awful lot of more portable assets that were taken out of places, like the Highlands, in the past and arguably could be back here again.
"I think of the Lewis Chessmen from Lewis and the St Ninian's Isle Treasure from Shetland. Things like that ought to be back here.
"Speaking as a historian, who has spent an awful lot of time researching material in places like Edinburgh and London that has to do with the history of the Highlands, I would very much like that sort of stuff back in the Highlands."