Frank Lloyd Wright in 45 essential works
- Curbed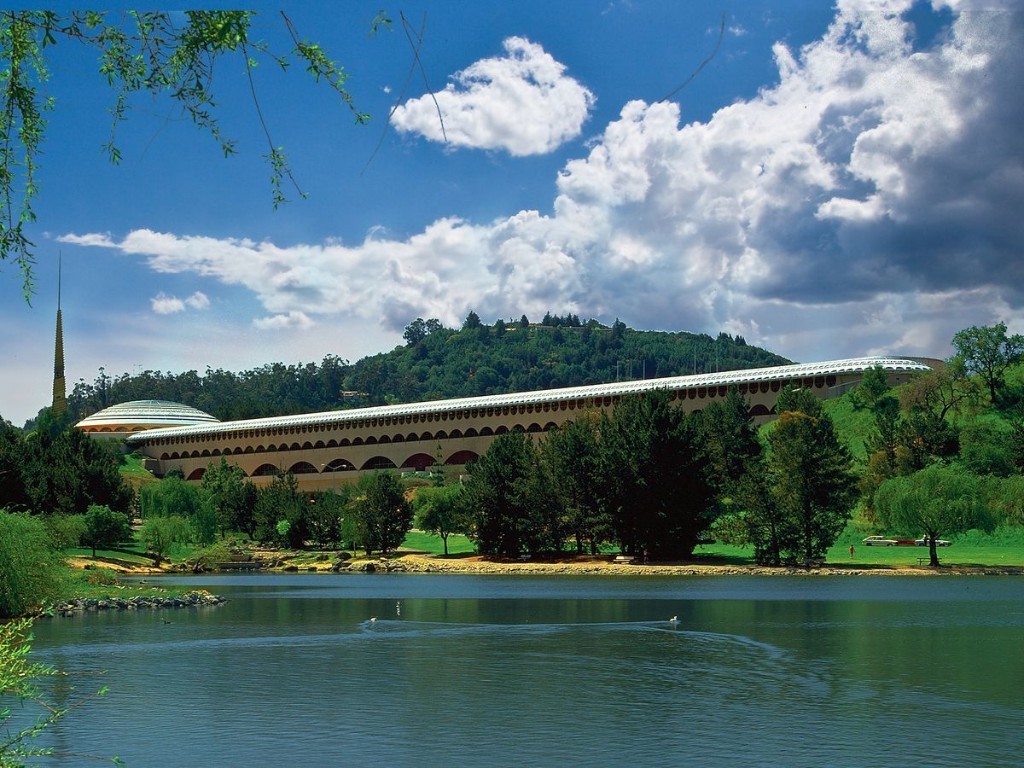 For Frank Lloyd Wright's 150th birthday, Curbed is celebrating the life and work of the legendary American architect who brought us the Prairie School movement. Join us in exploring all things Wright this week.
For Frank Lloyd Wright's 150th birthday, Curbed is celebrating the life and work of the legendary American architect that brought us the Prairie School movement. Join us in exploring all things Wright this week.
Few figures are as ever-present in American architecture as Frank Lloyd Wright, a visionary whose work continues to serve as an inspiration, the bedrock upon which much of modernist architecture is built. From revolutionary Prairie-style dwellings to singular organic designs and accessible Usonian models, Wright's work rethought architectural tenets—and made Wright a celebrity in his lifetime.
Wright was also incredibly prolific, designing hundreds of buildings that run the gamut from individual homes to museums to, in at least one case, a doghouse. While this list is by no means comprehensive—and the numbers here do not designate any kind of ranking—we pulled together this guide to present a picture of the architect's wide-ranging motifs. From masterpieces to singular, and often unorthodox, ideas, this is your essential primer to the work of Frank Lloyd Wright.
Points are grouped geographically, starting with Fallingwater.
Arguably the most famous private home of the 20th century, this residence and its striking silhouette—appearing on a career-defining cover of Time magazine in 1938—created a sensation that propelled Wright through the final decades of his career. Set atop a waterfall in Bear Run, a summer camp in western Pennsylvania owned by the wealthy Kaufmann family, the concrete-and-limestone home, entwined with the body of water that gives it its name, is a symbolic masterpiece, instructive of both Wright's philosophy and his single-mindedness.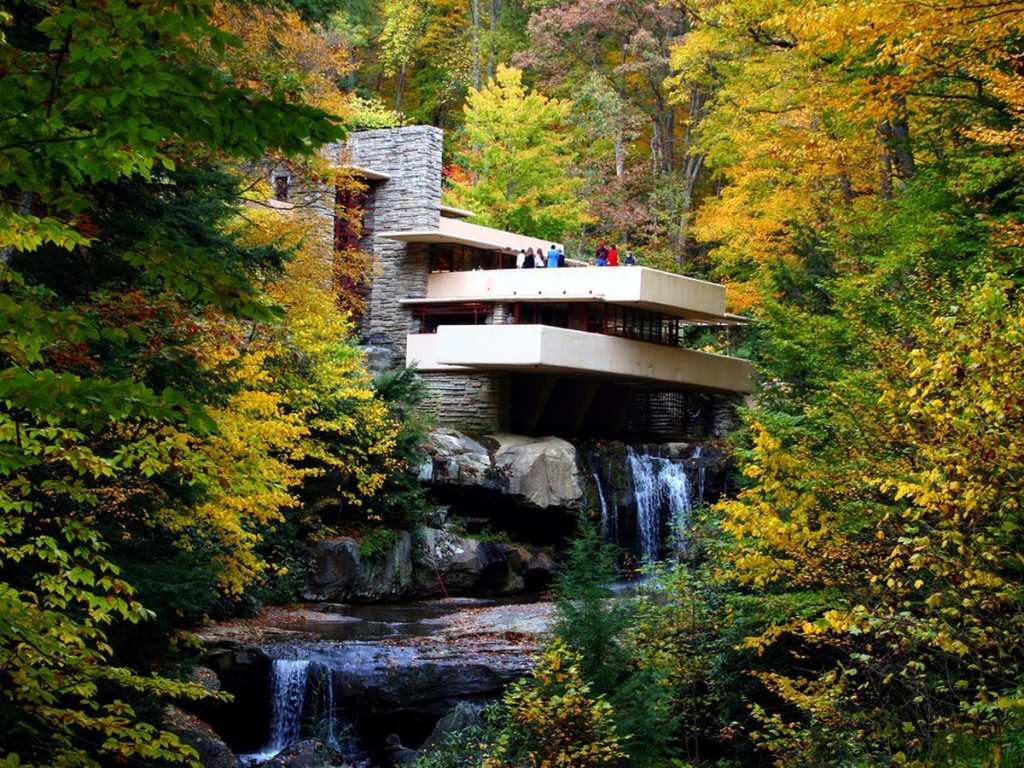 There's more than one Wright design in western Pennsylvania. Located in Chalk Hill, the one-story Usonian stretches out over a hillside, offering views of the Youghiogheny River Gorge. The small residence, located just four miles from Fallingwater, his masterpiece, was based on a module system incorporating equilateral triangles. While Wright bragged that he could "shake it out of his sleeve at will," the design is a brilliant example of organic architecture, featuring a set of hexagonal skylights and local materials, including cypress and fieldstone cut by hand.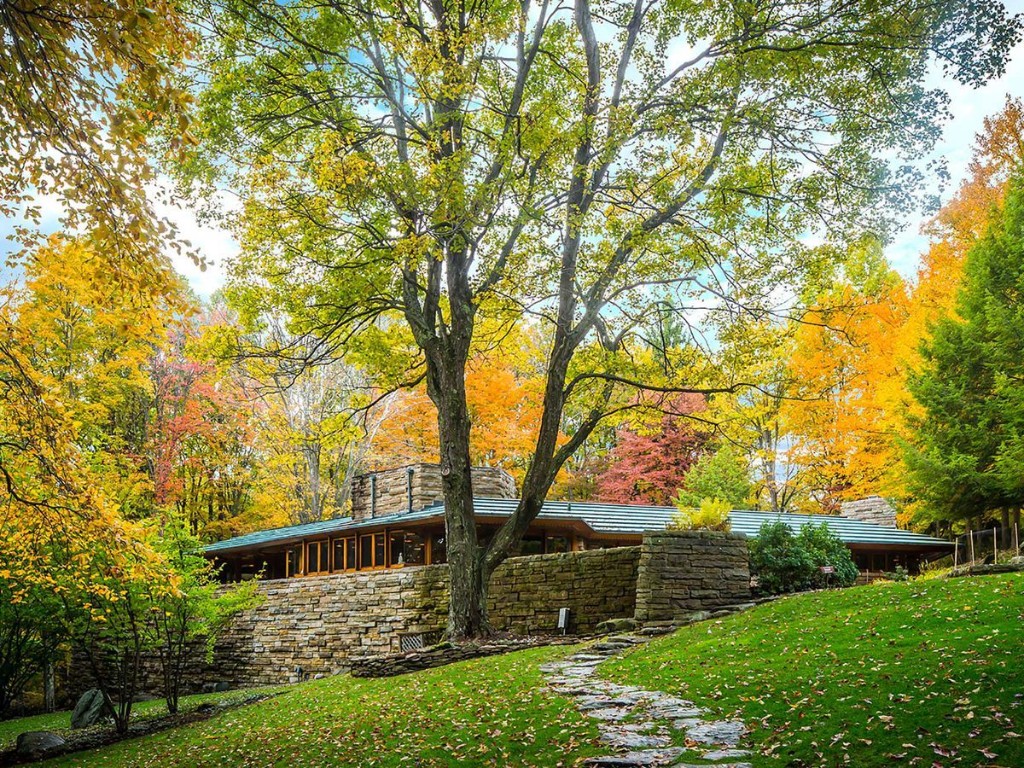 A summer retreat on the shores of Lake Erie that Wright designed in the late '20s for Darwin Martin, the home may be a telling example of the landscape making an impression on him. Better known by its official name, which references its perch overlooking the lake, the narrow home integrates native materials and boasts a light-filled interior; it's telling Wright named it "the Natural House." Graycliff boasts an artful exterior of stucco and limestone (pyrite in the limestone gives the building its rusted look). Some have said the use of corner windows, the cantilevers overlooking water, and the idea of transparency embedded in the naturalistic design hint at what Wright would do at Fallingwater eight years later.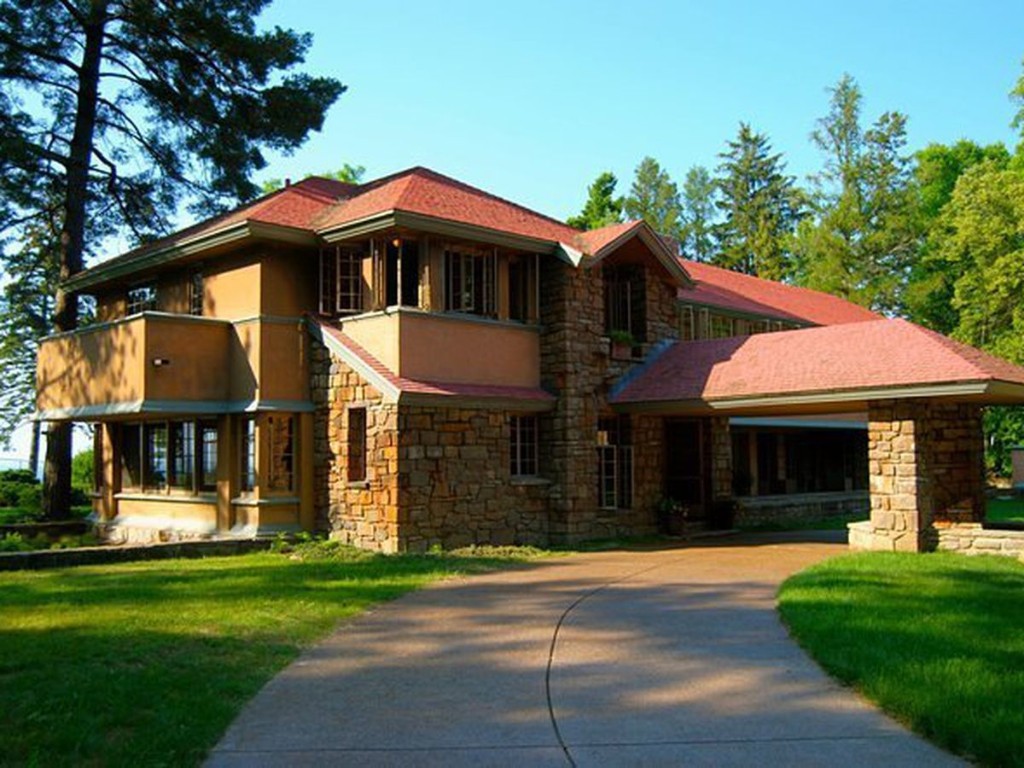 Sibling rivalry may have played a small part in the decision of Buffalo businessman Darwin D. Martin, who worked for the Larkin Soap Company, to hire Frank Lloyd Wright to create his home, a Prairie-style icon that would be among the architect's best works. After his brother, William, had Wright design him a home in Oak Park, Darwin brought Wright out to western New York and commissioned a complex of buildings, including the lengthy, open-plan main residence, one of the largest of its type ever built (Martin supposedly granted Wright an unlimited budget). Currently undergoing the finishing touches of a huge renovation, the main house and adjacent buildings feature a wealth of Wright-designed art glass, which casts jewel-like tones across this residential masterpiece.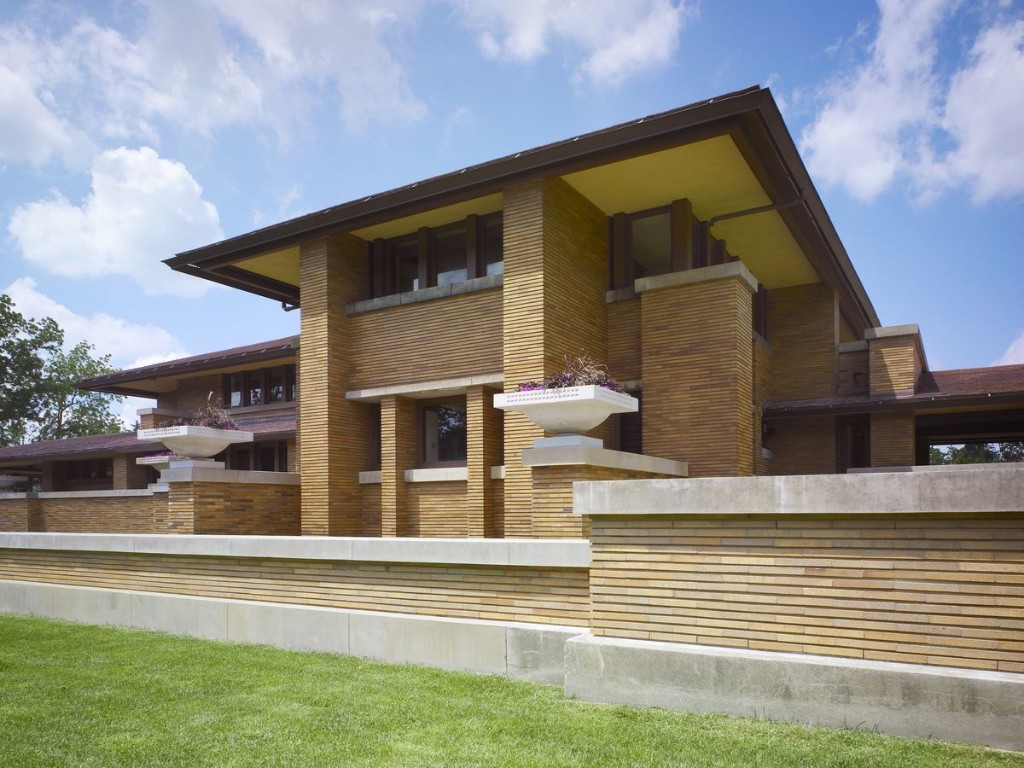 Opened six months after Frank Lloyd Wright died in 1959, the Guggenheim met with the kind of criticisms that one might imagine the architect would delight in hearing: that this incredible building was so striking, it would overshadow the art within. The apex of Wright's cylindrical and circular style, this cultural center, a ribbon of concrete on the Upper East Side, descended from an earlier design for the Gordon Strong Automobile Objective and Planetarium. The open atrium and curved, spiraling floorplan created a unique viewing experience, with patrons slowly ascending toward the top of the architectural nautilus shell.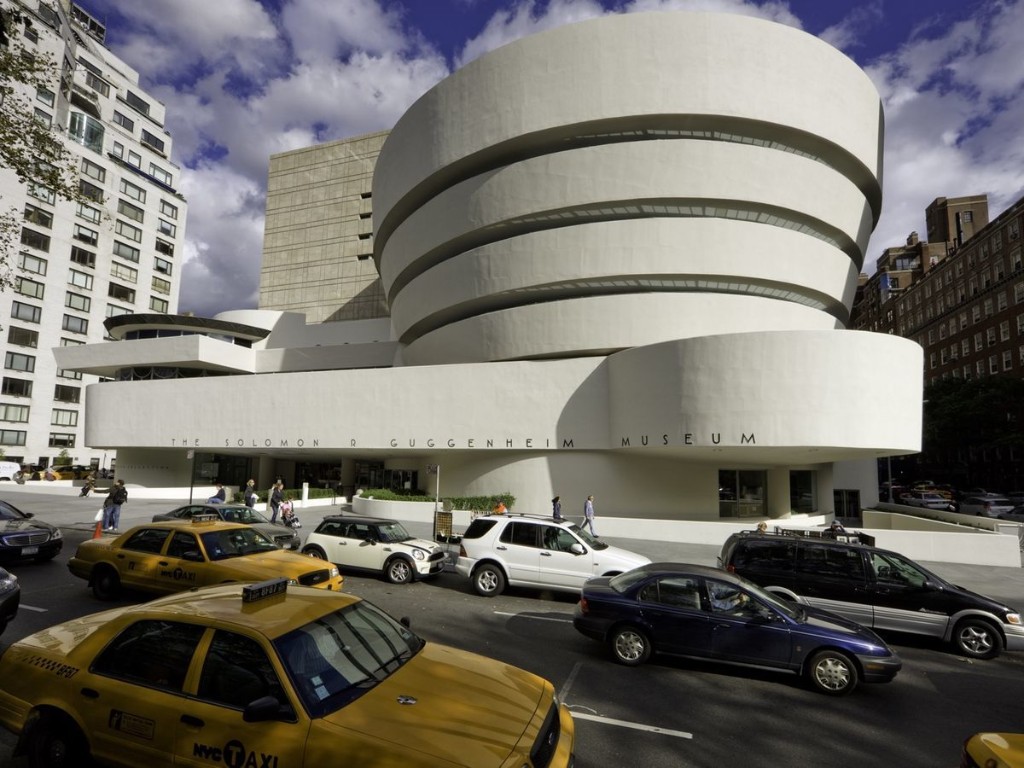 This private home on Staten Island, the only Wright-designed residence in New York City, offers a window into the architect's prefab obsession. Original owners Catherine and William Cass bought a kit from Marshall Erdman, a private prefab builder who collaborated with Wright, in the late '50s. One of 11 of these models ever built, the home is an example of the architect's lifelong attempts at creating well-designed, affordable housing.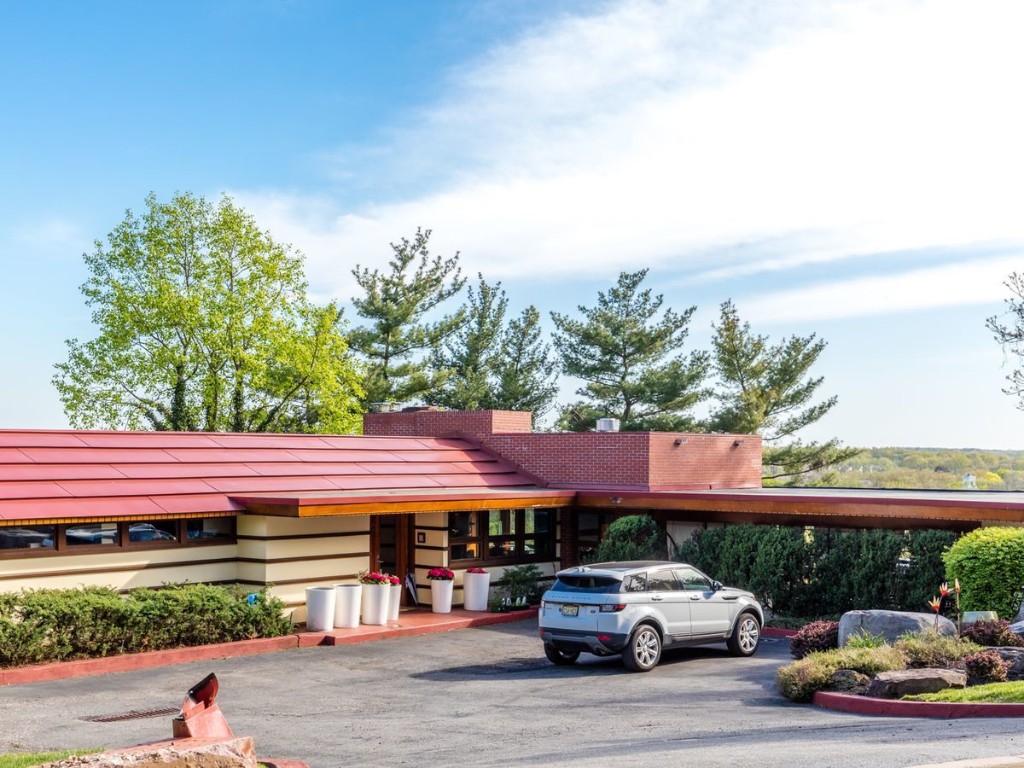 An imposing temple rising in a Philadelphia suburb, Wright's only synagogue is a singular piece of modernist religious architecture. The grand pyramidal roof, with inclined walls of translucent fiberglass and plastic, built on three steel beams, allows light in and takes on a golden glow during the sunset. The shadows of birds flying above are visible during a sunny day. Wright's vision references two religious metaphors suggested by the then-rabbi, Mt. Sinai and a tent, which underly his own unique take on a shared sacred space.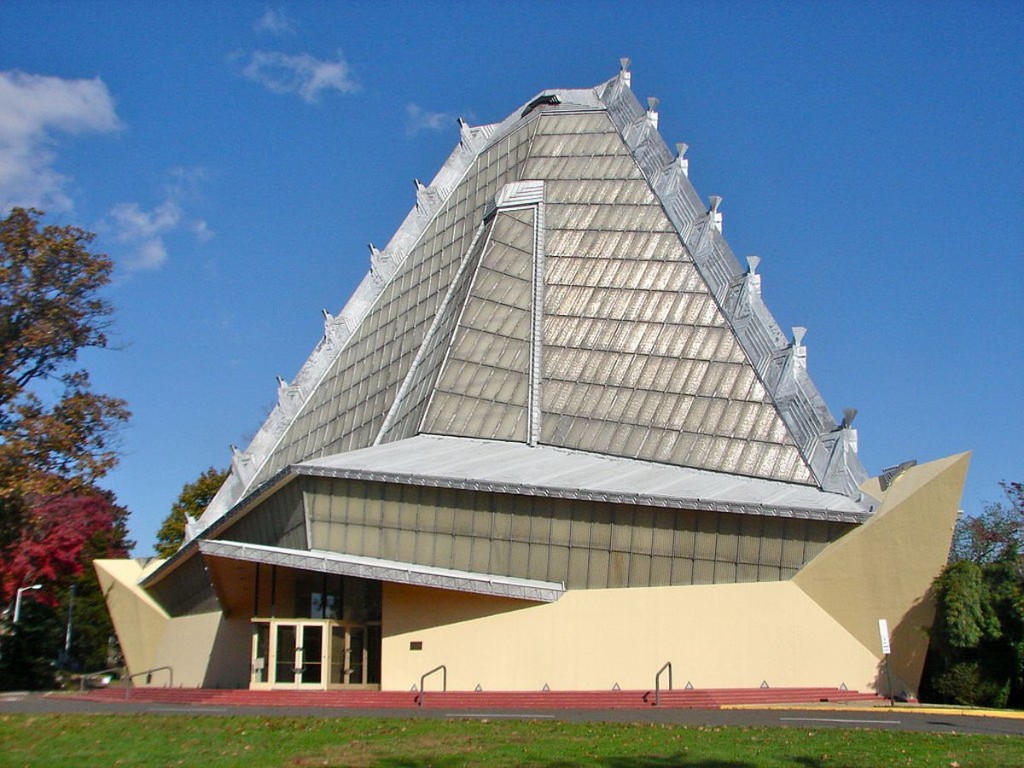 With a decades-long history of relocations and financing issues, it's a miracle this compact take on a Usonian home still exists. Wright designed this 1,200-square-foot residence for Washington Post writer Loren Pope, who had to take a loan out from her paper to afford the property. Later owners moved it after the property was condemned to make way for a highway (then it had to be moved again, at a cost of $555,000, when it was discovered that it rested on unstable marine clay). But it was all worth it. Wright spoke of naming the cypress-clad home Touchstone, since he felt the L-shaped layout was one of the best realizations of his Usonian concept.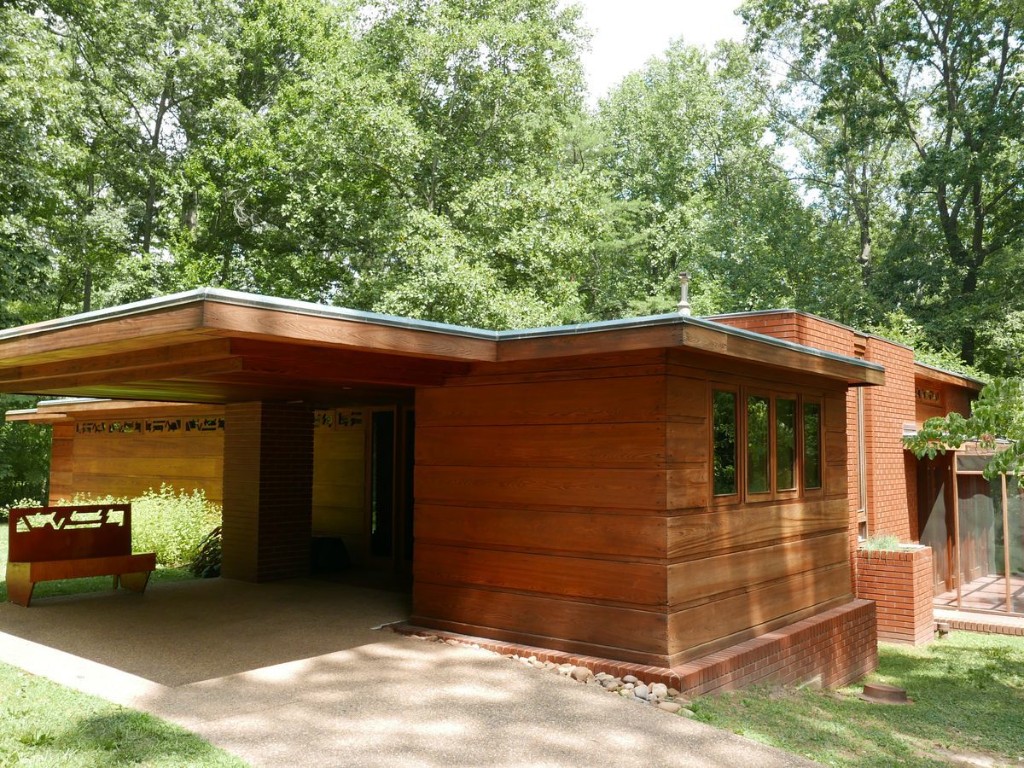 Wright's career is filled with rarities, but few approach a restored Southern plantation when it comes to singular additions to the architect's oeuvre. C. Leigh Stevens combined a series of plantation tracts in Beaufort County, South Carolina, and hired Wright to reimagine a traditional Southern architectural icon. Initially built during the '40s and hampered by wartime material shortages, the site fell into disrepair, only to be rescued and restored by producer Joel Silver. While some liberties were taken with Wright's work by the original owners and restoration architects, Auldbrass still offers the surreal opportunity to see Wright's style transposed to wide lawns filled with live oaks and Spanish moss.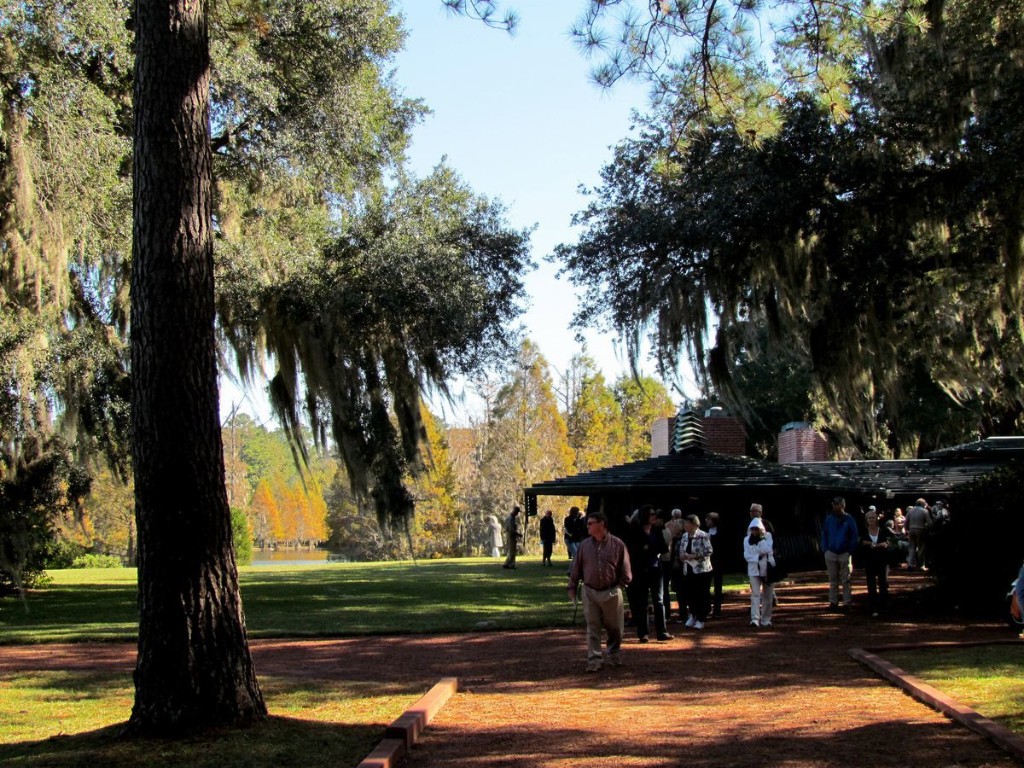 While not as well known as his residential masterpieces, this gathering of Wright-designed buildings on the campus of Florida Southern College is the largest collection of his work in the world. The name comes from Wright's own description of this "college of tomorrow," which he worked on for two decades: "Out of the ground and into the light, a child of the sun." Dominated by the towering, ship-like Annie Pfeiffer Chapel, the complex consists of a dozen buildings, integrated examples of organic architecture made with copper, tidewater cypress, and even crushed coquina shells finished over the course of the '40s and '50s.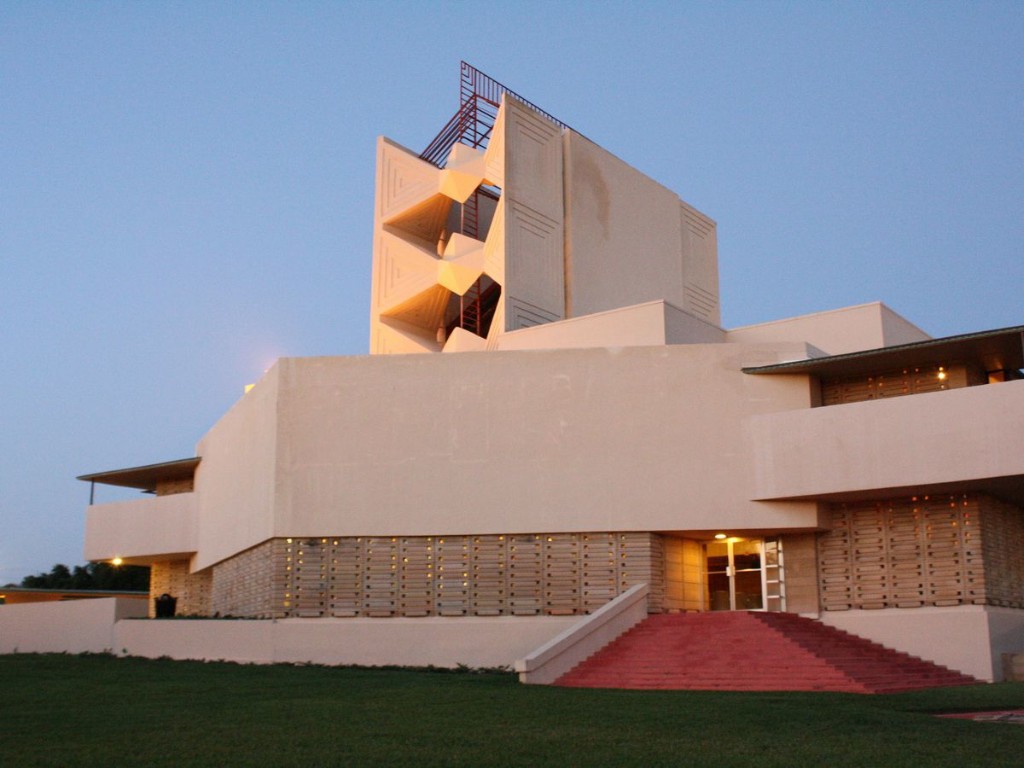 Considered one of the best examples of Wright's Usonian design concept, one based around affordable organic architecture, this cypress-clad family home for Stanley and Mildred Rosenbaum, which sits on the north bank of the Tennessee River, features a low-slung horizontal design, sleek cantilevered roofs, and so much glass that it "blurs the distinction between indoors and outdoors," according to USA Today. Built in 1940, the home includes a 1948 extension also designed by Wright, which nearly doubled its size.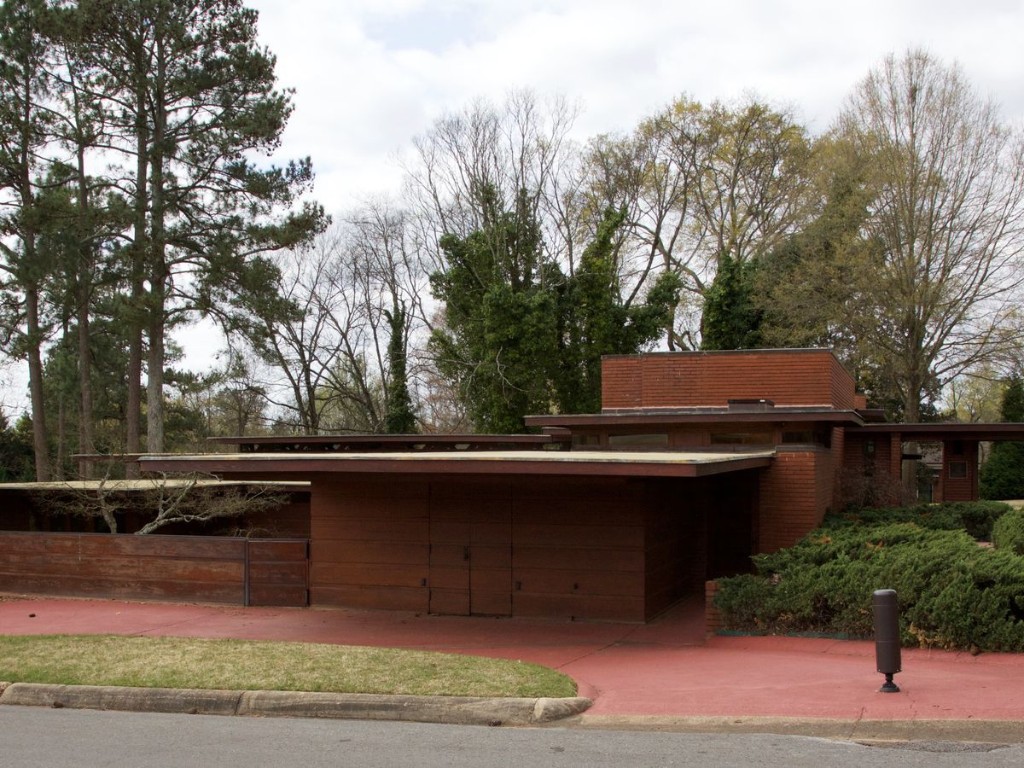 Named after a type of winged seed found inside the pine cones of nearby trees, this late-career gem was designed for Dr. John and Catherine "Kay" Christian, who worked at nearby Purdue University. The huge living room, which could hold 50 people, was ideal for the couple's frequent salons, and even boasts a Wright-designed podium. The home's bright color scheme reflected Mrs. Christian's desire for a more exuberant interior. Wright supposedly argued about this, but his own wife, Olgivanna, heard the disagreement and told him she'd work on the design with two apprentices.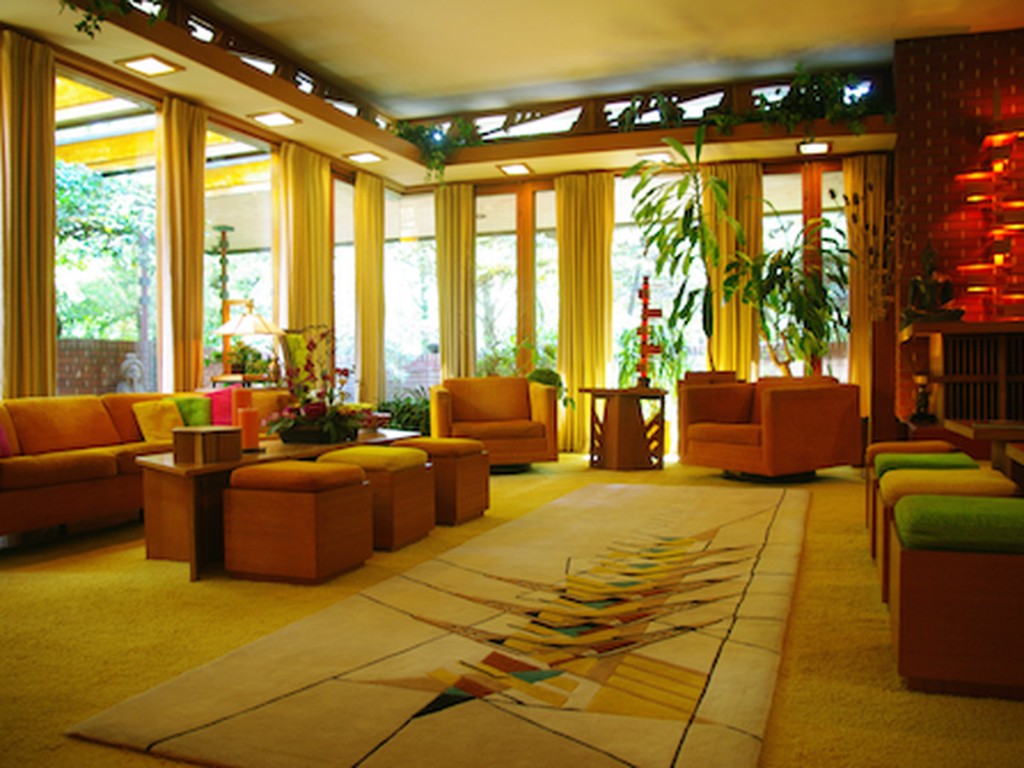 While ownership of the Robie House has bounced back and forth throughout much of the 20th century, its place in the pantheon of Prairie School design is unshakeable. The home's main living space, an open-plan living-dining room with a central chimney, is considered one of Wright's greatest expressions of his early style, lined with artful leaded windows and his custom light fixtures and furniture. Designed around two rectangular vessels, Wright's design stretches across a lot in Hyde Park, its cantilevered roofs and Roman bricks recalling the endless horizons of wide-open Midwest landscapes.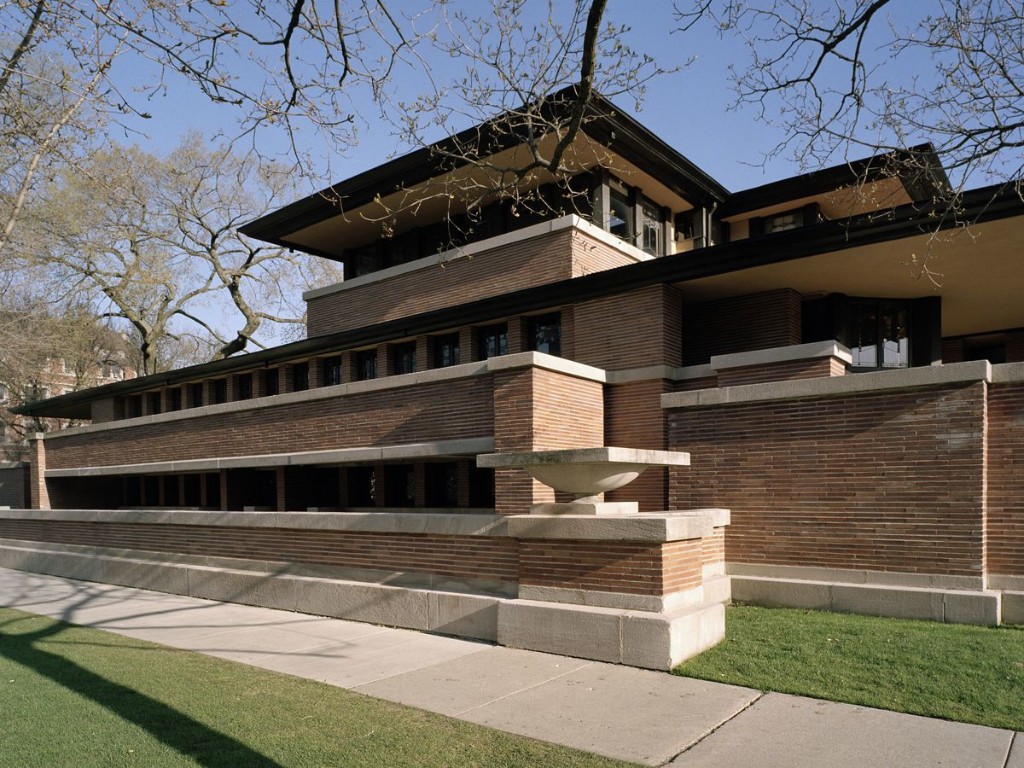 One of Wright's largest and most stunning Prairie designs, this estate for a local industrialist, slotted into a peninsula on the Des Plaines River, is a landmark known for its spacious design and art windows. The original interiors, which were completely designed by Wright, are considered some of his best, featuring his own rug designs, draperies, and wall murals.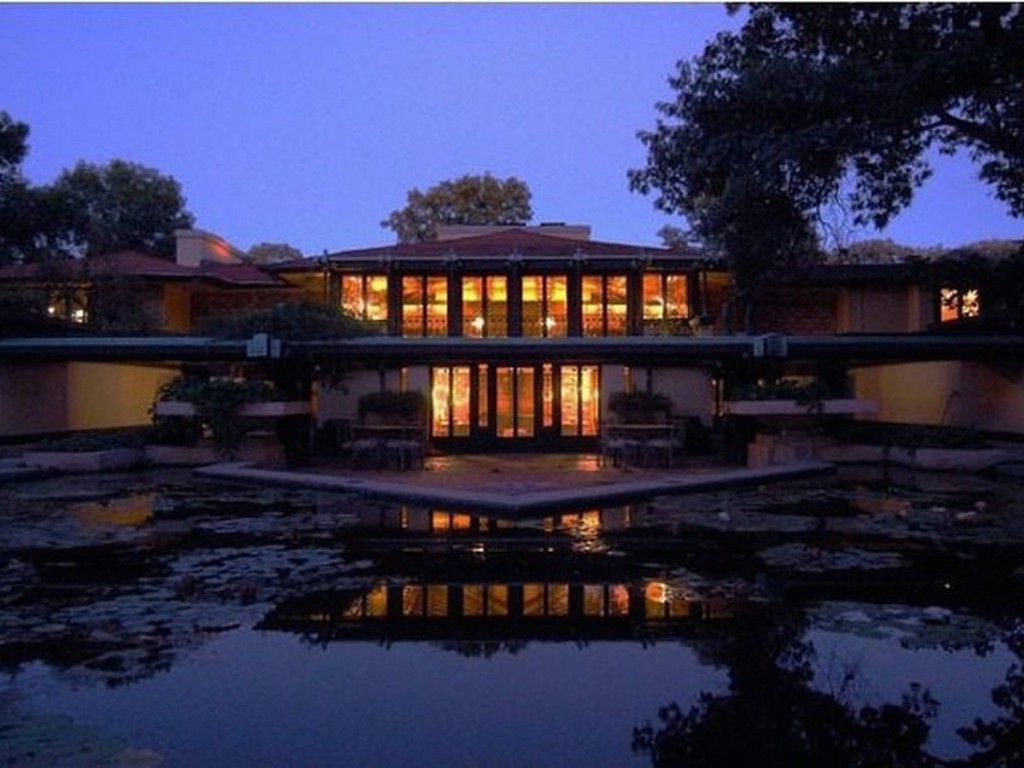 While Wright is viewed as a Chicago-bred talent, this lobby redesign project is his only work on a downtown skyscraper, the city's iconic contribution to modern architecture. He took a famed space designed by Burnham and Root and opened it up with with marble and Persian-style ornamentation, creating a stunning light court that remains an architectural highlight of the Loop. His work, which riffed off Root's work, features exquisite geometric light fixtures.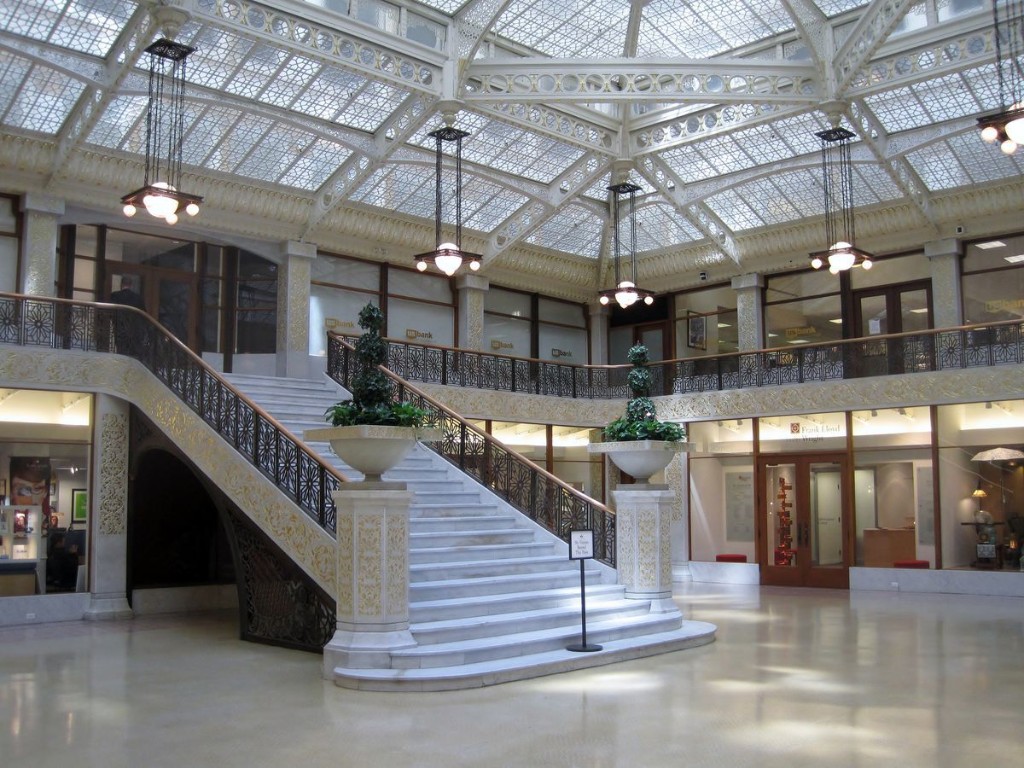 A radical church done in reinforced concrete, considered by many to be one of the first modern buildings in the world, the Unity Temple boldly challenged and redefined ideas about religious architecture. Part of Wright's approach was informed by the relatively small budget, which pushed him toward the more cost-effective choice of concrete and a tight lot, which resulted in the cubic shape. But his artful use of space within the main sanctuary—arrayed with mathematical precision around rich wood, stained glass, and furniture of Wright's own design—offers a perfectly proportioned place of repose and tranquility.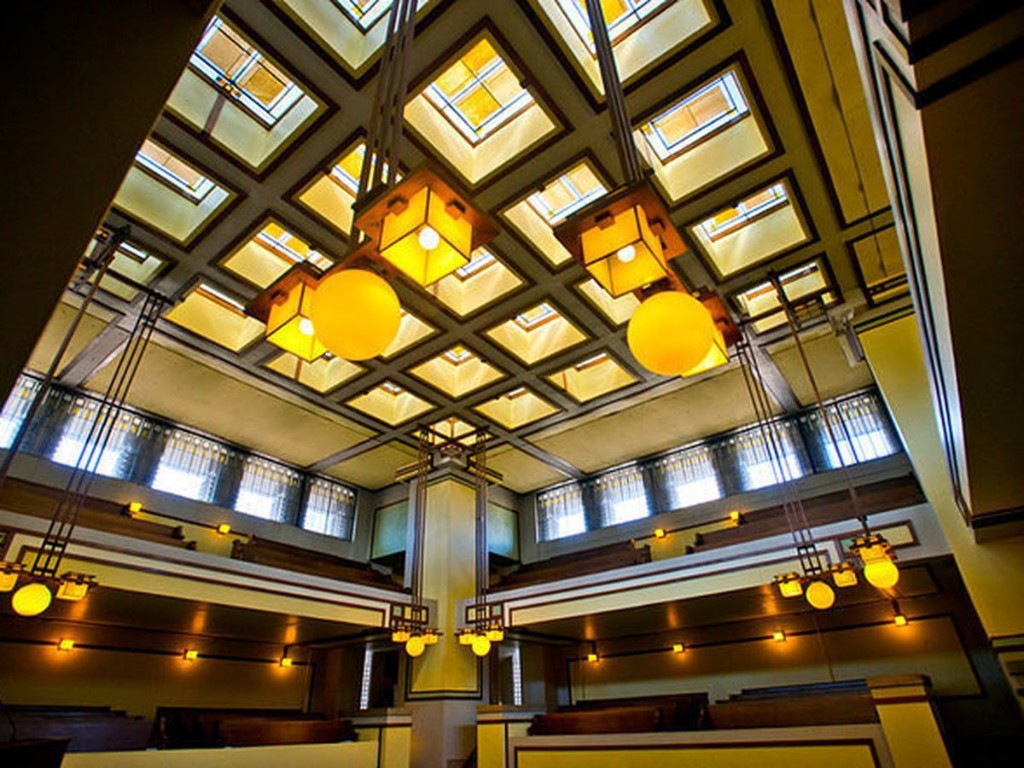 This was Wright's first independent residential commission, and, as such, it offers early insights into the architect's developing style and aesthetics. The symmetric front of the home is divided into three main sections: ribbons of stone, Roman brick, and terra cotta, all set beneath a sloping roof and wide eaves. Finished right after he stopped working with Adler & Sullivan, the home was later called the "first Prairie home" by Wright himself.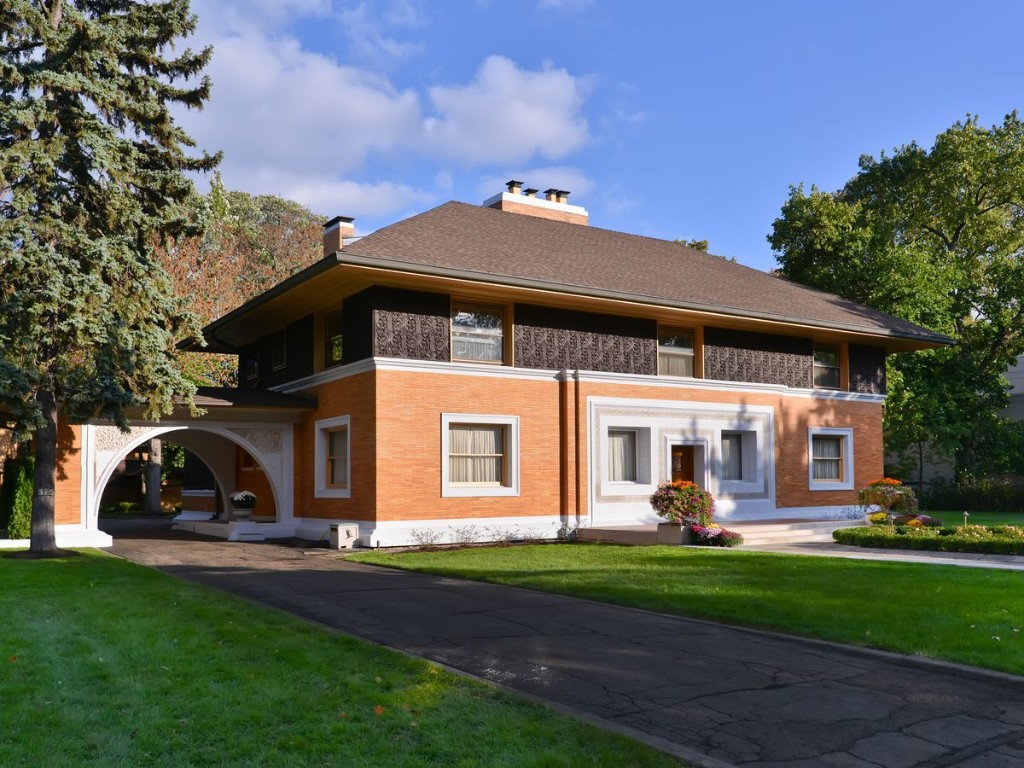 Purchased with a loan from his then-employer Louis Sullivan, this relatively small home, built up over two decades with additions to encompass a studio and children's playroom, would become the birthplace of the Prairie style, with accumulating additions showing Wright slowly develop his early architectural vocabulary. One of the highlights of Wright tours of Oak Park, the home contains a stylish office with a octagonal hanging light and drafting room where Wright and associates designed masterpieces such as the Robie House. Wright would even reposition and experiment with the interior walls, photographing the results and applying the lessons to new projects. The residence also boasts an array of sculptures by associate Richard Bock.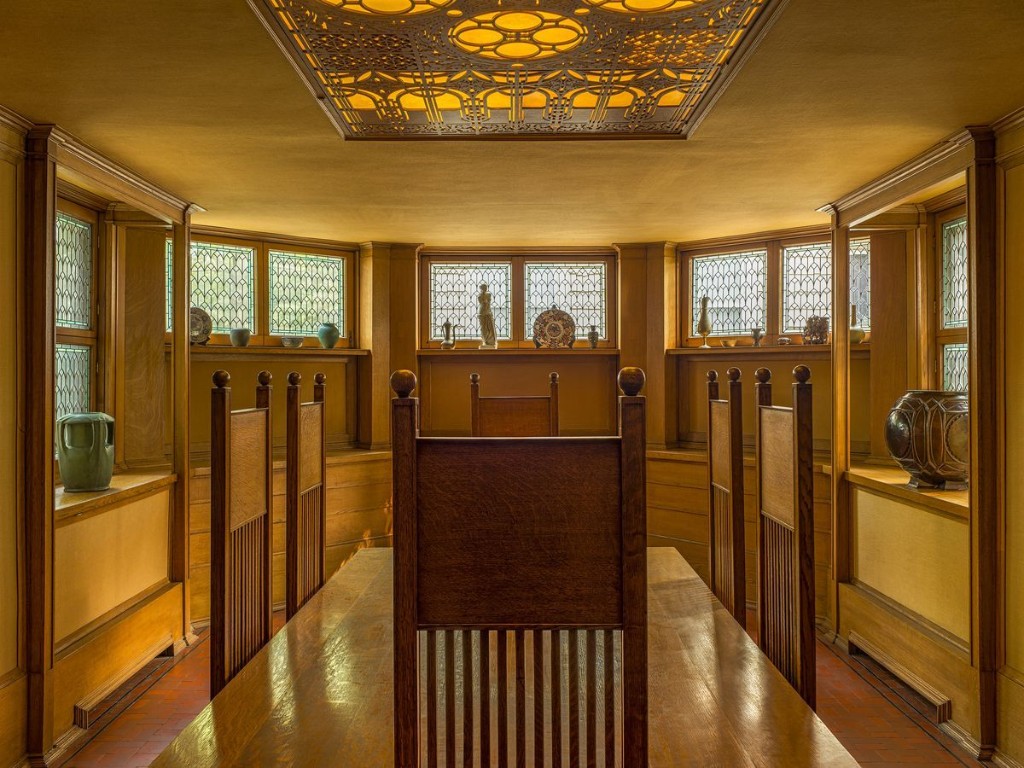 A great example of a late-Prairie-style house with a cubic orientation, finished just before Wright moved to a more Japanese-influenced style, the Emil Bach house, located in Chicago's Rogers Park neighborhood, is presently available as a rental property. Now set in the midst of a crowded street, the home was initially meant to be a "country house," with a short, then-unencumbered walk to nearby Lake Michigan. Despite a series of renovations over the years, the home offers a unique chance to stay overnight and appreciate Wright's work.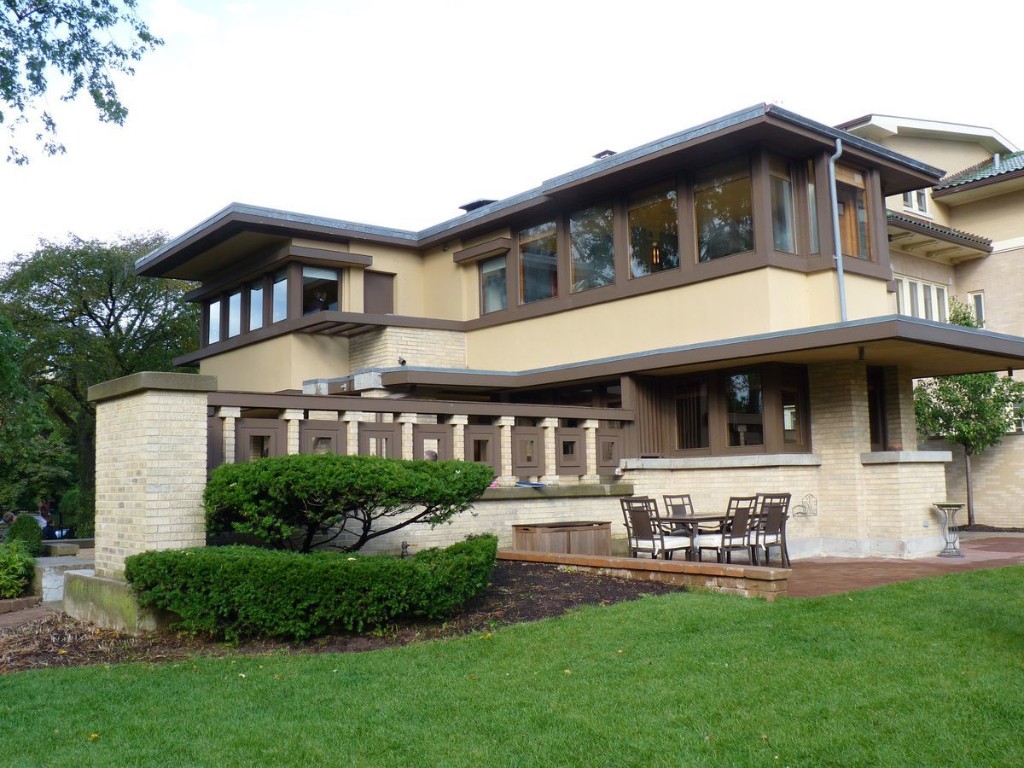 This turn-of-the-century suburban home for the president of a brass foundry is considered the first true Prairie-style home by many Wright scholars. Arranged along a cruciform plan utilizing wood-frame and stucco-style construction, it finds Wright eliminating doorways and other boundaries. The 6,000-square-foot home features leaded glass window designed by the architect, which open up onto the yard and veranda.
Wright called the home "his little gem," and would tell potential clients making the trip from Chicago to Taliesin to stop by and visit to get a sense of his style. A one-story home built in the architect's more practical and approachable Usonian style, the Laurent House, constructed in Rockford, Illinois, was far from Wright's most grandiose or famous project. But this outlier showcases a side of Wright's work that often gets overshadowed by stories of his egotistical genius: human-centered, client-focused design. Created as a home for a mobility-impaired WWII veteran, Kenneth Laurent, and his wife, Phyllis, it's an accessible dwelling fashioned decades ahead of today's building codes.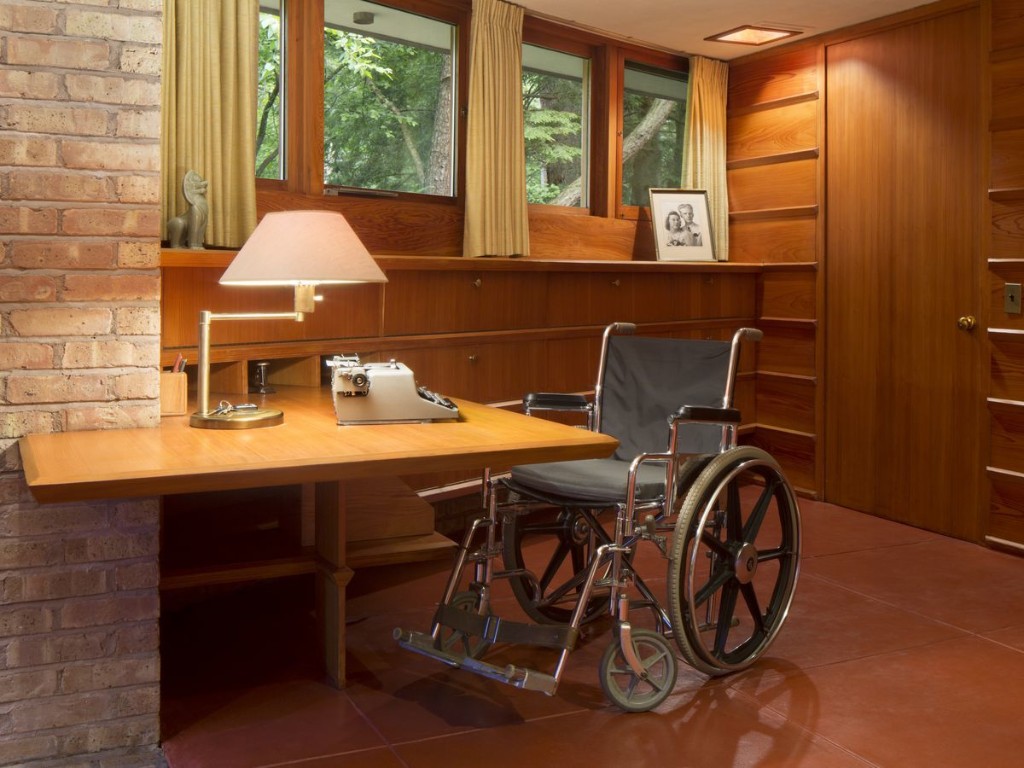 The SC Johnson Administration Building eschews business cliches: Workers are greeted by a streamlined, muscular exterior made from ribbons of glass and brick, more campus than corporate, before entering a light-filled interior, with rows of organic, curved columns creating an abstract forest surrounding the secretary pool. The soft lines and cathedral-like air inside suggests that if the office furniture were removed, it would feel less like a place of work than one of contemplation and reflection. Wright was commissioned to design the space by H.F. Johnson Jr., the scion of the family business, and it was heralded as an office of the future upon opening. Wright's equally ambitious addition, the 1950 Research Tower, features a unique "taproot" design system that, along with a stack of circular floors, creates the sensation of a tree covered in glass, specifically a series of horizontal glass tubes that allow in light but no view (Wright apparently didn't approve of the surrounding factories).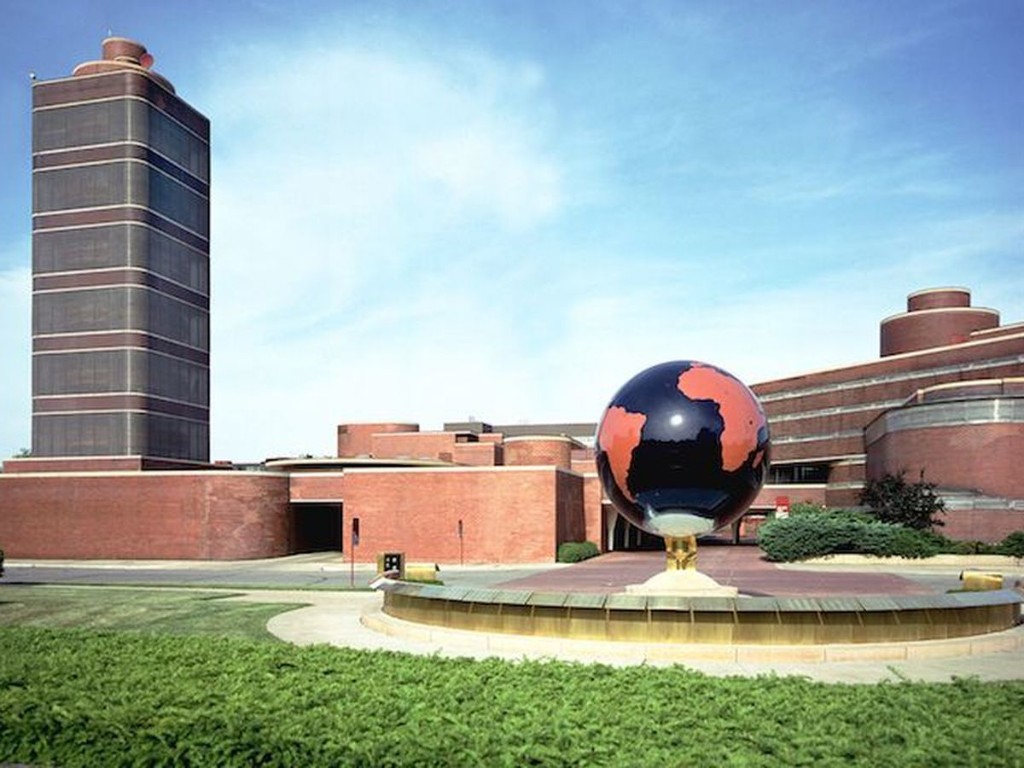 A private residence Wright designed for SC Johnson owner Herbert Fisk Johnson Jr. in 1936, Wingspread, a low-slung streamlined brick home with four wings spreading across the property, lives up to its name. The central living room, a dome-shaped space, features a 30-foot-tall vertical fireplace and original furniture designed by Wright. Considered the last of the Prairie Houses, it's filled with unique touches, including a dramatic "Romeo and Juliet" balcony that cantilevers over the landscape and a crow's nest lookout built above the home, a favorite play place for the Johnson children.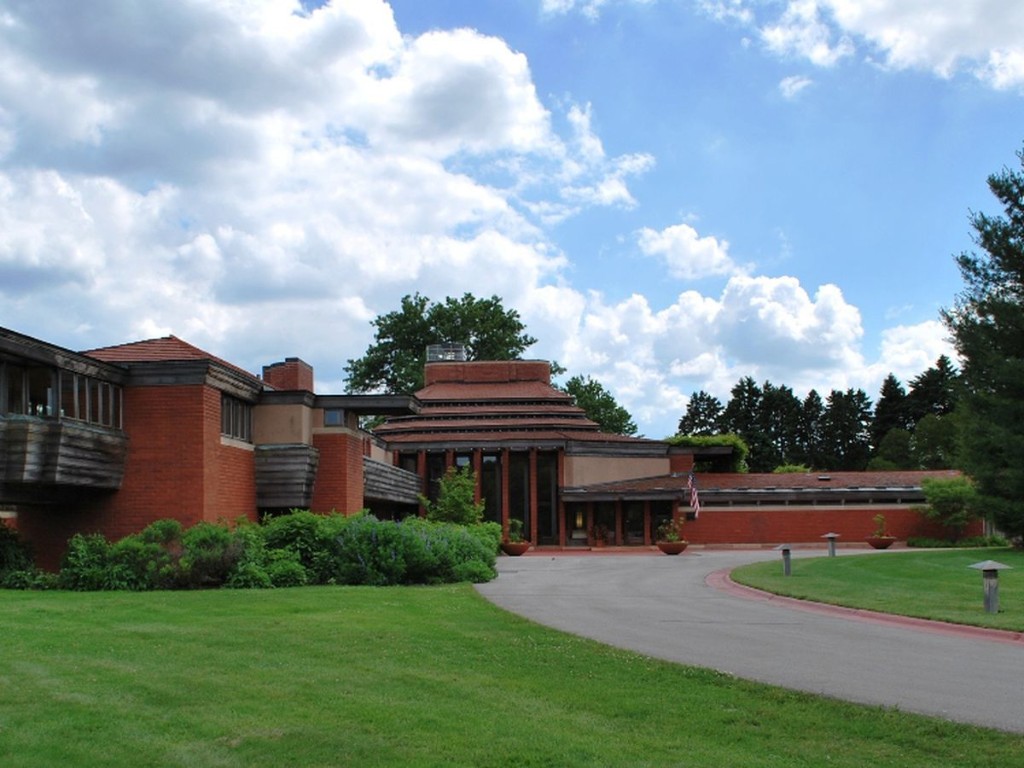 Considered the first of Wright's Usonian designs, his attempt to build affordable, well-designed homes for the masses, this L-shaped Madison residence for a local newspaper owner features a simple, open-plan layout and plywood walls. While other Usonians would become more elaborate and costly, this simple, honest structure may be the closest to Wright's utopian ideals.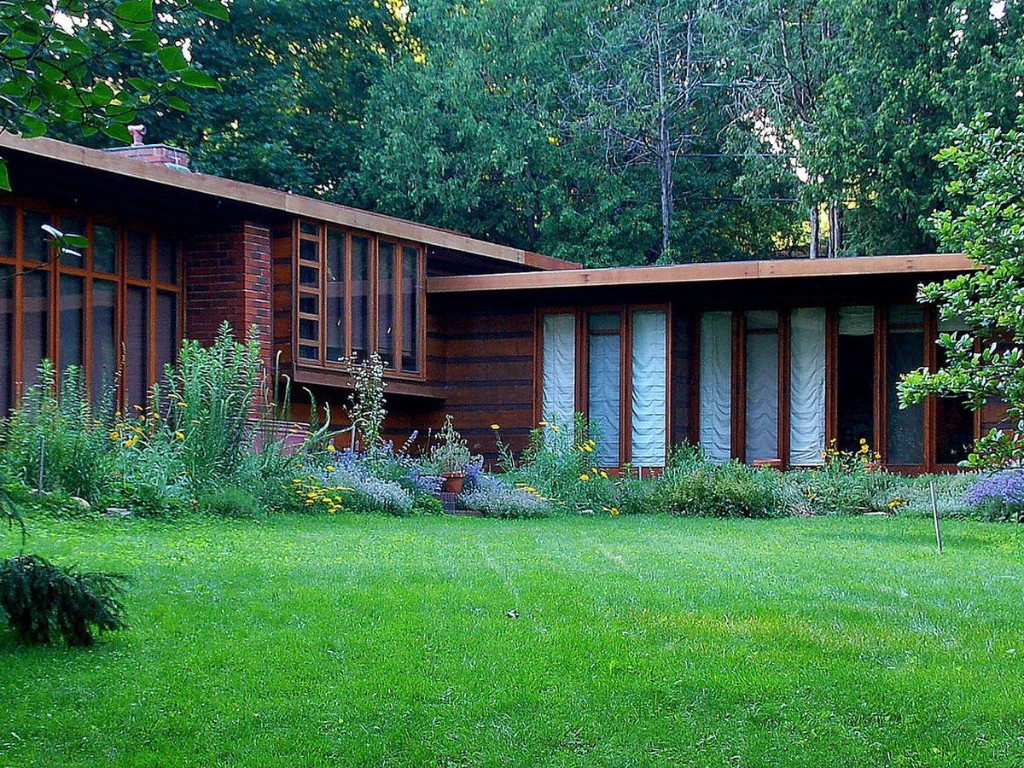 A magnificent prow of a church, designed for a congregation that counted Wright and his father as members, the Unitarian Meeting House stands as a revelatory piece of modern religious architecture. Wright said the ceiling's graceful curves recall a bird's wings in flight. Made of limestone, copper, and glass, the sharp, angular structure communicates ideas of elevation and optimism. A series of expansions, including a curved addition from 2008, have turned the site of a "county church" into a bustling, active house of worship.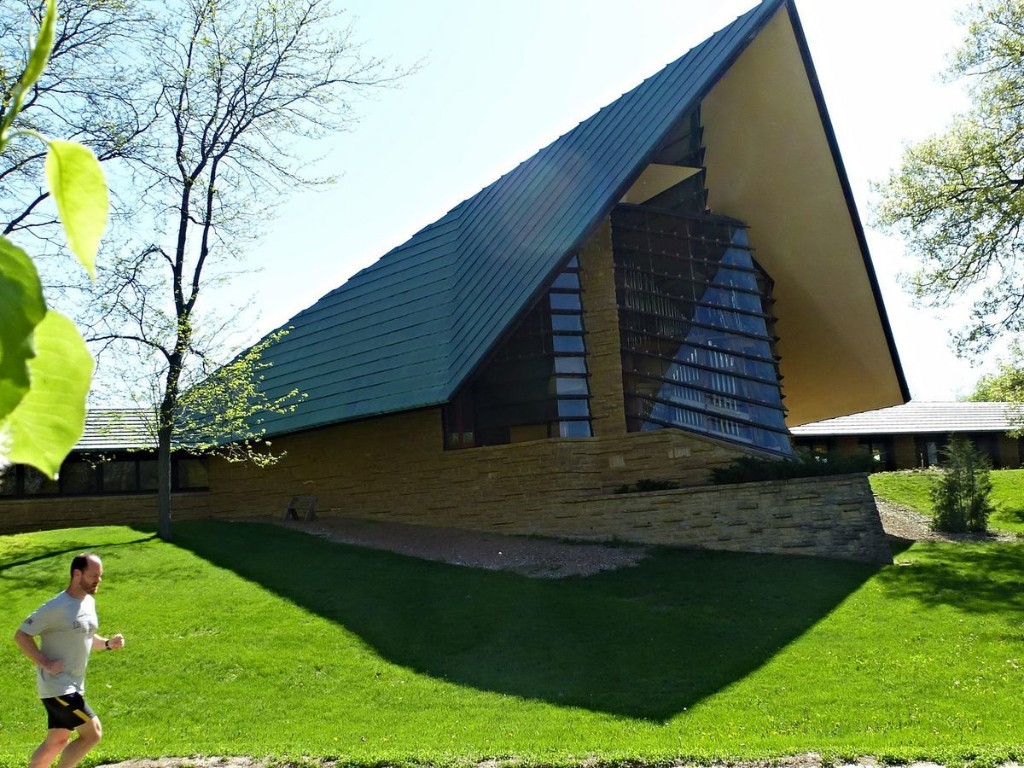 An 880-square-foot cabin tucked in the Wisconsin woods, the Seth Peterson Cottage is one of the lesser-known Frank Lloyd Wright designs, a Usonian-style dwelling at home amid the trees on a prime site in Lake Delton, perched on a promontory. It's perhaps the architect's smallest building, but it may have one of the largest stories. Peterson, a native of nearby Black Earth, approached Wright to design a small home. Wright's plans for the single-bedroom home, his smallest residential design, resembled a single room with a sloping roof. Despite the tiny footprint, the cottage, in the words of the architect's assistant William Wesley Peters, "contained more architecture per square foot than any building Wright ever built." It's currently available for overnight stays.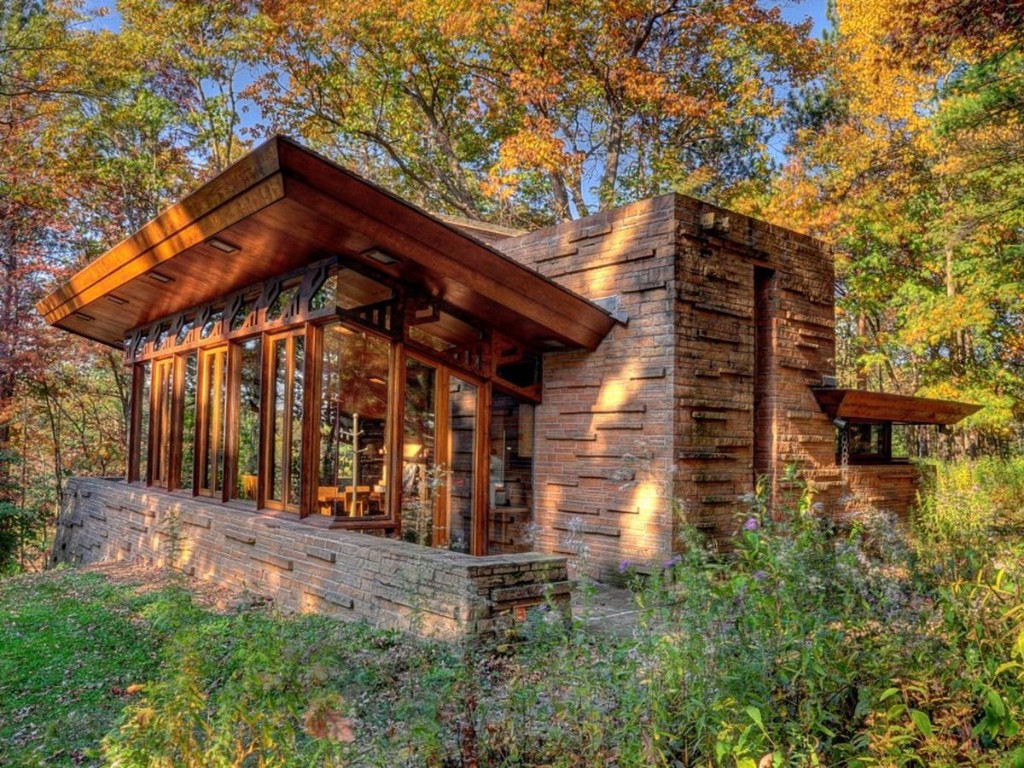 "Its history is one of tragic irony. Its character is one of extraordinary repose." So goes part of the Time magazine article describing the home studio Frank Lloyd Wright built amid rolling Wisconsin hills near his birthplace. For just shy of 60 years, this was his main residence and workspace, despite a number of tragedies and setbacks, including fires that twice wrecked the main residence and the murder of mistress Mamah Borthwick and six others. Designed in a Prairie style, the current iteration of Taliesin, featuring locally quarried yellow limestone, sits near the sites of some of Wright's earliest works, including the since-demolished Hillside Home School and Romeo & Juliet Windmill, which was rebuilt in 1992.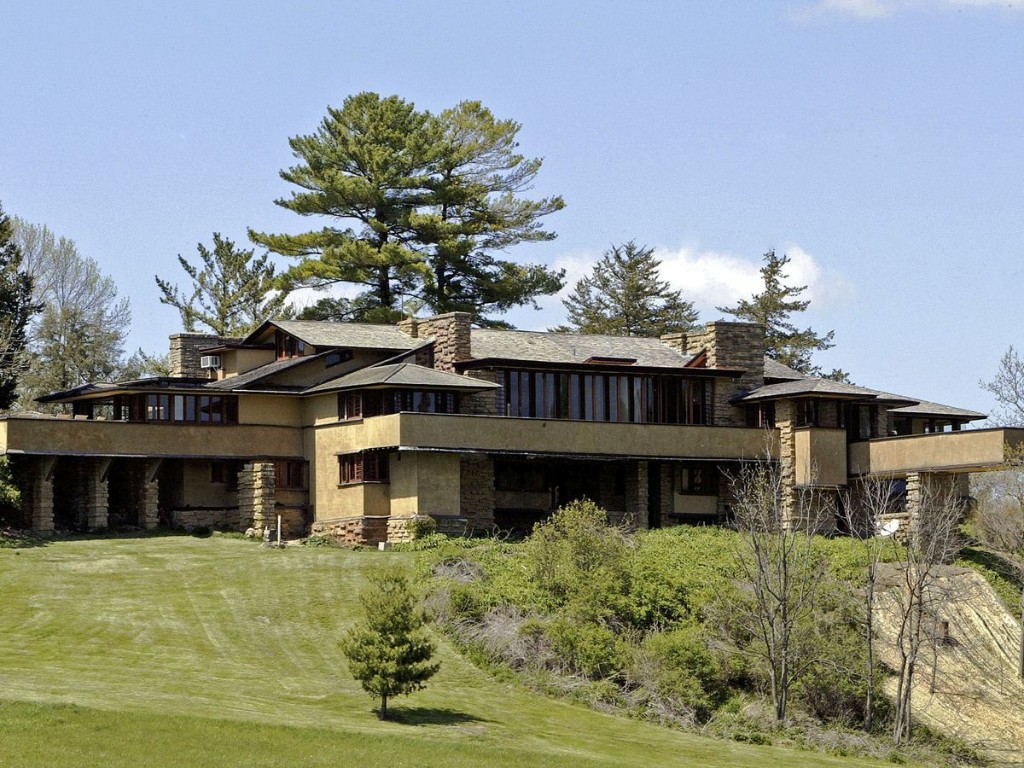 Susan Lawrence Dana, a socialite and heir to a mining fortune, was looking for an architect to redesign her family's posh Italianate mansion in Springfield, Illinois's Aristocracy Hill district. Her chosen architect, in a bold move that fit his self-confident style, quickly moved from a simple renovation to building an entirely new home, one that would become an early showcase for his evolving Prairie style. The blank check Dana provided for the project gave Frank Lloyd Wright ample space to experiment and create. The 35-room, 12,000-square-foot home, a stylish residence made for entertaining, reflects Wright's concept of "expanding space," with windows placed to draw in guests. Today, much of his custom furniture work and interior designs are still on display, including pieces done in a sumac pattern that repeats throughout the building and easels used to display Dana's Japanese art collection.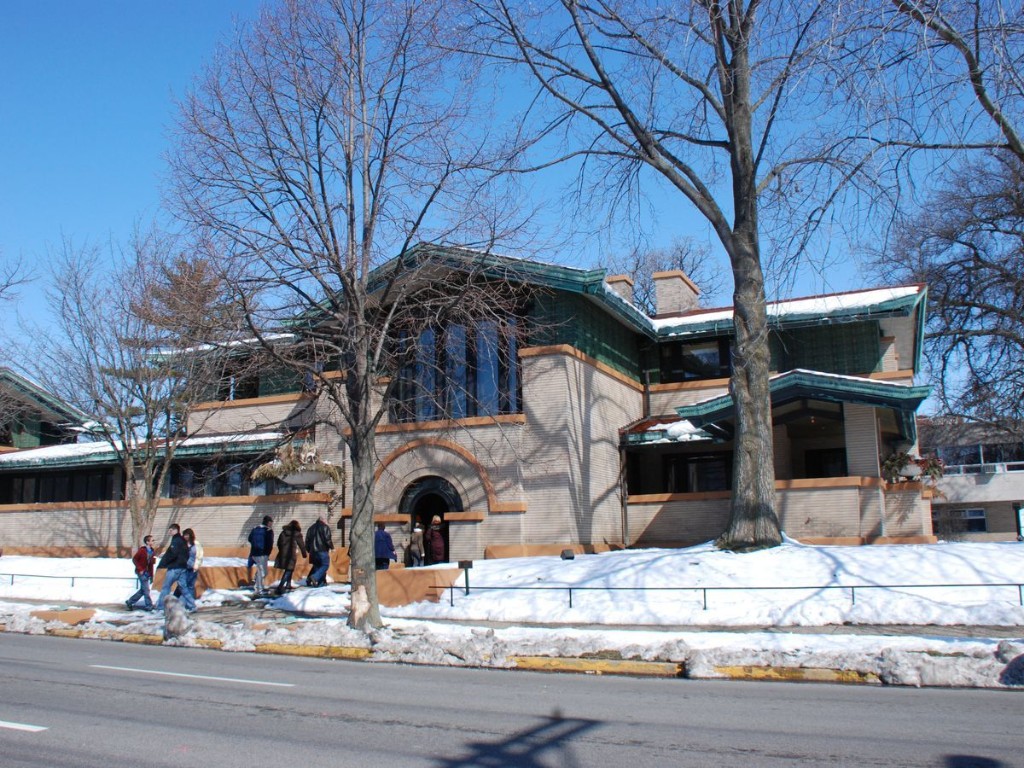 Drivers pass by innumerable gas stations, but unless their itinerary takes them to northern Minnesota, chances are they won't see anything like this rare roadside project from Frank Lloyd Wright. This singular gas station in Cloquet, Minnesota, boasting a glass-walled observation deck and 32-foot copper cantilevered canopy, looks like retro-future gone right, a beautiful if odd structure that would be spoiled by racks of cheap snacks and cigarettes. This oddity is the only finished part of Wright's utopian Broadacre City, a massive suburban development Wright refined for decades up until his death in 1959. The station at 202 Cloquet Avenue is listed on the National Register of Historic Places and can still be visited.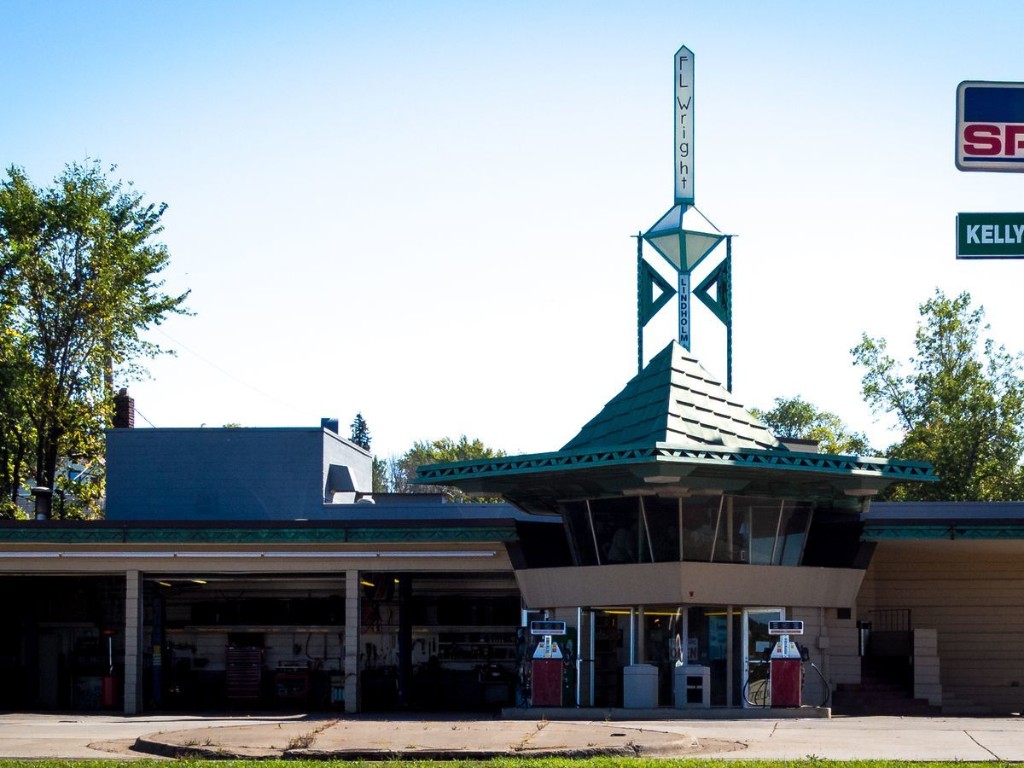 Its facade, unmistakably Wright with its horizontal sweep, wide overhangs, and Prairie School stained glass, glitters across the street from Central Park in Mason City, Iowa. Of the handful of hotels Frank Lloyd Wright designed in his lifetime, the only one still left standing is Park Inn Hotel, a recent renovation that has served as an economic catalyst for a small town and preserved a signature Wright commission. Built roughly 15 years before the Imperial Hotel complex in Tokyo, this Iowa landmark prefigured design elements and ideas utilized in that later work.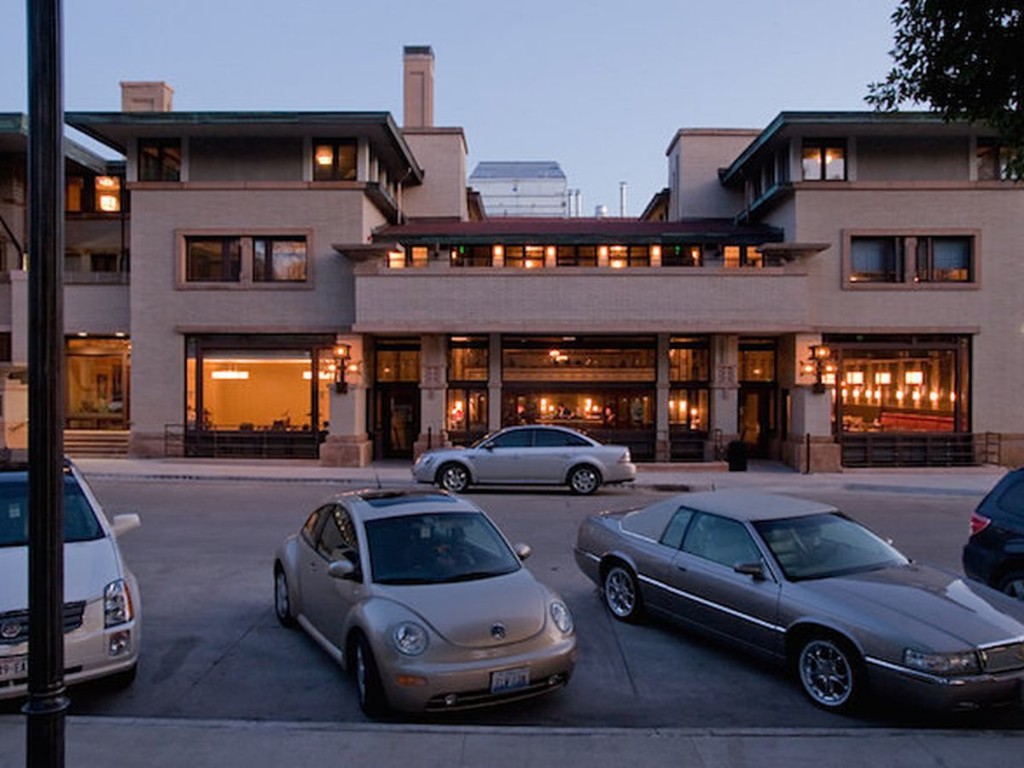 Completed in 1956, the three-bedroom, 1,700-square-foot Bachman Wilson House is a exemplar of Usonian design, and a rare example of a layout with a second story and cantilevered balcony. In 2014, the home was deconstructed and moved from its New Jersey site to the Crystal Bridges Museum in Arkansas in an incredible preservation and restoration effort.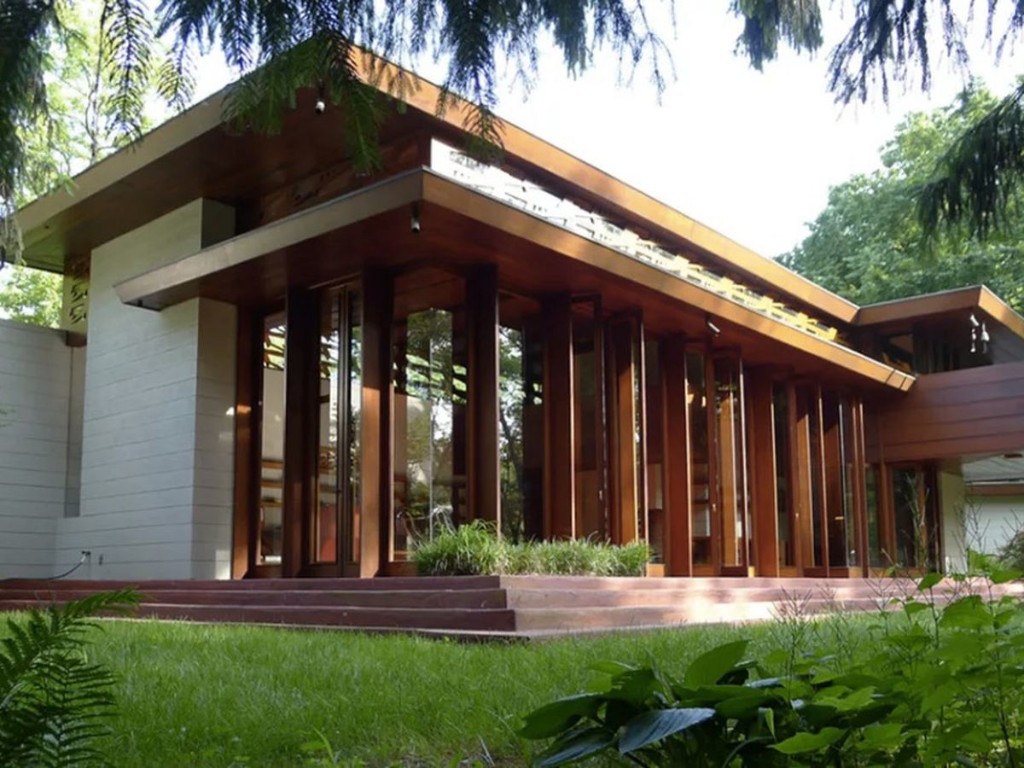 Wright described his lone high-rise as "the tree that escaped the crowded forest," an apt way to paint a picture of this asymmetrical beauty, comprising 19 stories of angular walls that look different from every angle. Based on a design for apartments in Manhattan the architect created in the '20s, the basic idea was transplanted to Oklahoma when Harold Price, owner of a local oil and chemical concern, hired Wright to create his first skyscraper. Opened in 1956, the copper-clad tower dominates the skyline. Visitors can now stay in a hotel in the top half of the building.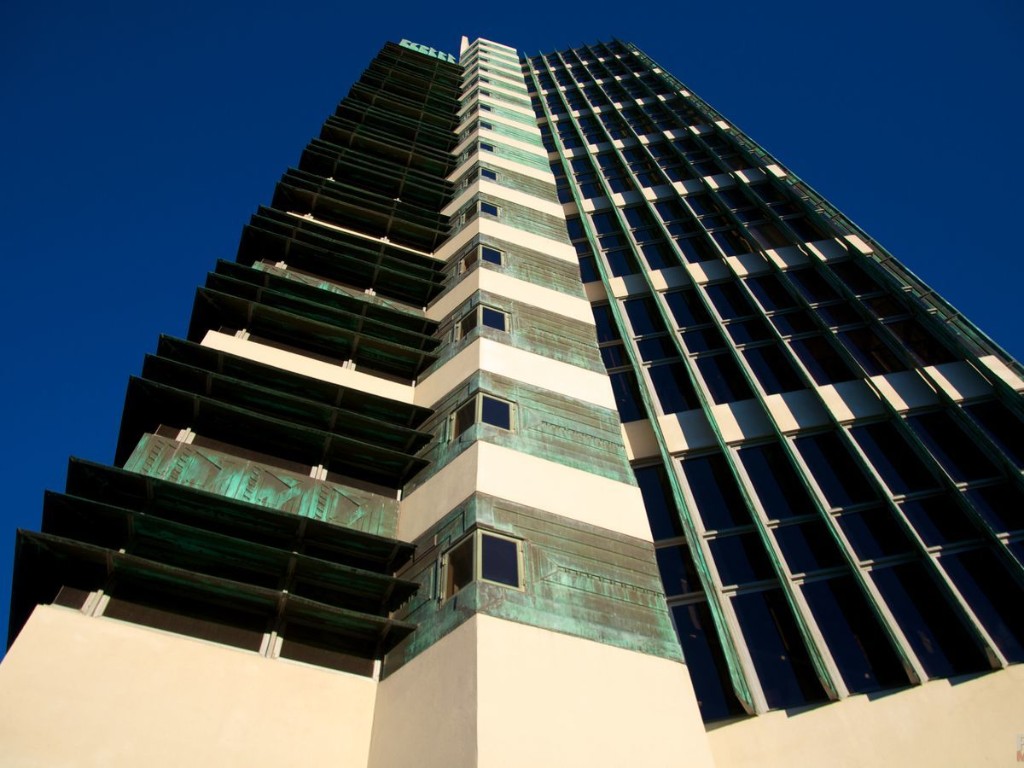 One of the last buildings he ever designed and one of Wright's only surviving theaters, this project features a circular stage drum that extends above the main building. Exemplifying Wright's organic philosophy, the building consists of a series of curved walls, and the stage itself sits on a turntable that allows multiple scenes and sets to be set up at the same time. The bold design was a quarter finished before he died.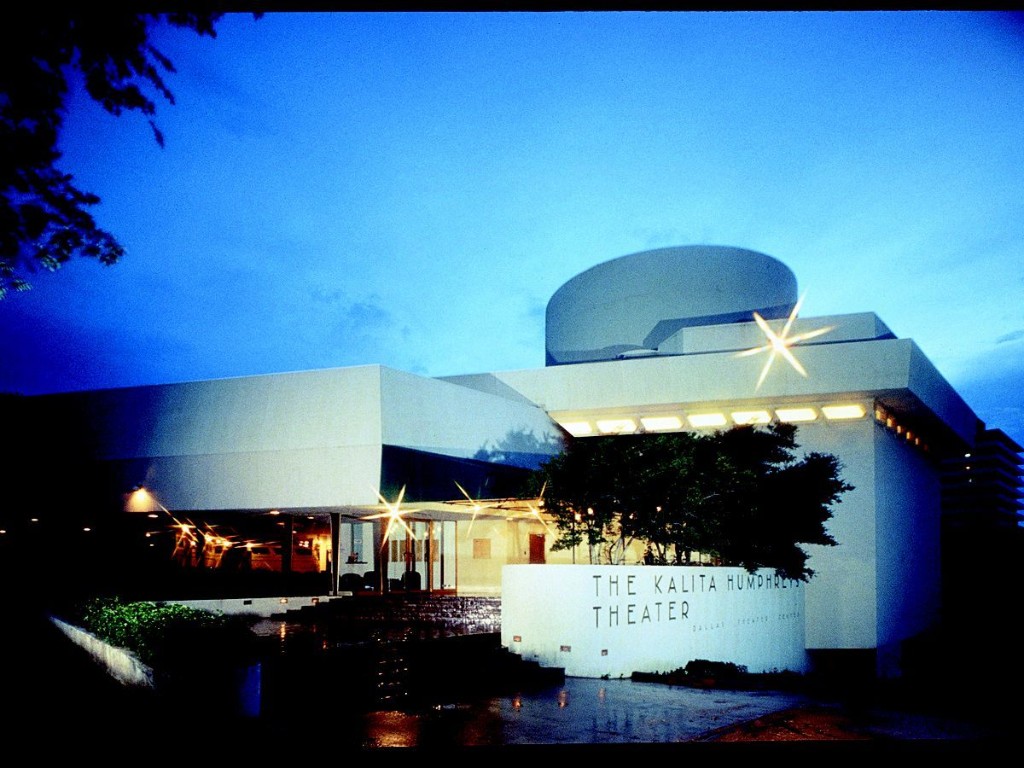 Adapted from plans Wright created for a never-realized opera house in Baghdad, this circular auditorium is the only public Wright building in the entire state. The adaptable main stage is surrounded by a series of 50 columns connected visually via a repeating circular pattern, flanked by a pair of flying-buttress walkways. While the exterior is far from Wright's most pleasing, the circular interior, where every seat is no more than 115 feet from the stage, is renowned for incredible acoustics.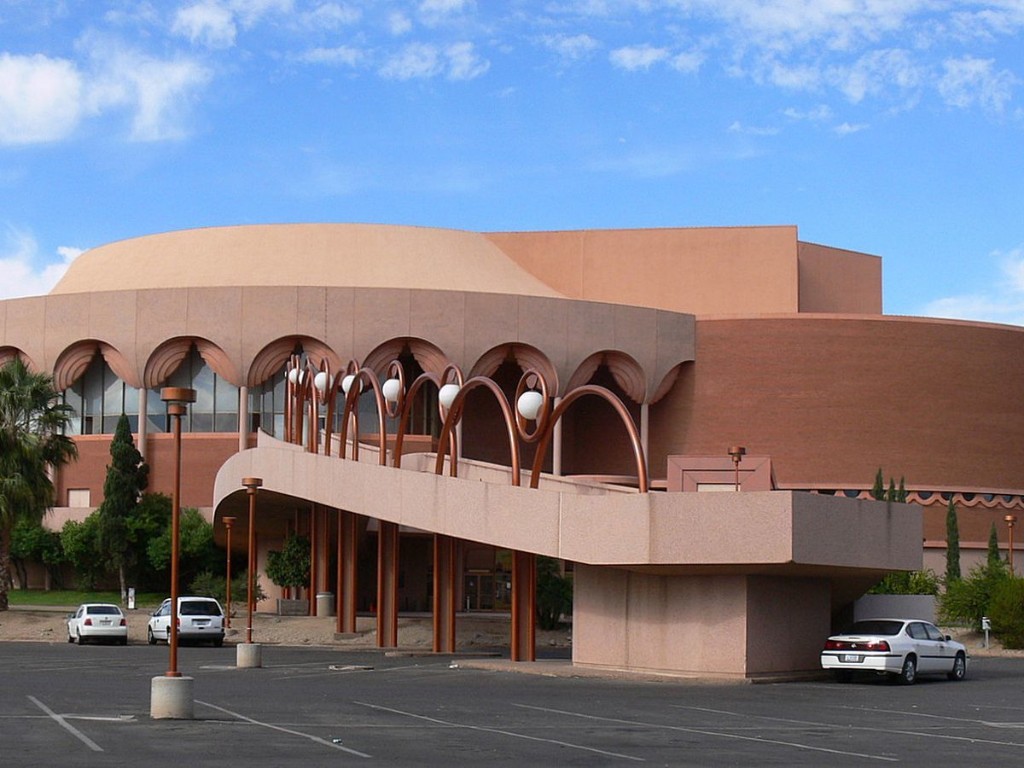 Built in 1952 for his son David and wife Gladys—they called it their Taj Mahal—this Phoenix residence and its spiraling layout is considered a precursor to Wright's Guggenheim design. According to a previous report by the city's Historic Preservation Office from 2012, it's the "most significant work within the city of Phoenix by the most significant architect in American history."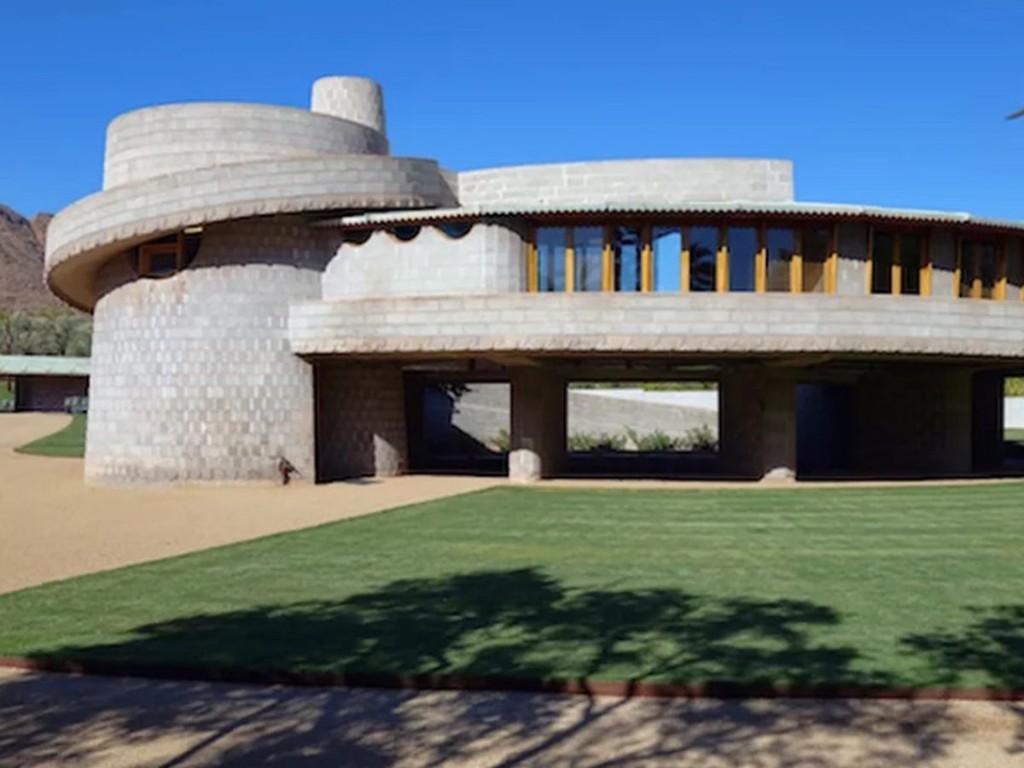 Wright designed the home for Norman and Aimee Lykes in 1959, riffing off the curves and forms of the nearby mountains to create a residence with a commanding view of Palm Canyon (all the bedrooms open up to the valley). It was the last sketch he would finish before he died in April 1959; his apprentice John Rattenbury, with whom he consulted before he passed away, finished the design and oversaw construction of the home on the original site. The unique wrapping interior, which include numerous built-ins, was updated for a previous owner by Rattenbury in 1994.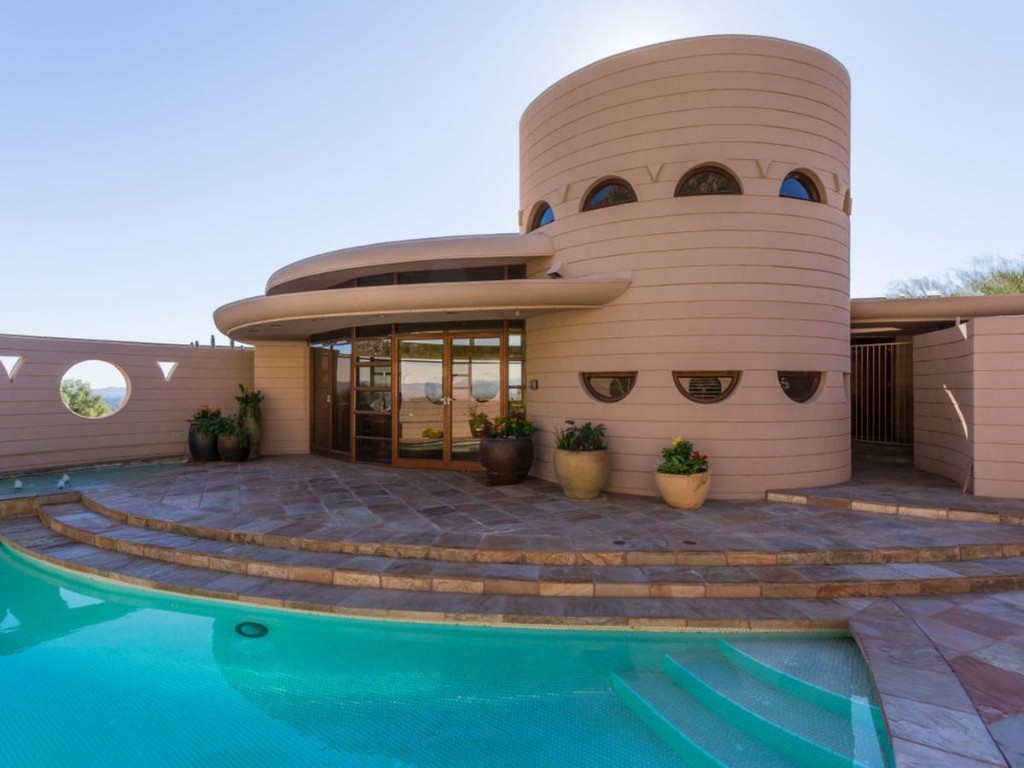 Wright labored over many designs throughout his career, but none reveal his personal touch as much as this desert outpost outside of Scottsdale he called the "top of the world." Established in 1927 as his winter home, studio, and eventually the center of the school that bears his name, this seasonal retreat near the McDowell Mountains would greet Wright and his retinue every year with incredible light (originally filtered through canvas roof flaps) and natural vistas. Wright greeted it with a hammer, constantly tampering with and adjusting slight angles and surfaces throughout his life, often with the help of students. The building's sloping roof, desert masonry, and redwood trusses, as well as trademark symbols inspired by native petroglyphs, showcased his vision of Arizona architecture.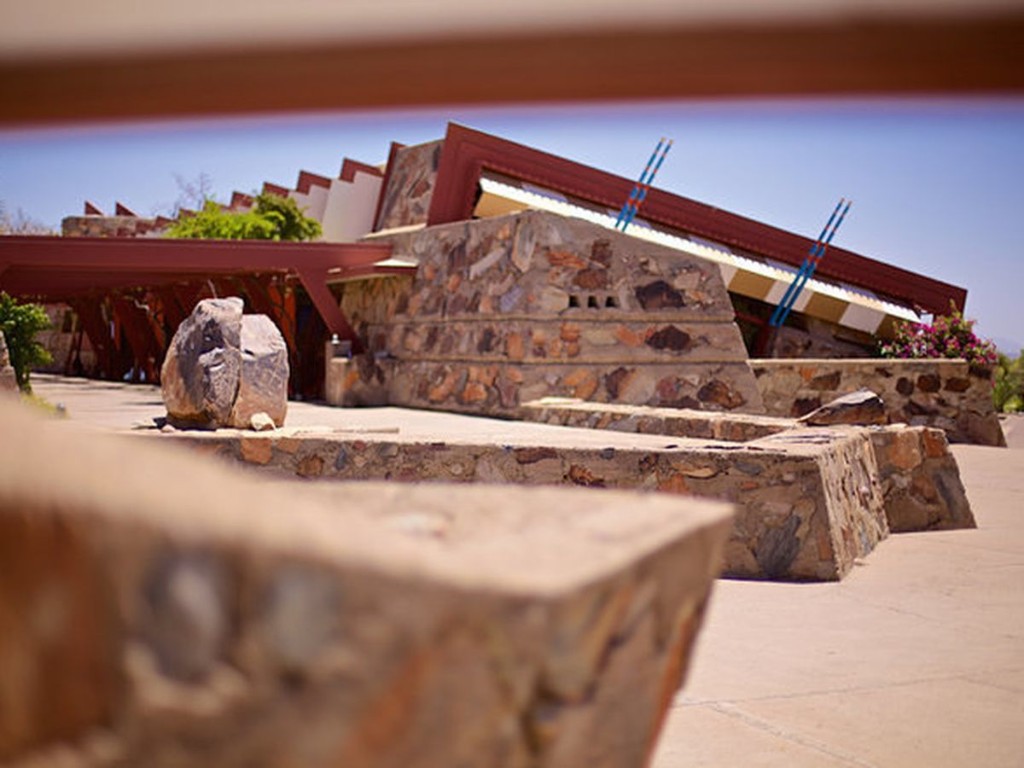 Wright's first textile-block home, which features stacks of decorative concrete blocks that fit together like Legos, offers a rare example of vertically aligned design from the architect, a three-story stack with plenty of terraces available for use as outdoor rooms. Created for arts dealer Alice Millard, the building, nicknamed La Miniatura, fits perfectly inside a ravine near Pasadena, blending in with the surrounding landscape and arroyo. Wright referred to himself as "the weaver" when describing this building technique, explaining that he could knit together houses endlessly with this "masonry fabric."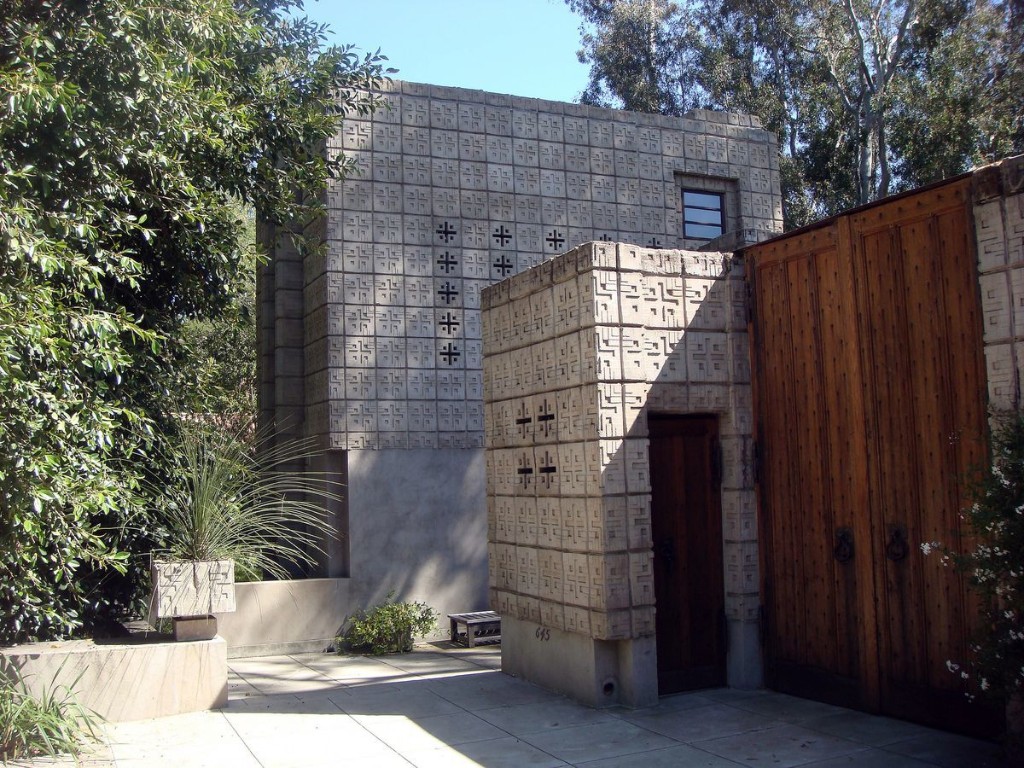 The last and largest of the concrete-block homes Wright would design for Los Angeles, the Ennis House, or Little Palace, as the architect would nickname the building, is perhaps the towering achievement of his Mayan Revival period, with designs based on an actual temple. Judged on its screentime in films such Blade Runner, it's certainly the most famous, a landmark made from 27,000 bricks that dominates its hillside site in Los Feliz.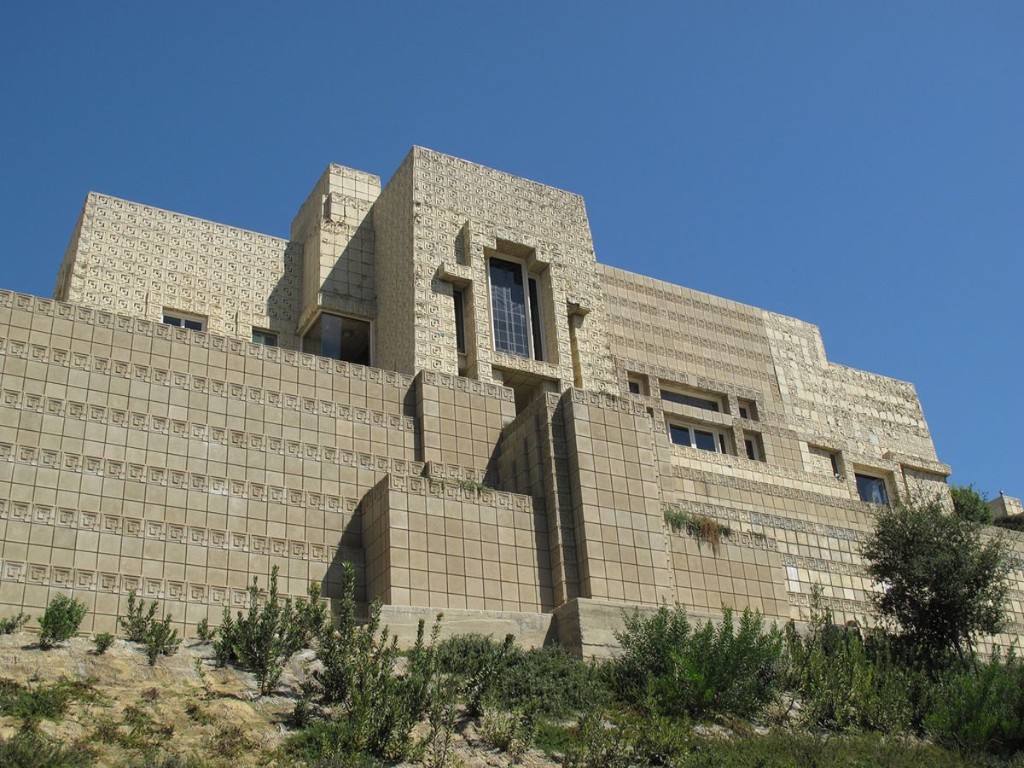 Named after the owner's favorite flower, images of which form a repeating design found throughout the residence, this concrete temple of a home set on Olive Hill was Wright's attempt to create a regional style for Los Angeles, one that he would at one point dub "California Romanza." Originally meant to be a large complex for owner Aline Barnsdall, the main home features a number of terraces, split levels, and courtyards, all part of Wright's attempt to integrate the indoors and outdoors. Overseen by his son, Lloyd Wright, and assistant Rudolph Schindler while the lead architect was working on the Imperial Hotel in Tokyo, the Hollyhock House has become a Wright masterpiece, one that's been called a forerunner to California modernism.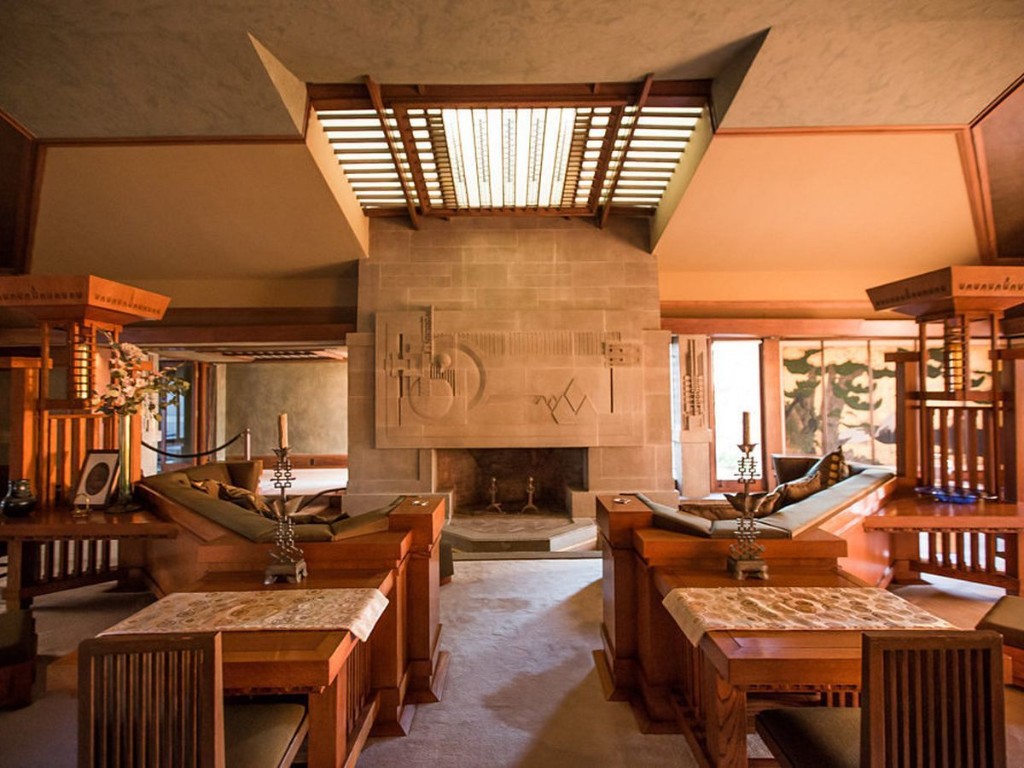 This Hollywood Hills home, created for a Wisconsin physician, found Wright experimenting on multiple fronts, integrating Mayan architectural patterns while trying out a system of textile-block construction that he hoped would become a cheap and accessible building method. The result, a temple-like villa that appears to be built into the hillside, was once owned by producer Joel Silver, who embarked on a multimillion-dollar restoration.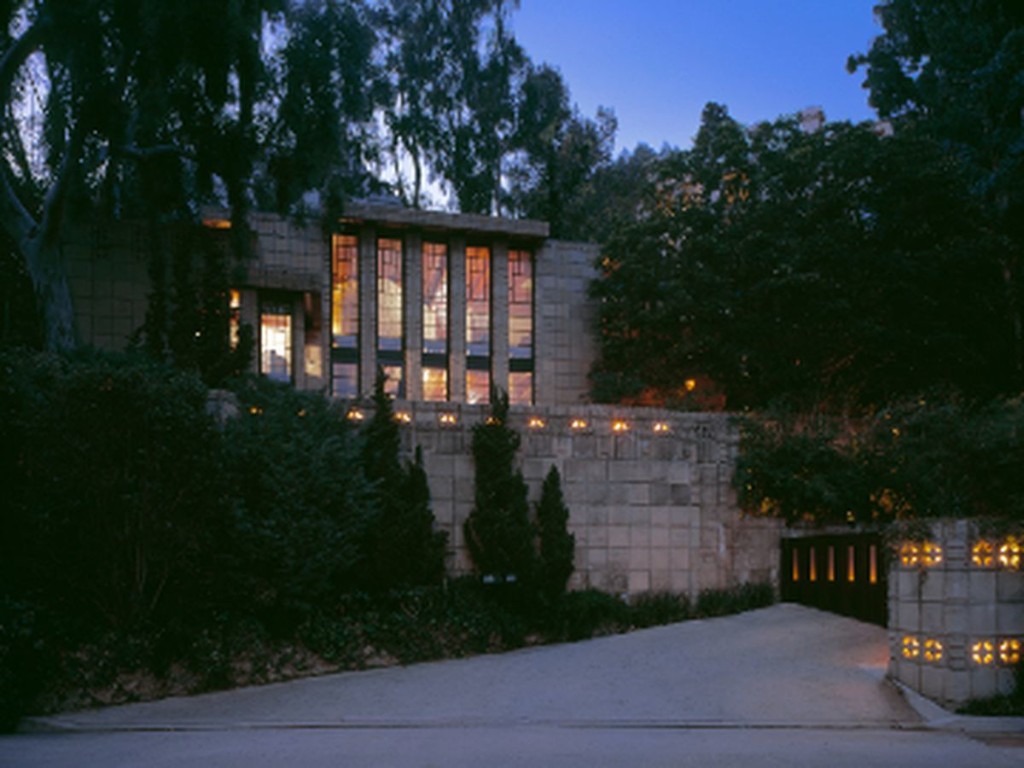 Designed for a pair of Stanford educators at the tail end of the '30s, this Bay Area home built into a hillside finds Wright experimenting with polygonal design, utilizing honeycomb-shaped modules to offer freedom of movement. Built mostly from native redwood, the home was refined over a 25-year period, allowing Wright to experiment with ideas of space. It was his first experiment designing without right angles, a blueprint for organic architecture that supposedly drove construction crews crazy.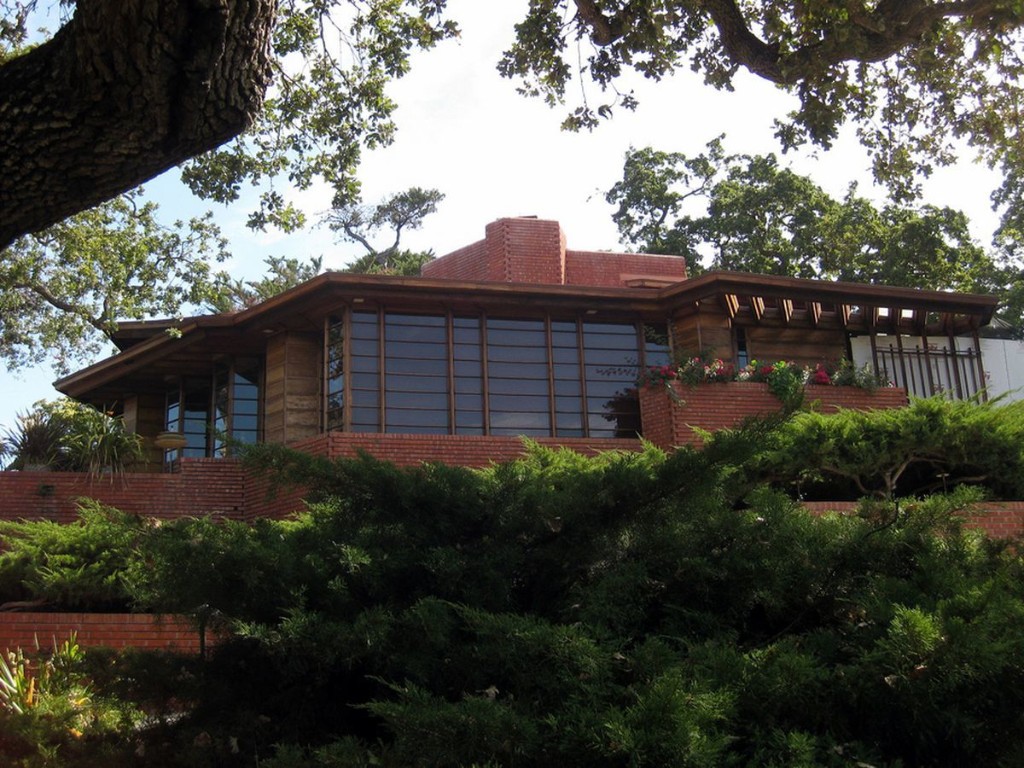 A proof of concept for the spiraling Guggenheim Museum, this curved gift shop, his only work in San Francisco, showed Wright in an experimental mood. Built in a former warehouse located in the city's retail district, the store was an experiment, featuring a brick-lined entryway meant to entice shoppers, as opposed to glass windows Wright said engaged in a "vulgar display of commerce." The sleek spiral ramp inside was a test run for his larger, iconic museum. The space, sold and renovated by Xanadu Galleries, is currently shuttered, but hopefully a new owner will restore the space to its original glory.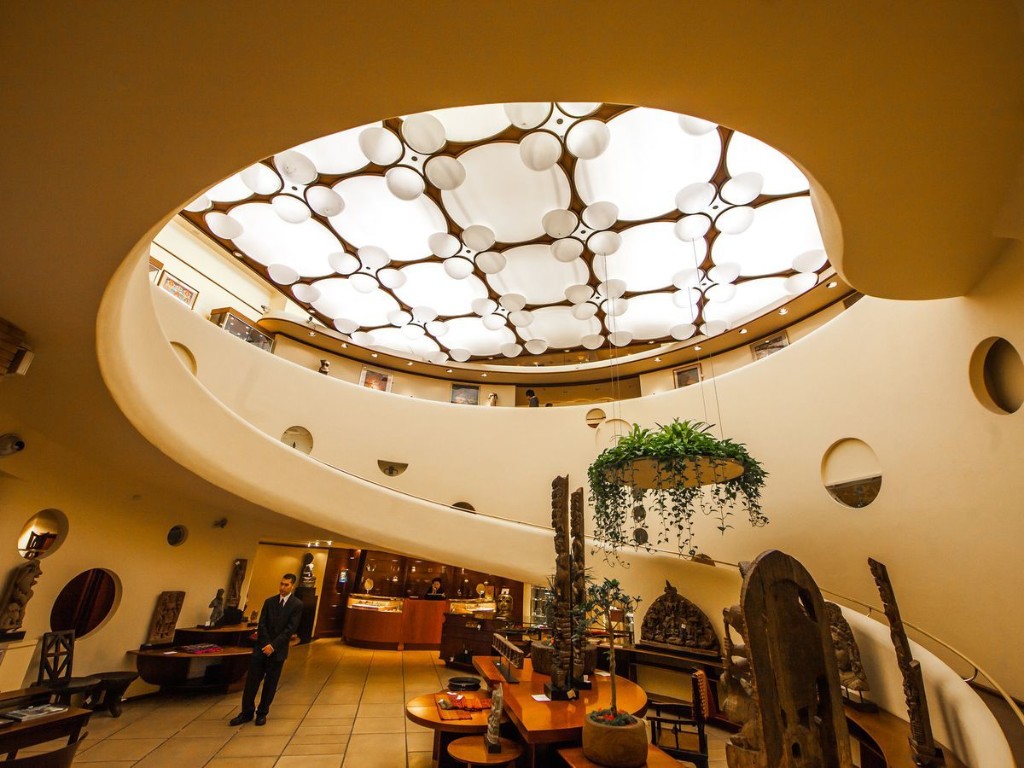 If you think of Wright as an arrogant architect, the story of this custom doghouse may give you at least temporary pause. In 1956, 12-year-old Jim Berger, whose parents owned a Wright home, wrote to the architect asking him to design a doghouse for his black Labrador retriever, Eddie. Wright wrote back saying he was busy, but suggested that Berger try him again later. A year later, Berger wrote back, and Wright delivered the plans for what would become the smallest structure he ever built. The original was destroyed, but a replica was recently constructed by Jim (pictured above) and donated to Marin County, home of Wright's masterful Civic Center, which plans to preserve and publicly display the structure.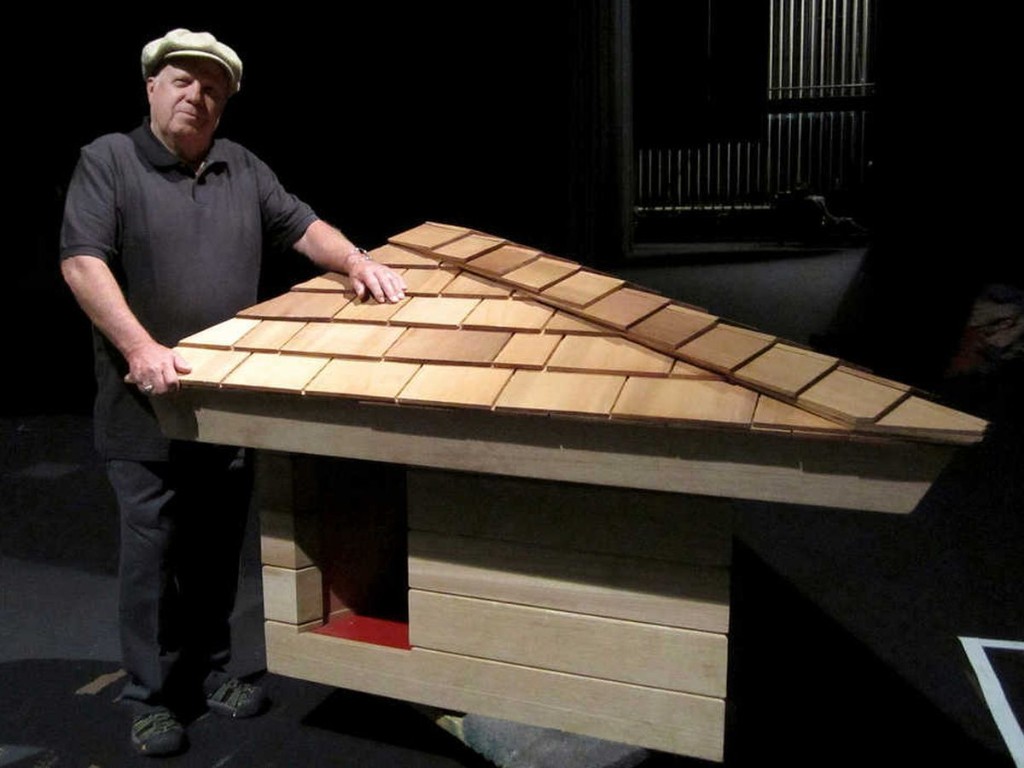 Designed by Wright and finished after his death, this rare civic commission includes a multistory administration building and a Hall of Justice futuristic enough to be used by superheroes. The sprawling complex, with a circular motif, curved blue roofs, large atriums, a dome and golden spire, and vertical grills of gold-anodized metals at the entryways, could be considered Wright's final comment on the California landscape. He said he wanted to create architecture that "makes the landscape more beautiful than it was before that building was built," and he considered Marin County to be stunning. The roof was supposed to be gold, to match the color of nearby hills, but a truly matching color couldn't be found.