Alshon Jeffery: 'We're Bringing That Trophy Back
to Philly'
Alec Nathan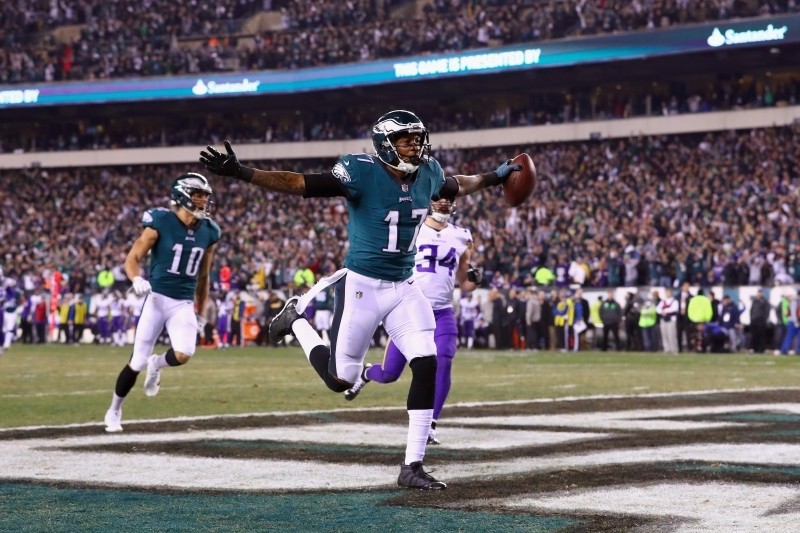 Philadelphia Eagles wide receiver Alshon Jeffery is oozing confidence ahead of Super Bowl 52.
Responding to a question about what would need to happen in order for the Eagles to beat the New England Patriots, Jeffery interjected and made a bold proclamation.
"Ain't no 'if,' man. When we win on Sunday, ain't no telling what we're going to do," he said Thursday, per the News Journal's Martin Frank. "But we're probably going to celebrate, have some fun.
"We're bringing that trophy back to Philly."
Jeffery has never been shy when it comes to guarantees.
Following the 2016 regular season, Jeffery—then a member of the Chicago Bears—told reporters he was confident a trip to the title game was in his future.
"I guarantee you we are going to win the Super Bowl next year," he said at the time, according to WGN's Adam Hoge.
Since then, Jeffery has joked that he didn't specify which team he was referring to when he went out on a limb.
"Didn't I say it?" Jeffery told reporters last month, per NBC Sports Philadelphia's Dave Zangaro. "I said it before I came here, didn't I?"
"Nah, man, I believe in what I say," he added. "You gotta speak it into existence. I believed in it. It's that simple. I just believed in it, man."
Despite throttling the Minnesota Vikings 38-7 in the NFC Championship Game, the Eagles are currently listed as 4.5-point underdogs with two days remaining until their championship clash with the New England Patriots at U.S. Bank Stadium in Minneapolis.