What Mattered Today: October 9, 2019
Turkey's military launched airstrikes against U.S.-allied Kurds in Syria after President Trump agreed to withdraw U.S. forces, Vice President Joe Biden stated his support for Trump's impeachment, and a shooting outside a German synagogue claimed two lives. Plus, a U.S. counterterrorism analyst was arrested for leaking classified info to journalists, three scientists won the Nobel Prize in Chemistry for developing lithium-ion batteries, and California cuts power to 800,000 homes and businesses as wildfire prevention effort. Catch up on these and more headlines from today.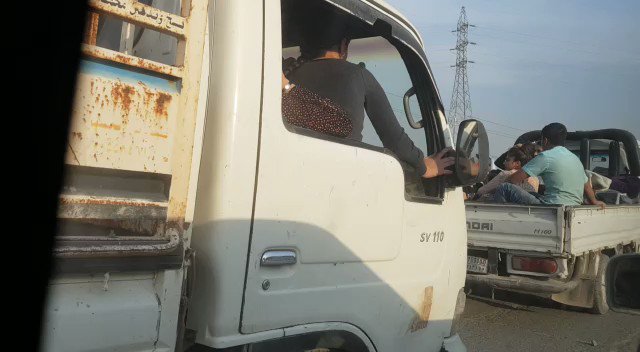 Photo: pbs.twimg.com
"He's shooting holes in the Constitution and we cannot let him get away with it," Biden said. ROCHESTER, N.H. — In his clearest and most direct call to date for President Donald Trump's impeachment, Joe...

HALLE, Germany (AP) — A heavily armed assailant ranting about Jews tried to force his way into a synagogue in Germany on Yom Kippur, Judaism's holiest day, then shot two people to death nearby in an attack...

The U.S. military has taken custody of two high-value Islamic State detainees accused of involvement in executing American hostages, officials said, as the Trump administration scrambles to ensure that...

The Nobel Prize in Chemistry was awarded to a trio of pioneers of the modern lithium-ion battery, which is revolutionizing everything from mobile …

WASHINGTON – A 30-year-old counterterrorism analyst for the Defense Intelligence Agency was arrested Wednesday on charges that he disclosed classified information to two journalists, one of whom he was...

(CNN) — In an attempt to avoid sparking a wildfire, California's largest utility intentionally cut power to hundreds of thousands of customers Wednesday, and power isn't likely to be restored for days,...

Updated at 4:48 p.m. ET Editor's note: This story contains explicit accusations that some readers may find upsetting. A former junior colleague of Matt Lauer's has accused him of raping her in his hotel...

Hays Travel acquires 555 stores and sees a bright future for package holiday sector A husband-and-wife team who built their tourism business from the ground up say they hope to save the jobs of all 2,500...

QUITO (Reuters) - Ecuadorean security forces cracked down on protesters in a massive national strike on Wednesday as President Lenin Moreno stuck by austerity measures that have triggered the worst unrest...