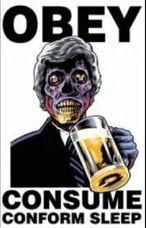 THOUGHT SHOTS BETWEEN THE LINES.
News of Fear and Confusion. What is real, what is truth… the "mainstream" narrative.
16,143 Viewers
•
51,050 Page flips
•
480 Followers
•
16,037 Stories
Curated by
Red Swan Brand (dan h)
Most recent stories in THOUGHT SHOTS BETWEEN THE LINES.
Aug 11, 2022 The financial crash in 2008 was real or was it part of the Great Reset… that's just another conspiracy theory! I spoke with journalist Matt Taibbi about how he spotted rage in people following the crash in 2008 during the Obama years and how Trump capitalized on that by feeling the audience. "When he saw vets in the crowd, he would say we have to do something about these endless wars, because they're not getting us anywhere."

Aug 9, 2022 CBS News tweeted out a promotional video for an upcoming segment revealing that only approximately 30 percent of the weapons sent to Ukraine actually make it to the front lines – that the vast majority are redirected to the black market or other profitable avenues BESIDES the war against Russia. Naturally, this apostasy of truth-telling could not be tolerated so, under a barrage of criticism, CBS deleted the tweet and promised to revise the segment to more accurately reflect the facts on the ground in Ukraine.
See more stories
THOUGHT SHOTS BETWEEN THE LINES.