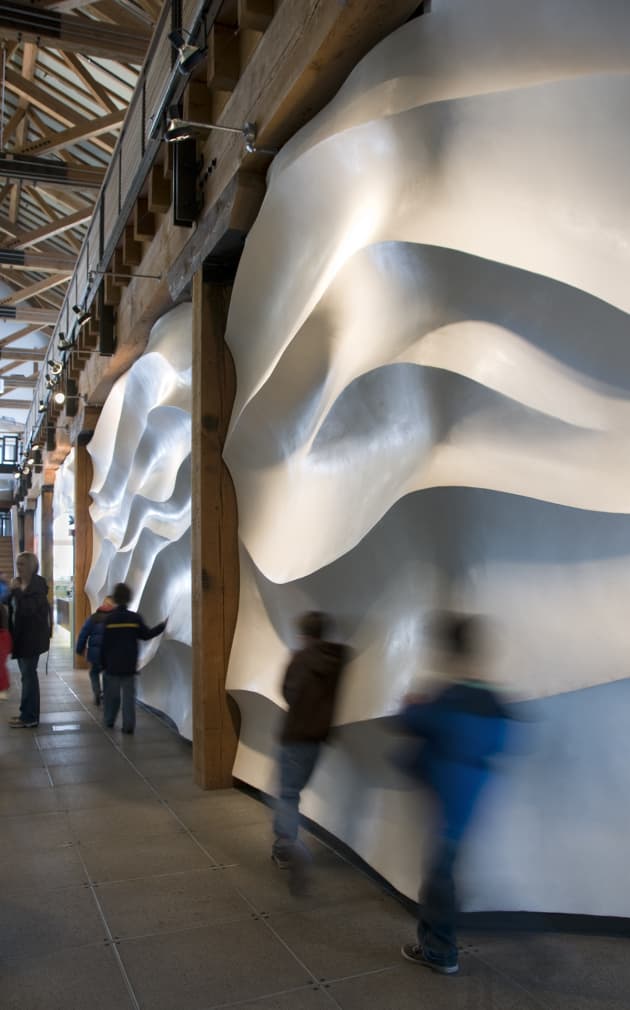 CODAmagazine: Transformative Walls VI 
Wall art and more: design + art projects that construct, divide, enhance, and adorn the walls of our built habitats.
593 Viewers
•
773 Page flips
•
145 Followers
•
30 Stories
Photo: res.cloudinary.com
Most recent stories in CODAmagazine: Transformative Walls VI 
A new 3000-person capacity auditorium was proposed by Frank Productions to be a beacon of musical culture in the Midwest. This new venue required the invention of a name and brand that could be deeply integrated into the space and would express the raw energy of Rock and Roll. Celebrating Madison's music matriarch, Sylvee Frank, The Sylvee was born. The Sylvee provides an evocative, intimate experience--it's the place where Madison meets music, and just as important, visitors meet Madison.

A 5-story sculpture within an atrium of a new Visual Arts Department building at Florida State University. This piece was formed by connecting and attaching stainless steel strips in a carefully articulated manner to create depth and variation along its 70' total height. The piece passes through 5 separate floors and sub-departments of the school, offering each level a unique view of the piece. The tapestry-like sculpture offers each floor a distinct identity while serving as a unifying element within the school.

Intricate Pattern Overlay was commissioned by the Wolfsonian Museum, an interpretation of a dazzle camouflage pattern on the exterior of their landmarked building in Miami Beach on the occasion of an exhibition commemorating the 100 year anniversary of World War I - "World War I and Visual Culture." The title refers to my own proprietary dazzle camouflage.

This project was designed, fabricated and installed for the Miami Springs Aquatic Center. The theme of the artworks was the movement of and in water. All murals are made of hand-glazed tiles, which were then fired and installed outdoors. The murals are located around the outdoor pool and water slide on the outer walls of the complex buildings. Dimensions vary with the biggest mural at 12 feet by 6 feet and the smallest at 6 feet by 3 feet.

Untitled (Large Variation) suggests motion and transformation through a complex field of active, colorful repeating forms. Amy Ellingson's practice is a synergy between digital media and the hand-made object. Untitled (Large Variation) is an 1100 square foot ceramic mosaic mural, designed with computer graphics software and fabricated by Mosaika Art & Design. The mural is purely abstract, yet it evokes fantastical cityscapes and landscapes, calligraphy, improvised music and the rhythm of life itself. Untitled (Large Variation) is permanently installed in Terminal 3 East at the San Francisco International Airport and is viewed by 7 million people per year.
See more stories
CODAmagazine: Transformative Walls VI